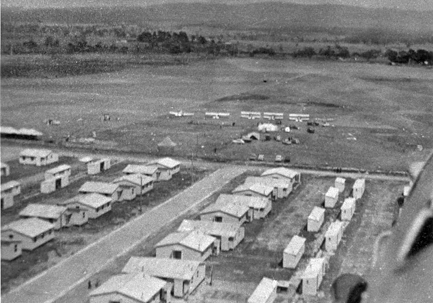 Bryce Eishold
Black and white photographs and distant memories are all that remain of a small village built to the west of Morwell's township during the glory years of the State Electricity Commission of Victoria in the early 1950s.

About 50 two and three-bedroom homes were built in the temporary village called White City to house an influx of workers to the region to work on SEC projects, including the construction of the Morwell Power Station and briquette factory.
Access to the village was by a sealed road from Thorpdale Road, leading past the Latrobe Valley Aero Club's airfield.
Morwell man, George Davis, 87, moved to White City from the Board of Works at Warburton in January 1956 to take up a role as a draughtsman with the SEC.
He recalled White City as a tightknit community which provided new people to the area with "adequate housing".
"It was a bloody windy plain. They had a name for it but I can't remember, but it was open and windy. There were no shops or any other facilities, just houses," Mr Davis said.
"As far as I was concerned, it was adequate. I had plenty to do at work and with a new baby and my eldest daughter at school, that kept us busy."
Initially he and his family moved into a two-bedroom house, but later relocated to a three-bedroom house across the road.
"One reason I came here was so I could be closer to Yallourn Tech and finish off my diploma which I did. I ended up with a diploma out of Swinburne," Mr Davis said.
Documents obtained by the Morwell Historical Society indicate White City, which featured sealed roads with concrete channel gutters, was designed in a rectangular layout and houses were eight-to-10 square metres in size.
The streets were named after English counties and included the likes of Dorset Road, Hampshire Street, Durham Street, Cornwall Street, Kent Street and Surrey Street.
Delma Matthews, the president of Morwell's Centenary Rose Garden, moved to White City in February 1960 after marrying her husband, John.
"It was great. I worked at the Transport Regulation Board, which is now with VicRoads, and we used to walk under the briquette railway line through a tunnel and up Avondale Road into town," Mrs Matthews said.
"There was an airstrip at the end of the end of the street. It was a busy little thing – you used to hear the helicopters all the time. A lot of the people we met there we still know today."
Mrs Matthews described the houses as "basic", which included a few bedrooms, a loungeroom, kitchen and bathroom and "toilet out the back".
"We thought we were in heaven," Mrs Matthews said.
"We had a chip heater to heat the water for the bath but we used to have to use a cooking sieve to collect all the bark and rubbish that came out of the heater before we hopped in. We weren't very good at it."
The settlement received the name White City due to all the homes, which were prefabricated by the housing commission in Melbourne and assembled on site, being painted white.
It was often referred to as 'nappy valley' for obvious reasons, Mrs Matthews said.
Advance Morwell chair John Guy and wife Pam were also residents of White City for about 12 months after relocating from Tasmania where Mr Guy started with the SEC as an electrician.
"It was quite a little community. The houses were close together so you certainly knew who your neighbours were," Mr Guy said.
"In those days, we walked from White City to work at the SEC in the Morwell workshops where Miners Way is now.
"My wife had to do the same – walk up into the town to do the shopping and back again. Life was different because there was no sewerage. We had a dunny in the backyard. That was fun."
Before long, White City was gone as quickly as it was constructed.
By 1962 all the houses had been vacated, historians say, with many of the former homes sold to private buyers and relocated across Gippsland, mainly used for holiday houses.
The White City area became the home of the SEC drilling group and was later taken over by the private contractor.
Photographs and memories of former White City residents are all that remain of the once booming community