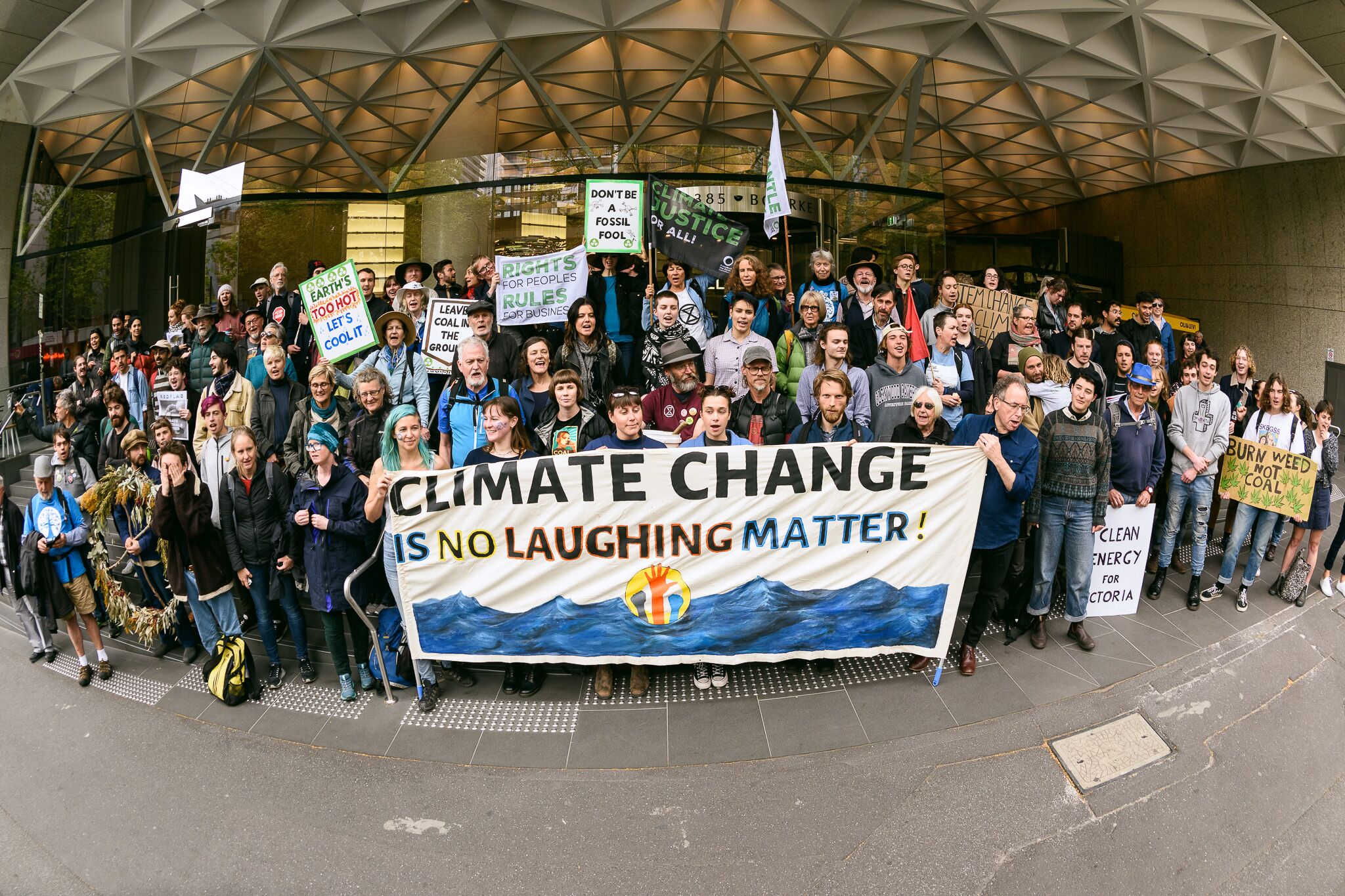 Michelle Slater
A snap rally organised by Friends of the Earth outside EnergyAustralia's corporate offices in Melbourne on Monday demanded the company came to the table on emissions targets.

FoE campaigns co-ordinator Cam Walker said 200 people turned up to backlash against a submission EnergyAustralia made to a Victorian government interim report on emissions reductions targets.
Mr Walker said the green group feared EnergyAustralia – which owns Yallourn power station – was playing a key part in "blocking the process" on any productive approaches to emissions reductions.
"EnergyAustralia, the owner of Australia's dirtiest coal-burning power plant, is attempting to blame state climate and energy policies for the early closure of its old clunker, Yallourn," a statement FoE's Facebook page said.
The state government has interim targets for 2021-2025 and 2026-2030 as part of a statewide target of net zero greenhouse gas emissions by 2050.
A final report was completed in March this year for targets to be determined by March 31, 2020.
EnergyAustralia claimed it may be forced to close Yallourn early in a submission to the Independent Expert Panel: Interim Emissions Reduction Targets for Victoria (2021-2030) in September, but also committed to keeping the power station open until 2032.
Mr Walker said there needed to be clear policies for energy operators to invest in a transition in the Latrobe Valley.
"We are calling on EnergyAustralia to stop blocking meaningful action on climate change and to take a productive approach to setting up an ERT," Mr Walker said.
Mr Walker said he was buoyed by the 2000 megawatt Star of the South offshore wind proposal and other renewables projects in Boolarra and Glengarry as part of transition plans for the Latrobe Valley
"Our focus is on what we can build rather than what we can close, and we understand the fear of workers when you talk about early closures of coal plants," he said.
"Let's get on with building replacements rather than shutting things down. Change is coming and it's better to grapple with this early rather to knock it on the head."
Mr Walker also stressed it was important that the Victorian government's ERTs were based on "the best available climate science, not political expediency".
EnergyAustralia's submission stated "the hand of government will heavily determine the fate of Yallourn" because the panel's emissions reduction targets "imply a decarbonisation rate that unambiguously suggests the closure of Yallourn well before its 2032 end-of-life and would likely require the closure of other brown coal power stations".
An EnergyAustralia spokesperson said the company "appreciated" that Monday's protest was done "peacefully and respectfully".
"Addressing climate change is an urgent, important challenge but it's also complicated," the spokesman said.
"We think all the pieces for a cleaner energy system already exist, the challenge is bringing them together to deliver energy that's not only cleaner but affordable and reliable."