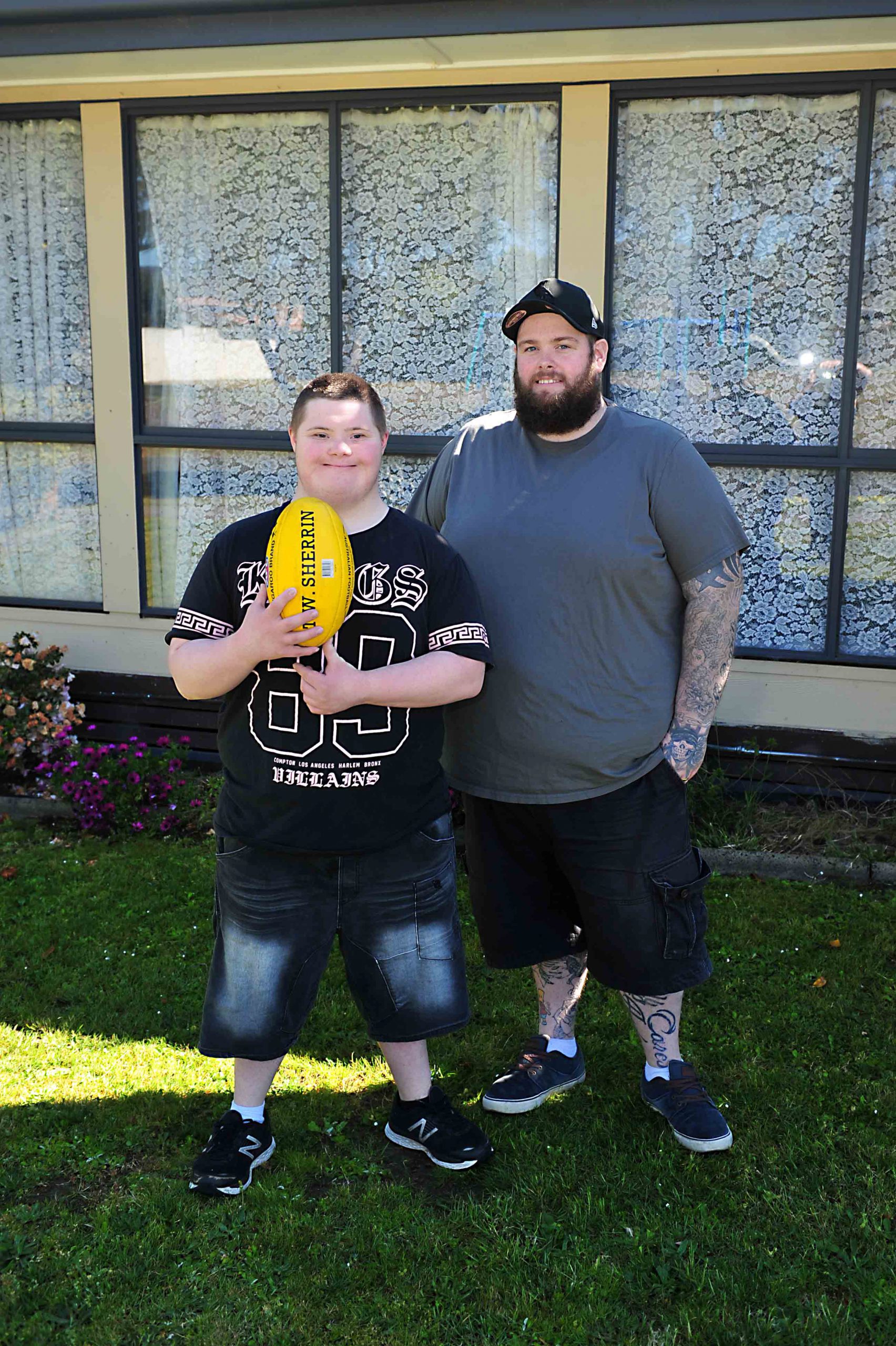 Cher Jimenez
WHEN Christo Perkins learned that he was going to have a little brother he got very excited.

For the then 10-year-old, the thought of having a brother to play cricket and kick the footy with in the backyard was something he looked forward to.

"My sister was getting to an age where she didn't want to play sport with me any more," he said.

Sam, the youngest member of the Perkins family was born with Down syndrome, a chromosomal variation caused by an extra copy of chromosome 21.

The diagnosis can cause some health issues including low muscle tone that may affect one's gross and motor skills.
"It's taken a few extra years, but now we still get to [play]," Christo, now 28, said.
Sam's diagnosis also came with other issues. He spent a huge number of time in hospital during the early years of his life because of a heart condition.
"He had grommets, more than I could even remember. He's always more susceptible just being sick on winter as well," Christo said.
Christo said Sam was "the glue that kept everyone together for a while" until his parents decided to split up.
Christo lived with his dad, while Sam and their sister went with their mother, however, this did not stop the three siblings from seeing each other every week for some family time.
Sam was initially non-verbal and used to communicate with the family through sign language.
"Now you couldn't shut him up," Christo said.
The youth worker said their mother tried to balance her attention between her three children, although, everyone was well aware that Sam needed the most support.
"He gets a lot of cool stuff that I don't get, but that's alright. He lives a good life and it makes me happy that he gets to experience a lot of good things," he said.

When Christo first obtained his driver's licence, he made sure to pick up his brother from his mum's place and spent time with him.

In January this year, Sam moved to live with his Christo and his wife, Ash, who is very close to him, in Moe.
"Sam asked last year 'when I'm 18 can I be with you?'.
"I said yeah no worries, and then a couple of months later we found out we were having Lilly," Christo said, referring to the couple's now five-and-a-half-month old daughter.

Christo said he did not think twice about taking his brother in because "he is family" and added Sam was great with Lilly.
Sam loves to play with her and looks after the toddler in the car when the family is out on the road.
Christo said Sam was very empathetic and there were days when he woke up with eyebags as he did not sleep well because Lily was upset.
Despite his brother's disability Christo never considered Sam or having a sibling with Down syndrome a burden.
"It's a blessing really," he said.
"He was sort of the glue that keeps the rest of the family connected, 'cause no matter what happens between you and your parents or your siblings you'll always got that common connection of coming back to support him."
Ash described her brother-in-law as someone who "gives you more perspective in life".
"He makes you get organised, everything we've done is exactly at that time," she said.
Sam said he was happy living with his brother and his family.
"I like living here," he said.
Christo said he was about to build a new home for his family and would allocate a room for his brother, but Sam has plans to move out and live independently when he turns 21.
"He can be here as long as he likes. If we wants to be here forever he can be here forever," Christo said.