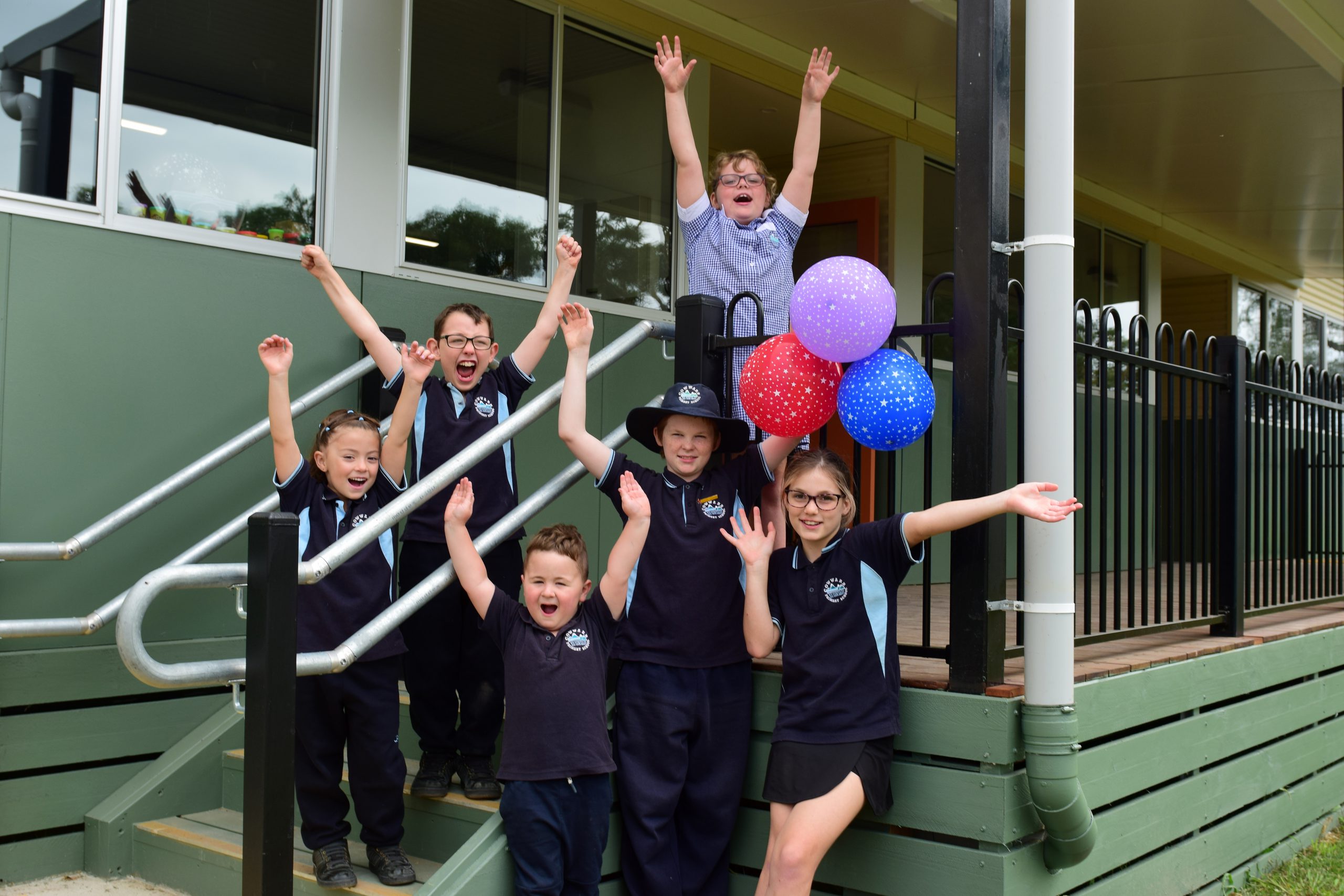 Kate Withers
Little more than a month after fire gutted Cowwarr Primary School on the first day of the new school year, staff and students have returned to their beloved school grounds.

Balloons adorned the two new state-of-the-art portables on Tuesday as the school's 23 students resumed classes on Church Street.
"I would imagine in a lot of places something like a fire could pull the whole place to pieces … but we haven't had anyone even think of moving anywhere else," principal Albie Fitt told The Express.

"It's been a stressful time for all of us, it's been really difficult. It's something I wouldn't want to go through again.
"When disaster strikes, it's very personal. It's been a very emotional journey that we were on and are still on."
Heyfield Primary School was a makeshift home for the staff and students of Cowwarr for four weeks while the the new classrooms and administration building were constructed.
"People are really surprised, the parents are kind of a bit gobsmacked by the fact that it's so magnificent, it's just so beautiful," Mr Fitt said.
"We had a nice time at Heyfield, and in fact the kids really linked up closely, so we'll keep a bit of a link there now, which is really nice."
A musician by trade, Mr Fitt wrote a new school song for the staff and students at Heyfield as a heartfelt thanks for their hospitality.
"We all sang that together as one big group in our last assembly, and that was nice and there was a nice feeling there," he said.
"Schools can be quite competitive and we shouldn't be, so I'm glad and it's been good for these kids that they could go and see that in a big school there are normal nice people.
"They can still come back here and have their little school but still connect with people outside the school. But (Heyfield) were really hospitable; they were fantastic."
While the extended excursion to Heyfield was enjoyed by all, Mr Fitt said it was "really important" for staff and students to return to Cowwarr.
"We needed to get back here because I think the heart of our community is here," he said.
"We had a group assembly with all the kids and all the parents (on Tuesday) and talked about how we're back together in our normal space.
"We're all pretty happy in a way that the education department has been decent enough to give us a good facility while we're waiting for a permanent facility."
A fund has been set up to help the Cowwarr school community rebuild more permanently and replace valuables that were lost in the blaze like computers, robotics and a 3D printer.
"We've got some of it, but that's the hassle. That's the hardest thing because we had so much stuff. We're still waiting on our technology to come and we're still waiting to get the internet back up and running," Mr Fitt said.
"We had a lot of people ask us what they could do and we thought the best thing they can do … if they wanted to give something then we could actually know what we were doing with it.
"So we set up the fund so that if people wanted to give something, they could give something.
"But we'll get there."