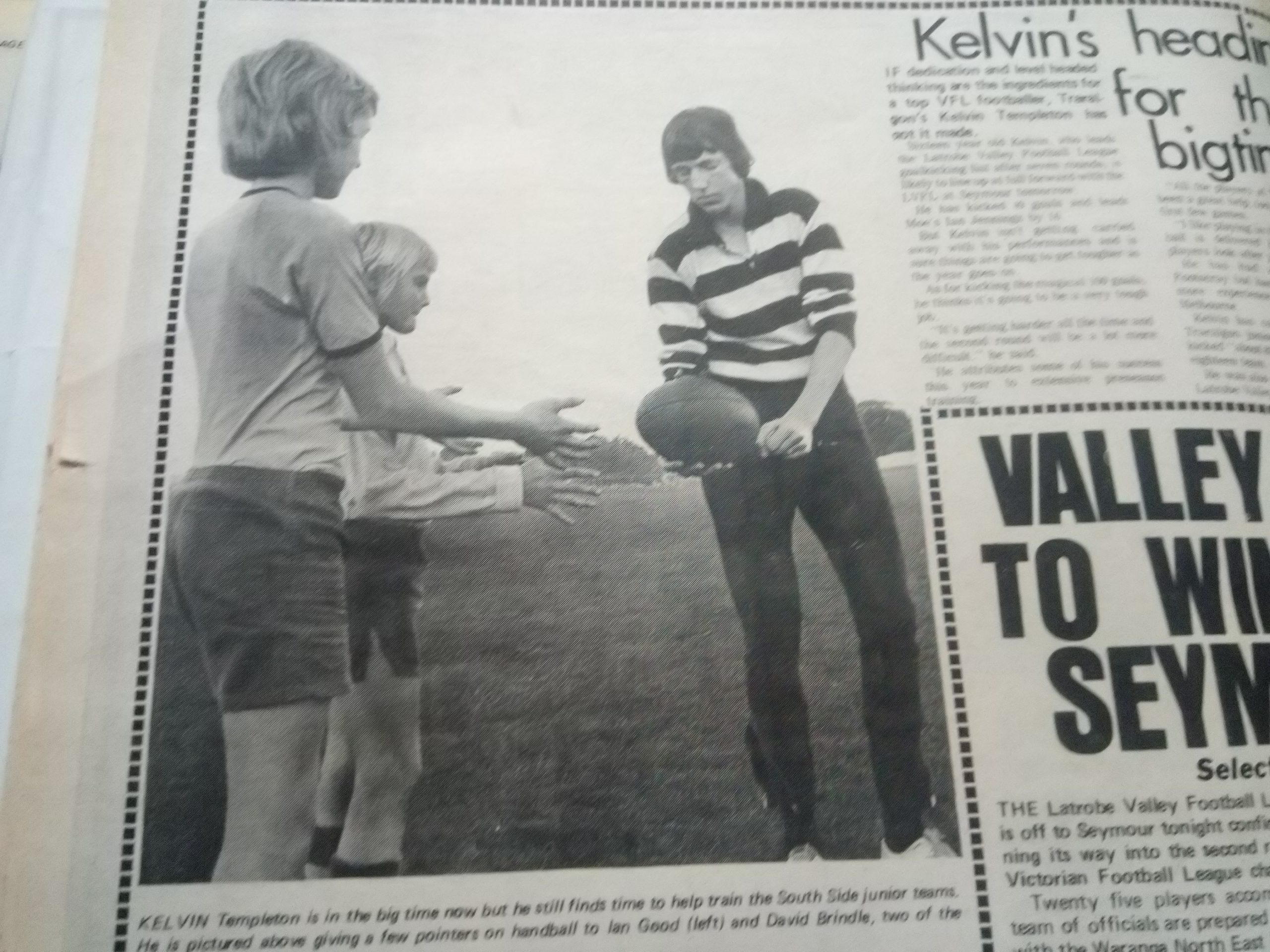 Gregor Mactaggart
KELVIN Templeton was acclaimed as the best footballer in Australia when he won the 1980 Brownlow Medal.

The Footscray ace, who had won the VFL goalkicking award in 1978 and 1979, polled 23 votes to claim 'Charlie' ahead of Essendon wingman Merv Neagle.
The win would prove the pinnacle of Templeton's career that started in Traralgon.
His Brownlow triumph arrived seven years after he burst onto the Latrobe Valley Football League scene as a fresh-faced 16-year-old.
The year was 1973.
Traralgon went into the season as defending LVFL premiers, but the Maroons still had room to introduce a tall and talented teenager into the senior side.
Templeton had turned heads the previous season when he booted more than 80 goals for Traralgon's thirds team.

He debuted with two goals in the opening round as Sale scored an impressive 23-point win.
Writing in The Express after Round 1, Tom Carter predicted champion goalkicker Ian Jennings could have some challengers for his crown in 1973.

He would be proven correct as Templeton grew at senior level.

Templeton's first major haul came in Round 4 with a 12-goal haul in a 97-point demolition of Yallourn.
Tom Carter from The Express, May 9, 1973.

Traralgon's Kelvin Templeton nearly broke the long-standing Ian Jennings' record of 14 goals in one match on Saturday.

Kelvin had enough shots, but the young fellow's 12 for the day was grand.
He is leading Ian by four goals on the senior list at present, but the way Jennings got his eight against Morwell, Templeton will need to break Jennings' 112 goals for a season record if he is to take out the award.
Templeton had shot to the top of the goalkicking charts with 23, four ahead of Jennings with Leongatha's Ivan Rasmussen third on 17.

After just four games at senior level, Templeton was named in the Latrobe Valley Football League squad for the VCFL championships, coached by Graham Gahan.
Back-to-back efforts of 10 goals against Heyfield in Round 6 and Bairnsdale in Round 7 had Carter contemplating whether we would see another century goalkicker.
Can Kelvin Templeton break Ian Jennings' two goalkicking records this season?

Jennings holds the record for the most goals kicked in a season (126) and the highest tally in one match (14).
After seven matches, he has 49 goals to his credit, an average of seven a match.

1973 was also a notable one for The Express, which introduced a Friday edition to complement the Wednesday paper.

Known as The Express Weekender, among its features was expanded sports coverage.

The inaugural edition included an interview and back page photo with the young star who was fast gathering a big reputation.
If dedication and level headed thinking are ingredients for a top VFL footballer, Traralgon's Kelvin Templeton has got it made.

Kelvin, 16, who leads the Latrobe Valley Football League goalkicking list after seven rounds, is likely to line-up at full-forward with the LVFL at Seymour tomorrow.
He has kicked 49 goals and leads Moe's Ian Jennings by 16.
But Kelvin isn't getting carried away with his performances and is sure things are going to get tougher as the year goes on. As for kicking the magical 100 goals, he thinks it's going to be a very tough job.
"It's getting harder all the time and the second round will be a lot more difficult," he said.
He attributes some of his success this year to extensive pre-season training.
"All the players at Traralgon have been a great help, too, especially in the first few games.
"I like playing in the seniors as the ball is delivered better and other players look after you," he said.
He has had approaches from Footscray, but has decided he needs more experience before he goes to Melbourne.
Kelvin has come up through the Traralgon juniors and last year kicked "about 85 goals" with the third eighteen team.

Just days later, Templeton played for the LVFL in a 71-point interleague win against Waranga North-East at Seymour, where he was hit heavily during the match, but withstood the attention to boot some telling goals.

The LVFL side included some other notable names such as Jeff Gieschen, Barry Rowlings and Traralgon champion Terry Hunter.
How to curb Templeton's brilliance was central in the thoughts of many opposing coaches.
In Round 8, Traralgon took on Moe and while Templeton slotted eight majors, the Lions won the match by 13 points.
Tom Carter posed the question whether Moe coach Ron Haeberle put an insulating ring around Templeton or were those Lions converging accidentally?
The loss left Traralgon in fourth spot, trailing Leongatha, Moe and Sale.
Templeton bagged hauls of two, four, five and six to take his tally to 74 by Round 12.
He again showcased that bigger things were ahead when the Latrobe Valley took on powerhouse Goulburn Valley in an interleague blockbuster.
Templeton booted eight goals as the LVFL prevailed 16.10 (106) to 14.12 (96).
The Express, July 18, 1973.

Kelvin Templeton and Charlie Healey gave their Goulburn Valley opponents no chance.

Templeton took freak marks all day to finish with eight goals and was responsible for a couple more.
Healey was ever elusive around the half-forward line and his two drop kick goals were superb.
Templeton was named third best behind Ernie Hug and Brian 'Doc' Rowlings.

The young gun continued on his merry way, slamming seven goals in an 81-point win against Yallourn that lifted Traralgon up to second.

The Maroons owned a 9-4 record, trailing Sale (11-2).
The century was looming large, especially after Templeton took his tally to 89 thanks to an eight-goal effort against Warragul in Round 14.
He was 20 goals clear of Jennings despite the Moe champion booting 12 goals against Yallourn.
The Traralgon and Templeton juggernaut was derailed somewhat in Round 15 by Heyfield, who recorded a famous 8.20 (68) to 7.17 (59).
The defeat saw Traralgon tumble to fourth spot, trailing Sale, Moe and Leongatha.
That set the scene for August 11, 1973 when Kelvin Templeton became the youngest footballer to boot a century of goals at Latrobe Valley senior level, a record he still holds today.
Here's how The Express reported the milestone occasion.

Latrobe Valley football's schoolboy goalkicking sensation Kelvin Templeton of Traralgon on Saturday became the youngest LVFL player ever to kick 100 goals in a season.

When Kelvin booted his 10th goal against Bairnsdale last in the last quarter on Saturday, he joined Moe's Ian Jennings in the LVFL 100 club.
With two rounds remaining, Templeton has a great chance to break Jennings' record of 112.
Templeton started the game on Saturday in brilliant style and at half time booted eight of his team's 10 goals.
But after the interval he didn't find things so easy and late in the last quarter, it seemed he might have to wait another week to pass the milestone.
However, five minutes before full time, he kicked truly and the 100 was his.
Footscray Football Club officials were at the game on Saturday and they must have been impressed with the young full-forward.
Footscray beat Hawthorn in the race for Templeton's services by the fraction of a mile.
They would like to see him in Melbourne next year, but they might have a struggle on their hands.
He would miss the Round 17 clash with Moe due to illness and Traralgon were soundly beaten by Moe, 19.13 (127) to 5.7 (37).
Jennings slotted nine goals to move to 96 for the season, cutting the gap to just four going into the final home and away round.
Templeton returned to kick four goals as Traralgon defeated Leongatha by 20 points, although the Maroons had to be content with fourth on the ladder.

Jennings booted six as Moe defeated Yallourn by 67 points, but it was Templeton who had done enough to finish top of the charts – 104 to 102.

Tom Carter reporting in The Express, August 29, 1973.

Congratulations go to Kel Templeton on two counts.

Firstly for winning the LVFL goalkicking award in the seniors and secondly for being the first player to win it in his first senior year.
Congratulations also to Ian Jennings, who finished the season well and is the first LVFL player to score a century of goals twice, 1971 and this year.
By finishing fourth, Traralgon found themselves in an elimination final against Heyfield and not for the first time in 1973, the Roos sealed a famous victory.

Templeton was held goalless as Heyfield prevailed 10.11 (71) to 7.10 (52), a result that marked the end of the road for Traralgon's season.
Sale would go onto win the flag after defeating Moe by one point, 13.15 (93) to 13.14 (92).
Templeton topped Traralgon's votes in the Trood Award and Rodda Medal with 14, but well adrift of that year's winner Barry Rowlings.
The brilliant forward moved to Footscray for 1974 and proved an immediate sensation, booting six goals in his first game against Collingwood as a 17-year-old.
Templeton became a star for the Bulldogs, kicking 494 goals in 143 games in nine seasons.
Against St Kilda in 1978, he booted 15.9 as Footscray kicked a club record 33.15 (213).
He finished the year with 118 goals, sealing the first of two Coleman Medal wins.
Templeton made a sensational move to Melbourne in 1983, kicking 99 goals in 34 games, but nagging injuries took their toll and he retired before the age of 30.