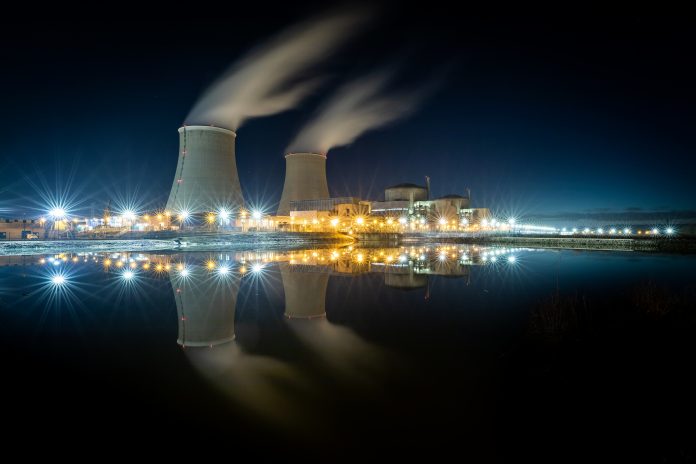 Michelle Slater
Nuclear power could provide a just transition for Latrobe Valley coal workers with a social licence from the community, according to a submission from local union officials to a state parliamentary inquiry.

Construction, Forestry, Maritime, Mining and Energy Union representatives Geoff Dyke and Mark Richards fronted the Inquiry into Nuclear Prohibition in Victoria last month.
The pair spruiked the benefits of kick-starting a nuclear industry in the Valley, citing its potential to provide jobs, grid stability and dispatchable energy as coal generators like Yallourn and Loy Yang close.
The inquiry is investigating Victoria's potential for nuclear energy production, its economic or environmental benefits through research, mining or medicine, and identifying any barriers.
Mr Dyke, the Mining and Energy Division Victorian branch secretary said nuclear power could provide double or triple the amount of jobs for the same generation output as coal.
He said that while the union's first preference was to build high efficiency low emissions coal-fired power stations backed up with carbon capture and storage, nuclear could provide a "just transition".
"The direct replacement of coal-fired power stations with nuclear power could ensure a fair and just transition for existing coal workers, their families and communities," Mr Dyke said.
"This could be a very valuable asset needed to overcome any local public resistance to the introduction of nuclear power because of the not-in-my-backyard mentality."
Mr Dyke called for a mix of nuclear, hydro, wind and solar to deliver the lowest cost, most reliable, zero-emissions electricity grid to transition as coal-fired power stations retire.
He said Australia had the uranium reserves and ideal waste storage environment, stable government, skilled workers and communities in need of viable transitions.
"And that is a critical part of the social licence for establishing that type of industry," he said.
He argued the ban on nuclear in Australia made "no logical sense" as it was emotive and "out of step" with other developed countries.
"I believe that when one is built, or if the community go and see a nuclear power plant, that a place like the Latrobe Valley – that is going to be economically devastated by the closure of coal – will reluctantly embrace it," Mr Dyke said.
"There will certainly be opposition, but there would be a lot less opposition than if we went to build one in the eastern suburbs."
Mr Richards, a former Labor candidate for the state seat of Morwell, said nuclear would enable opportunities for ex-Hazelwood workers and provide jobs after the closure of Yallourn.
He said coal workers would have the similar skillsets to transition into nuclear power generation.
"Where it fits into the social licence for our area is that we have high unemployment, as we mentioned, and we have coal that is being shut down and phased out," Mr Richards said.
"It is about jobs for us, not just the social licence. Most people in our industry understand it is a technology and it is safe."
The inquiry continues on August 28 with witnesses including anti-nuclear warrior Helen Caldicott fronting the panel.

The call to lift the state's prohibition on nuclear is not being backed by all unions, as some community groups come out swinging against any nuclear proposal in the Latrobe Valley.
Many concerns surrounded the region's geographical instability, the use of water, dangerous waste and the need to forge ahead with large-scale renewables.
The Victorian branch of the Electrical Trades Union doubled down on its opposition in its submission into the Inquiry into Nuclear Prohibition.
It instead called for large scale renewables such as the Star of the South offshore wind farm off the Gippsland coast to provide a just transition for workers and communities.
"Renewable energy is affordable, low risk, clean, and popular. Nuclear is simply not," the ETU submission said.

"Our shared energy future is renewable, not radioactive and our government must plan for and support a fair and just transition for energy workers, their communities and the Australian people."

Voices of the Valley convenor Wendy Farmer backed the ETU stance, rejecting claims from the CFMMEU that nuclear would provide a "just transition" for the Valley.
Ms Farmer also rigorously argued that there was no social licence from within the local community to go ahead with nuclear.
She said any nuclear plant in the Valley, particularly if it was built on the former Hazelwood site, would be too close to homes in a seismically unstable location.
"Nuclear will never happen in the Latrobe Valley, it's too expensive and will take too long to build. Do we just care about jobs and not a healthy community? This would impact all of Gippsland," Ms Farmer said.

"Yes, we need a proper transition and secure energy, but nuclear is not the way to go when we need the federal government's will to build more renewables."
Community over Mining spokesperson Tracey Anton has voiced her concerns about using water to rehabilitate the Latrobe Valley's coal mines.
The community advocate said nuclear was unsuitable for the region due to the volume of water it would require, creating a burden on downstream agriculture and environmental needs.
"We've already over-allocated our ground and surface water, how do you fit in another industry that needs more water when we don't have enough as it is," Ms Anton said.
"The (state) government can't even figure out how to rehabilitate the existing coal pits, or even how to transport asbestos safely, never mind nuclear."
Friends of the Earth's Yes2Renewables campaigner Patrick Simons has been working with the local proponents for the proposed Delburn wind farm, helping campaign for renewables in Gippsland.
Mr Simons said the conversations around nuclear were a "distraction" from discussing rolling out renewables in a decentralised grid.

"There is surplus grid capacity in Gippsland," he said.
"Renewable energy built in the region will complement wind power operating in western Victoria, where the grid is constrained, making the energy system overall more resilient."

Member for Morwell Russell Northe said the concept of nuclear power was a "conversation worth having" if it could be produced safely.
Mr Northe said he was aware of talk around the merits of nuclear in the Valley, but understood the concept would attract "strong views".
"Whilst it's pleasing to see an increase of renewables coming on line, the reality is our electricity grid and system is reliant on the reliability of baseload sources which nuclear can provide," Mr Northe said.

The NSW Parliament is due to vote this week on lifting the state's ban on uranium mining, however, nuclear power remains unlawful in Australia under federal legislation.
The Victorian government has no plans for a nuclear power industry, which has been banned since 1983 and is instead focusing on "cheaper, safer and more sustainable alternatives in the form of renewable energy and storage".
A state government spokeswoman pointed to Victoria's ambitious 50 per cent renewables targets by 2030, creating more than 24,000 jobs, "particularly in regional areas".

However, Mr Northe said, "if nuclear power can be produced safely whilst providing energy and employment security then I believe it's a conversation worth having".
"Notwithstanding there is a long, long way to go in terms of such a concept actually being supported or becoming a reality," he said.
Mr Northe said there were many unanswered questions about the reality of the proposition.

"I remain concerned about Victoria's situation from an energy security of supply perspective given we have now become net importer of energy as a state," he said.

The Latrobe Valley has the potential to generate five gigawatts of nuclear energy using existing facilities, according to industry lobby group the Australian Nuclear Association.
ANA vice president Robert Parker said the "entire region" had the capabilities to generate nuclear energy and the grid to take the power to Melbourne.
He said the industry could utilise the Valley's power workers and education providers to transfer skills from coal to nuclear.

"It would lift the industry base in the Valley, particularly in education," Mr Parker said.
"Existing workers with high skills could be re-trained in jobs such as radiation monitoring, fuel handling and maintenance, there would be ongoing training opportunities.
"And fitters, electricians and boiler makers, their skills would be elevated. It would be a cleaner workplace with no coal dust kicking around."

Mr Parker said he was in talks with engineering giant GE about building "incredibly safe" smaller modular reactors in Australia.
However, he said the issue had been "destroyed by unresearched propaganda" through fear mongering and the topic warranted "some years of sensible discussion".
"A new nuclear plant would take time because of the opposition, we've been sold some terrible stuff around the fear of nuclear, but coal kills more people internationally than nuclear ever did," he said.

"Our current energy providers could easily invest in a smaller modular reactor, but we need to get the changes from government."
Latrobe Valley Community Power Hub project officer Chris Barfoot said nuclear energy was "worth investigating", and it could be a "serious option" in more remote areas.
However, Mr Barfoot was still backing large scale renewables for the Latrobe Valley, stating that solar and wind were still "quicker and cheaper" to build and had more social licence than nuclear.
"We grew up with Chernobyl, Three Mile Island and Fukushima, but these were earlier generation reactors, unless you understand the engineering, there will always be a large amount of fear," he said.

"We need to keep an open mind and make the best decision based on the community and science."