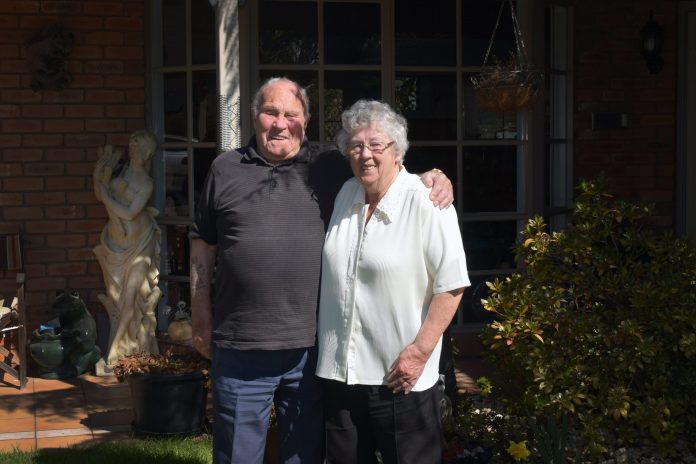 Tessa Randello
Mick and Jean Baudendistel are living proof that a perfect honeymoon is no indication of a successful marriage.

Sixty years on the couple laugh about their less-than-perfect post-nuptial getaway.
Mr Baudendistel said a relative he called his aunty told the pair they could stay at her home in Bathurst for their honeymoon, as the family were going to Adelaide and their house would be free. It did not go according to plan.
"When we got there things had changed, they hadn't gone to Adelaide. So, in the morning I took my uncle to work, then I took Aunty for driving lessons, then by the time we were done I went to pick my uncle up from work again and he wanted a driving lesson too," he said.
"Jean was sitting in the back of the car and told me that it was supposed to be our honeymoon and instead she was sitting in the back of the car listening to me argue with my uncle and aunty.
"The best part of the honeymoon was when I got a telegram that said there was some work for me back home and we got to leave early."
An overnight stay in a seedy hotel in Sydney on the way home sealed what the couple now sarcastically call their "fantastic" honeymoon.
Mr Baudendistel moved to the Latrobe Valley to work at Hazelwood in 1951 and once he and Mrs Baudendistel both retired they travelled around Australia.
"We have definitely had some adventures," Mrs Baudendistel said.
"We went hot air ballooning, the best part of it was the crash landing. It got a bit windy and the wind took off and dragged our basket along the ground."
Mrs Baudendistel was born in Morwell and grew up in Boolarra, where the pair were married on August 20, 1960, she said it was a lovely wedding, despite a few hiccups.
"We lived on a few acres in Boolarra and we didn't have hot water at the house but there was hot water in the cow shed," she said.
"So, I went up there and we had one of those great big tin tubs and I had a bath in there on the morning of my wedding, then went into town to get into my wedding dress.
"When Mick showed up at the church my bridesmaid saw he had his suit on and bright red socks, my bridesmaid made him go and change them, that was hilarious."
Mr Baudendistel chimed in to say that he, in fact, was just ahead of the times with his fashion choices.
After the wedding the couple drove to Sale to catch a movie at the drive in.

They have five children and 14 grandchildren who they hope to celebrate their milestone anniversary with in the new year.