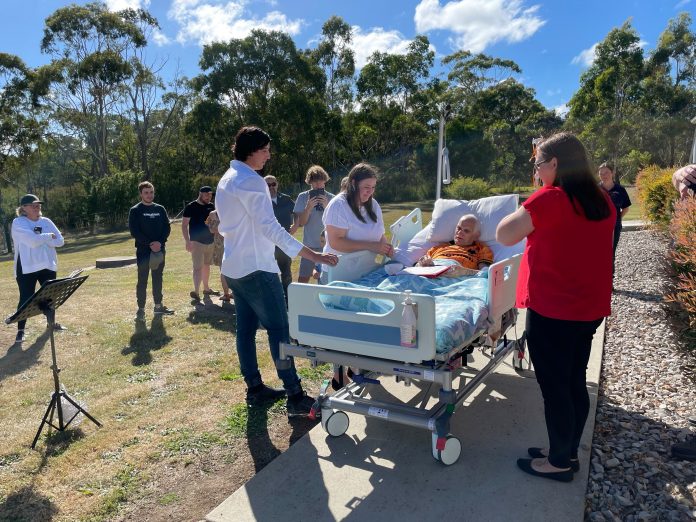 Tessa Randello
Wedding bells were ringing at Maryvale Private Hospital for a very special event.

Madison and Adan Wisby held their wedding at the hospital on January 8 to make sure that Mrs Wisby's great grandfather Michael Cooper was able to attend the big day.
Mrs Wisby said she planned the wedding on the three-and-a-half hour drive from the western Victorian town of Ararat to Morwell.
"When we got the phone call about coming to say our final goodbyes, the only thing going through my head was that we weren't going to let him pass away without him being at the wedding," she said.
"On the Thursday, we went in and saw him and I told him that he would have to rest up for a surprise the next day and of course he was trying to get it our of me.
"Then on the Friday we met up and waited for him in the garden they had put together for us … I told him that I knew he wanted to see me have a baby and get married, and that I wanted that too.
"He started crying and said he was sorry that he wouldn't be there and then I told him that it was happening right now.
"The biggest part of wanting this was only a few weeks ago my partner asked for (Mr Cooper's) blessing a few weeks before, so it was an even bigger thing that he had to see it happen."
Mrs Wisby said the day was incredible and is starting to settle into married life.
"It was surreal because I didn't have a big white dress that every little girl dreams of, there was no huge wedding, it only felt real a few days ago," she said.
"Usually people wait for years for their marriage, mine was about 16 hours."
Mrs Wisby said the celebrant Carol Tabone also gifted her the ceremony.

"She was absolutely amazing, she pulled together the most the most beautiful ceremony. When I called her she was in Melbourne, she got into Morwell at 9pm the night before and exceeded all expectations," Mrs Wisby said.
"Everyone was shedding so many tears it was the most beautiful gesture that someone could give.
Maryvale Private Hospital chief executive officer Lee Garwood said the wedding was made extra special because Mr Cooper had been a member of staff at the hospital for 27 years.
"It was such an emotional day for all of us there wasn't a dry eye in the house," he said.
"It's the testament to the hospital as a team to bring out these miracles and being able to give so much joy to the family.
Mr Garwood said the wedding was the first held at Maryvale.
"When (Mrs Wisby) called about having a wedding here we put things in motion straight away. We had to make sure that it was COVIDSafe as well, so we held the wedding in the garden outside, it was beautiful to see him witness the wedding of his great granddaughter," he said.
"He was a loved and cherished person within the community … on the Thursday we dedicated a birdbath and a rose to him to recognise his service to the hospital."

Mr Cooper died on January 11.