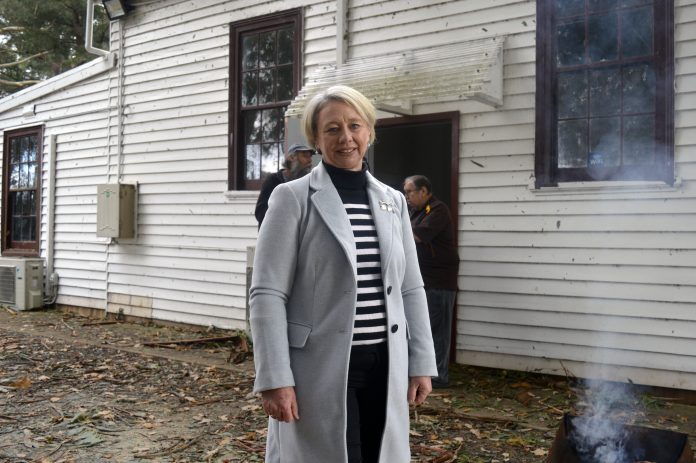 By TOM GANNON
BUDGEREE residents finally experienced some respite on June 17 when they came together for the first time since wild weather ripped through the community.
Emotions were running high at the weekly 'Budger-tea" morning tea held at the Budgeree Hall as it was the first time residents were able to reconnect since storms and subsequent floods decimated powerlines and left a trail of destruction, leaving residents without power and access to hot water.
The morning tea gave residents the opportunity to come together and discuss their experiences over the last week.
Organiser and Budgeree resident Leanne Potter, who had her property severely damaged said the chaos of the storm heavily impacted the local community.
"Not having power and communications until yesterday took a big toll on people, you couldn't make plans, you couldn't decide what to do and you didn't know where to focus," she said.
With the area littered with massive trees and other debris, Ms Potter said facing the clean-up was a daunting task for the community.
"It is really overwhelming, there's so much to do, so much to clean up you just don't know where to start," she said.
"We're just looking at it because it's too big to deal with, we can't get machinery in because the ground is so sodden, so it's going to be a long time."
Ms Potter said the morning tea which was started following last year's COVID-19 pandemic to help the community reconnect had once again proven to be invaluable.
"It's absolutely huge today, this is the first chance people have had to actually get out and talk to each other and ask how you went," she said.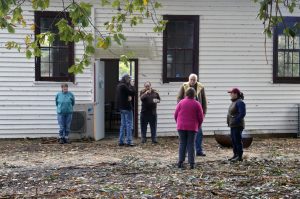 "We've seen photos on Facebook but that's not the same as talking to someone about their experience and what they've been through.
"It's hugely important to get everyone together and have that conversation about how it's going."
Resident Mark Reynolds described the situation as devastating but said it was a relief to come together as a community to discuss things.
"There's just devastation everywhere," Mr Reynolds said.
"It's good I suppose just to talk about things since everyone's been through some difficult time, it's good to get it off your chest and have a bit of stress relief."
Another resident Amber Rhodes said she had lost the roof to her shed and her farm had been littered with massive red gum trees that tore up roads and knocked down powerlines.
Ms Rhodes said she didn't think people truly understood the extent of the destruction.
"I don't know if people really understand the magnitude here, driving around after (the storm) every tree was down and leaf litter was everywhere," she said.
Despite the dire situation, Ms Rhodes said Thursday's morning tea was a special occasion for residents.
"Particularly today its really good because we're all feeling a little bit lost, it helps a lot and it's nice to share stories and tell everyone who will listen that you'd really like a shower," she said.