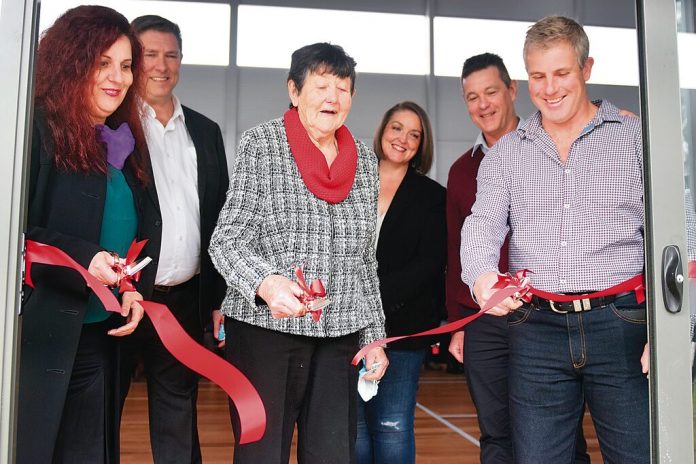 Zac Standish
The community of Flynn came together on Friday afternoon to celebrate the long-awaited official opening of the new Flynn Community Hall and resurfaced tennis courts.
The $1.25 million project was delivered by the Latrobe City Council's Major Project's Team with funding from the federal government's Drought Relief Funding program.
Latrobe City Mayor Sharon Gibson said the facility would serve as a major boost for the Flynn community.
"This is about putting the heart back into the community, they (the town) all congregate here and for what we thinks such a small community so many different groups will use a space like this," Cr Gibson said.
"I'm proud that council is supporting such projects which benefit all of our municipality and importantly ensure our smaller communities, such as the community of Flynn, remain vibrant and contribute to the municipality as a whole."
Flynn Community Hall president Rohan Murray said the new facility would offer a host of new opportunities for the town.
"It provides all the different user groups a chance to use a better and more hygienic space more frequently and put on events of a higher quality," he said.
"It will also provide an area for local farmers to come down on a Friday night, light the fire and just have a chat if they have some worries and stress from their work – so it will be a meeting point for everybody and a focal point for the community."
The process of getting this project underway was a lengthy one, with Cr Kellie O'Callaghan at the forefront.
"The community had been fundraising for this one for many years, and it became fairly clear that raising funds at that level and that time would not be enough to get it where they needed," Cr O'Callaghan said.
"Council then went about assisting (the Flynn community) in coming up with some initial designs, giving us an indication of what the costs would be and the ability to go to range of government stakeholders and over a period of years we were able to secure the funding through the Drought Funding campaign."
With the first event being held at the hall over the weekend, Mr Murray wanted to thank a number of different people for making this dream a reality for the Flynn community.
"Firstly the Latrobe City Council and particularly councillors Kellie O'Callaghan and Darren Howe for their hard work, they have been great advocates for us as well as just the community for all their support in getting this up and away," he said.