Michelle Slater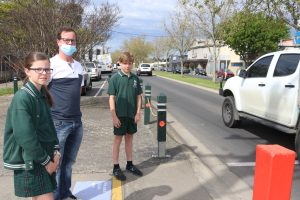 Grey Street Primary School community members fear a lack of school crossing safety upgrades is a "catastrophe waiting to happen" after a series of near-misses along the busy traffic precinct.
Grey Street PS school council member Jordan Lanigan has been pushing Latrobe City Council to install a raft of crossing upgrades, including sets of safety bollards at traffic hostspots.
The school council was also pushing for a crossing supervisor on Franklin Street, and for Latrobe City to support a walk to school campaign to ease congestion at pick up and drop off times.
Mr Lanigan said children and carers were forced to navigate across a bottleneck of traffic, with incidents of car collisions outside the school and drivers hitting the school fence.
He said cars had smashed through wooden barriers on the school crossing and mounted the footpath.
"Thankfully we've avoided any catastrophic incidents. At some point, a child or family member will be hit by a car. What price do you put on a child's life?" Mr Lanigan said.
"We've had police and local laws officers patrolling the area at school pick up times, this helps but it's not a long term solution."
Grey Street PS is situated in the centre of Traralgon on one of the town's busiest streets, with about 500 kids and 50 staff members.
However, Latrobe City deemed these areas had a "lower hazard rating and therefore, bollards are not necessary".
A Latrobe City spokesperson said council could help install any safety bollards outside the school if the state government "was willing to fund the works".
Latrobe City has secured funding for a crossing supervisor and has agreed to support a walk to school campaign, and is finalising permanent 40 kilometre per hour zones around the school.
Member for Morwell Russell Northe raised the issue in Parliament last week, calling for the state government to intervene and fund the safety measures.
Mr Northe said he had received "numerous complaints" about pedestrian safety from school representatives.
"My hope is that the Education Minister will intervene, support and co-ordinate a response that sees the proposed initiatives adopted and implemented as soon as possible," Mr Northe said.
"If pedestrian safety is not improved in this precinct I fear a serious incident or accident might occur and none of us want to see that happen."
A Department of Transport spokesperson said the government was working with Latrobe City to monitor the location to see if any further improvements were needed.
"Road safety around schools is vital and we all have a role to play when it comes to safety on our roads," the spokesperson said.