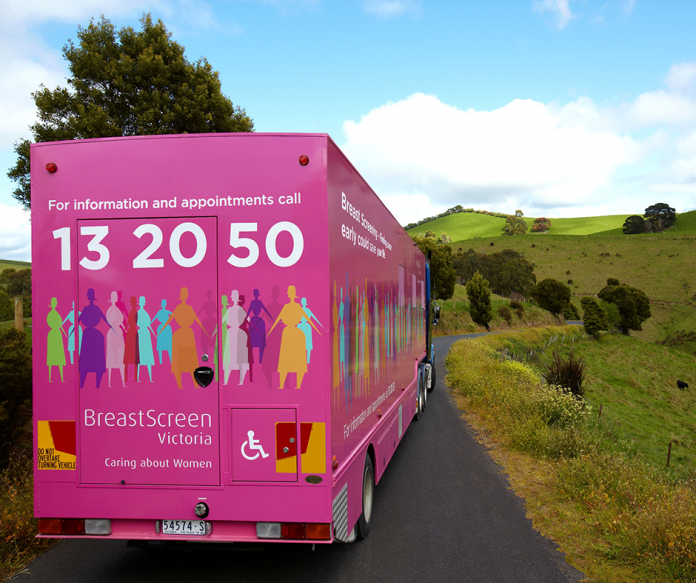 Alyssa Fritzlaff
BREASTSCREEN Victoria's van will be offering free breast screening in Moe from October 18-October 29.
The bright pink van, dubbed 'Nina', will be situated in the Moe Coles Supermarket car park, at 92 Albert St.
All breast screens are with a female radiographer, and a doctor's referral or Medicare card is not required.
According to BreastScreen Victoria women aged between 50 and 74 should have a breast screen every two years, as this age group has the highest risk of developing the disease.
The van was last visited Moe in 2019, so now is the perfect time for previous clients to visit again.
Through screening, cancer can be found as small as a grain of rice – which is long before it can be seen or felt.
"This visit to Moe has been organised to make sure women in every part of Victoria have access to a potentially life-saving mammogram," BreastScreen Victoria chief executive officer Terri Smith said.
"The vans use the highest quality digital radiography machines to ensure that women receive the best service, regardless of their location."
Ms Smith encourages local women to take advantage of this free service.
Vicki Hamilton, who is also the Asbestos Council of Victoria chief executive officer, has been accessing BreastScreen services for the past 10 years.
Mrs Hamilton recommends every woman to go and have their screening done "because you never know".
"It is a really quick, efficient service and it doesn't hurt to have it done, it's certainly lifesaving," she said.
"To have the van is terrific. It's much more convenient."
The van will be operating with COVIDSafe measures, and all clients must wear a facemask unless exempt.
BreastScreen Victoria "aims to maximise the early detection of breast cancer" within the members of the population at highest risk.
According to the organisation, one in seven women will get breast cancer in their lifetime, with major risk factors being family history and age.
More than 75 per cent of all women diagnosed in Australia are aged 50 years or over.
The free breast screening available in Moe uses 2D mammography, and is the best way to detect breast cancer early.
However, if you have any symptoms, BreastScreen Victoria recommends visiting your general practitioner.
To make an appointment visit, breastscreen.org.au or call 13 20 50.