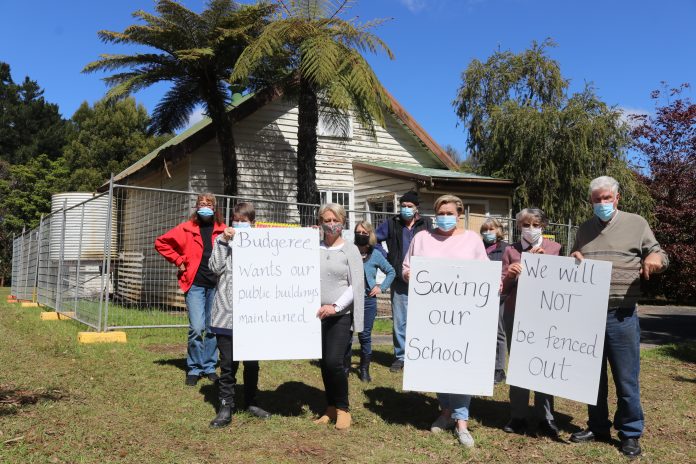 Michelle Slater
The Budgeree community fears Latrobe City Council will demolish a 148-year-old school building awaiting a heritage assessment after suddenly putting up an eight-foot fence without consultation.
Budgeree Hall secretary Leanne Potter said she was shocked to find Latrobe City put up the cyclone fence with a sign deeming the building unsafe.
"Not only has Latrobe City locked us out of the building, but they have locked us out of the consultation process," Ms Potter said.
"A fence around a building usually means demolition, we can only guess this is their intent, they haven't told us anything else about it."
The Budgeree School is owned by Latrobe City and sits adjacent to the community hall. The school was moved to Roys Road from Yinnar in 1908 when the building was already 30 years old.
But Ms Potter said no maintenance had been done since the school closed and was handed to the local council in 1993, and was in need of urgent repairs including new foundations and gutters.
"This is a particularly rare example of a pre-1873 Victorian school and it hasn't been altered in any way," Ms Potter said.
"The Budgeree community is 100 per cent united in wanting to keep and be able to use the building not only now but for generations to come."
Latrobe City had proposed to sell off the school three years ago, but the community is awaiting a Heritage Victoria assessment to save it from either rotting away or being dozered.
Heritage Victoria received recent reports that the building was deteriorating but a site assessment scheduled in August was delayed due to COVID-19 after an application was lodged in 2017.
"We are happy to fundraise for it but we need a guarantee the school will not be demolished. And it's still hanging over our heads that Latrobe City could sell it," Ms Potter said.
Member for Morwell Russell Northe raised the issue in state parliament last week, asking the Planning Minister Richard Wynne to expedite the heritage assessment.
"The Budgeree community wants to see this iconic building listed with Heritage Victoria, and subsequently be adequately funded to repair and restore the school so current and future generations are able to learn, view and enjoy," Mr Northe said.
Latrobe City chief executive officer Steven Piasente said an independent structural assessment identified structural defects within the building, placing it at risk of a partial or full collapse.
"In the interest of community safety and given the identified risk of the building collapsing, it was determined that a temporary fence should be set up around the building as an immediate priority," Mr Piasente said.
"Council understands and respects the importance of the Budgeree School to the
community and will continue to keep key groups informed of the situation."