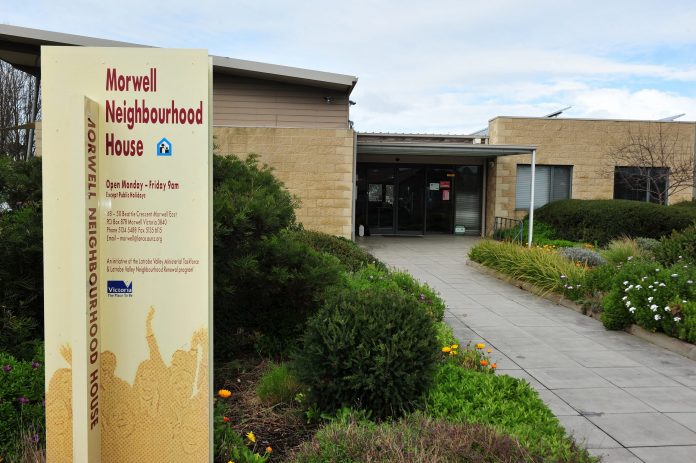 Alyssa Fritzlaff
MORWELL Neighbourhood House (MNH) has made changes to its foodbank service delivery for unvaccinated participants.
As of Monday, November 8, those not double vaccinated have received a pre-packed bag of food supplies at the door, rather than entering the foodbank.
Morwell Neighbourhood House manager Tracie Lund said the organisation did anticipate that some changes would have to be made to services.
"We were waiting for clarification about what we could and couldn't do in the lead up to the changes. We did anticipate that we would need to make some changes," she said.
"As we team, we got together to unpack the regulations and what that would mean for us, and how we could still provide services and support for our unvaccinated friends."
The health and wellbeing of staff, volunteers, and participants is of the utmost importance for the organisation, despite the difficulties that come with making the changes.
"We think this is the best way forward for us, so we are still supporting people that are unvaccinated," Ms Lund said.
MNH is "guided and directed by the regulations that the government have set down," she explained.
Ms Lund reports that a majority of people have been supportive of the changes to the delivery of services.
"As a general rule, people have been very supportive of us requesting the vaccination and also the need to show it … there has been a little bit of push back. Mostly on social media, we've found," she said.
She said these online comments can have a real impact on staff and volunteers.
"It can be quite hurtful to people that are really doing some great work. I can only speak for our team, but we've been on the ground for the last 18 months supporting our community, non-stop," she said.
"Our team are weary, just like everybody else, so criticism on social media really isn't something that we will tolerate, and that's about protecting our staff and our volunteers."
Ms Lund praised the team at MNH, who she said are doing their best to work through the changes. Creating the pre-packed bags of food has come with other challenges, such as adding to the team's workload.
"It's far more labour intensive to do it this way, we've already worked out that we need at least one extra person on foodbank days," she said.
However, Ms Lund expects the number bags required to decrease as people get their second vaccination.
"People are waiting on their second one, so I anticipate that the number of people that will need to be supported outside of the door will actually decrease in the next couple of weeks," she said.
"All reports back to me have said that everyone's been really patient, happy to wait, and quite happy with getting a bag … it's not the same as choosing your own groceries – and we understand that – but this is what we can do at the moment, and people are really trying to work with us.
"I think as we go forward this will be a lot easier for us to do, but it's like when you change any service provisions for anything, you've got to get used to the new way of doing it."
Ms Lund said she is happy MNH were able to host a vaccination hub recently, and told The Express that they are hosting another in the coming weeks.
"I think there has been some barriers around access, some of that can be around how people actually get to the vaccination hub, so it's been great that we've been able to run one at the house, and we will be running another one on the 24th of November," she said.
The vaccination hub on Wednesday, November 24 will be a walk in service, offering AstraZeneca, Pfizer and Moderna COVID vaccines to those eligible.
MNH will be taking on feedback to ensure that their services support as many people as possible.
"No one's done this before, so we're all learning and we're all going to have to make adjustments as we go. I don't think any service is going to get it right the first time, but we're doing the best we can to ensure that we can get is as close to right for a many people as possible," Ms Lund said.