Alyssa Fritzlaff
Gippsland Motorcyclists Toy Run coordinators Alf and Stella Vella are "proud" to be the biggest toy donation contributors in Latrobe Valley.
The toy run is set to return in 2021, and for the first time the Erica township will host the event.
"Toy runs have been around for a long time, and they're a way of motorcyclists getting together to support local kids and families in need at Christmas time," Mr Vella explained.
"Why should a kid miss out on Christmas? Why should they go to school the next month and the other kids are talking about their presents and their new bikes? Its just unfair."
Toy Run's began American and appeared in Australia for the first time in Perth in 1975 – and since then have spread all over the country.
The Gippsland Motorcyclists Toy Run has been operating for 22 years, and is showing no sign of slowing down.
In 2020, the event donated about $55,000 worth of toys.
"It's been part of our lives for 22 years now, and we don't want to stop doing it – it's just too important," Mr Vella said.
The couple are excited about operating in Erica this year, which is home to 'The Bikes R Back' each year for the Royal Children's Hospital Good Friday Appeal.
"It's a great motorcycling destination," Mr Vella said.
He said local businesses are "over the moon" to have the toy run there, and will be getting involved with the event.
There will be a live band playing in the beer garden, the pub and general store to provide food and the local Scouts are getting involved as well.
The event will be as COVID safe as possible, and Neighbourhood Watch will be running COVID compliance on the day.
Mrs Vella said the Toy Run helps community perceptions of motorcyclists.
"It also makes motorcyclists look good in the community, because sometimes the community have a rough perception of what motorcyclists are like… we are just general people who like to ride motorbikes," she said.
The couple encourages people to not forget about the older kids when donating.
"Some years the older kids toys are a big light on, and young teenagers… but there's a million things you can get for a young teenager – from sporting equipment, camping equipment, toiletries, games and lots of other stuff."
"We try not to forget the older kids."The couple work with the Salvation Army and the Society of St Vincent de Paul, both of which leave the event each year with trucks full of donations.
Janine Skinner of the Salvation Army said the toy run is a wonderful thing.
"The last couple of years its just been so hard. We've had a huge amount of people coming."
Ms Skinner explained how the Salvos distribute the gifts amongst families.
"We set out all the toys on tables, in age groups, and the families come in… it's so wonderful, they have the opportunity of choosing toys for their children."
"There's a great deal of dignity in it… they're able to think of their children and choose what they would like."
During the pandemic the Salvation Army saw a lot more people seeking help, especially new families.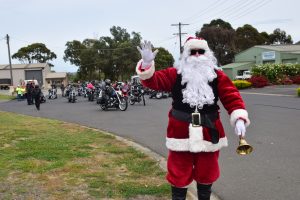 "Families that we've not seen before – who you wouldn't expect – they've been unable to buy food, and pay rent because they've lost their jobs… its really been hard for so many families," Ms Skinner said.
The Toy Run accepts new toys for donation."You could walk into an op shop and buy a toy for a dollar or 50 cents… but we feel that at Christmas they're entitled to something new," Mrs Vella said.
Mr and Mrs Vella have created many community connections over their 22 years operating the event.
"The Latrobe Valley is full of really generous people and over the years we've come to know a lot of people who've really opened up their hearts to a really worth cause."
"We have a lot of sponsors who have been with us for 22 years, so we build up the toy collection up until Toy Run day."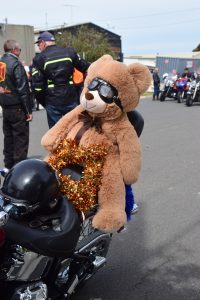 Loy Yang B Power Station is one of their biggest regular contributors, for which the couple are very grateful.
"The toy run is a cause Loy Yang B is passionate about, and we are proud to have supported the event for the past 22 years," Communications Coordinator Nicole Boskma said.
"Our support comes from generous donations from our employees, contractors and the company, which allows us to work with local businesses to purchase toys and gifts for locals doing it tough at Christmas time, giving them something to smile about."
Mr and Mrs Vella encourage community members and businesses to get involved and attend the event on Saturday December 4th.
"It's a heart-warming thing, you're helping kids in need," Mr Vella said.
Anyone who wants to make a donation is invited to contact Alf Vella on: 0434 618 689, to arrange a collection.
The Toy Run will depart from Bobber Dave's Bike Shop at Nefertiti Court, Traralgon, at 11.00am and make its way to Glengarry, Tyers and Yallourn North.
It will continue to the township of Erica, arriving at approximately 12.20pm, where festivities will begin.