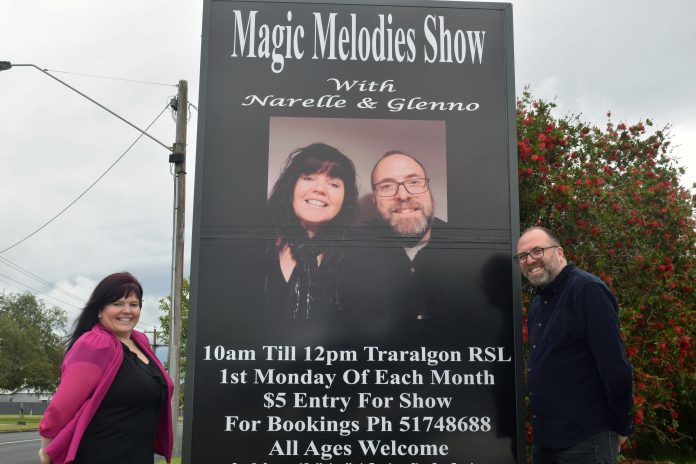 Liam Durkin
LOCAL musicians Narelle Dugan-Smith and Glen 'Glenno' Lever are preparing to bring their popular Magic Melodies Show back to the Traralgon RSL.
The show is catered to all ages and aims to get as many people out and about again to come down and enjoy a huge range of music and socialise with the community.
Songs that are lined up include hits from John Farnham, Pink, Rod Stewart, Elvis, as well as many other golden oldies.
The pair's favourite song that they have been singing for the past 24 years is I've Had The Time Of My Life from the film Dirty Dancing. This crowd stopper is once again expected to be one that has people singing wildly along.
Narelle-Dugan, who performs in her own band 'Zero Gravity', said she was looking forward to seeing as many people as possible come and enjoy the show.
"It's very exciting, we can't wait, it's been a long time coming," she said.
"It doesn't matter if you come along on your own, with a friend, you are in a safe environment, you are going to have a fun morning with lots of different genres of music, lots of dancing … come and enjoy our mornings. We can go from any song that you want us to do and we'll also do half an hour of request, so any song – any genre."
Narelle-Dugan and Lever, who is in the band 'All About The 80s' have been performing together since first meeting back in 1997 at a karaoke competition at the old Jam Club in Morwell.
In bringing Magic Melodies to the Traralgon RSL, Dugan-Smith and Lever hope to get the community together to come along to the first Monday of each month from 10am to 12noon.
Entry is $5, which includes a cuppa, biscuits, along with some raffle prizes to be won from sponsors Pizza Boyz Traralgon, Rutters Poultry, Traralgon, and friends of the band from Marban Music Traralgon.
In a great show of community connectedness, Dugan-Smith and Lever are paying for the show out of their own pockets. Magic Melodies will be held on the first Monday of each month (excluding January). Dates have been released to June 2022.
The December show is on Monday, December 6.
Those interested are encouraged to phone the Traralgon RSL on 5174 8688 to book seats.