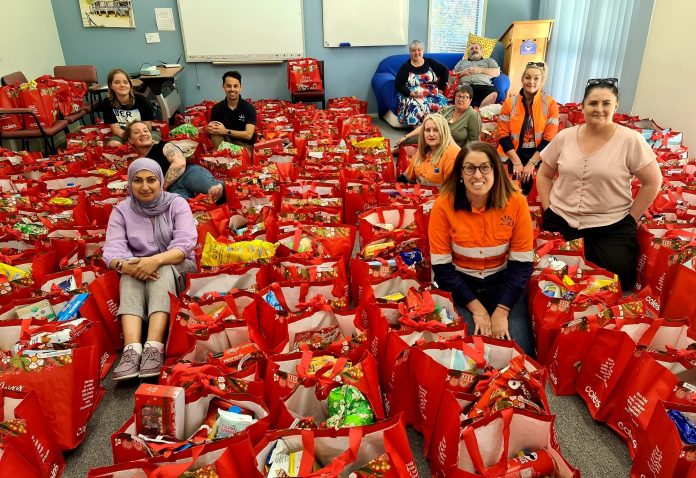 Alyssa Fritzlaff
MORWELL Neighbourhood House (MNH) have distributed 220 Christmas Hampers to local families this year.
Over one day, 10 volunteers from MNH and AGL Loy Yang got together to assemble the very special hampers for vulnerable members of the community.
Each hamper was filled with a variety of items, including a variety of Christmas treats and pantry staples.
"During the year we give out a lot of food staples… but for Christmas we were really wanted to make it a lot more special and significant," MNH manager Tracie Lund said.
"We were really looking for things that were festive and fun… while there were some staples, but we were able to really pack them out with some festive foods and Christmas treats."
Ms Lund said that this year MNH receive about 100 more requests for hampers than previous years, a testament to the difficult times the region has just emerged from.
"We did need more people than usual, and we had to stretch our goodies a long way, and we did get there. It's been a really rough could of years for everybody, it's been burdensome, it's been exhausting, there's not been a lot of things that you can point to and be really happy about, or that we are looking forward too,'' she said.
"But what I saw on Monday was a group of people that came together with a purpose to support somebody else… everybody was happy to be there, and it was a real joy to be a part of that team."
Ms Lund thanked the community for their generosity and the AGL for their assistance on
the day.
"I'd like to give thanks to everyone that donated, and certainly a big shout out to AGL who not only donated, but then also sent us staff," she told The Express.
"We had quite a lot of donors in our community, that brought food to us in the weeks leading up to the day."
Ms Lund made special mention to the Gippsland Trades and Labour Council, who got the ball rolling with a very special donation.
"They kicked the ball off with a very generous donation of $1500… we've got lots of support," she said.