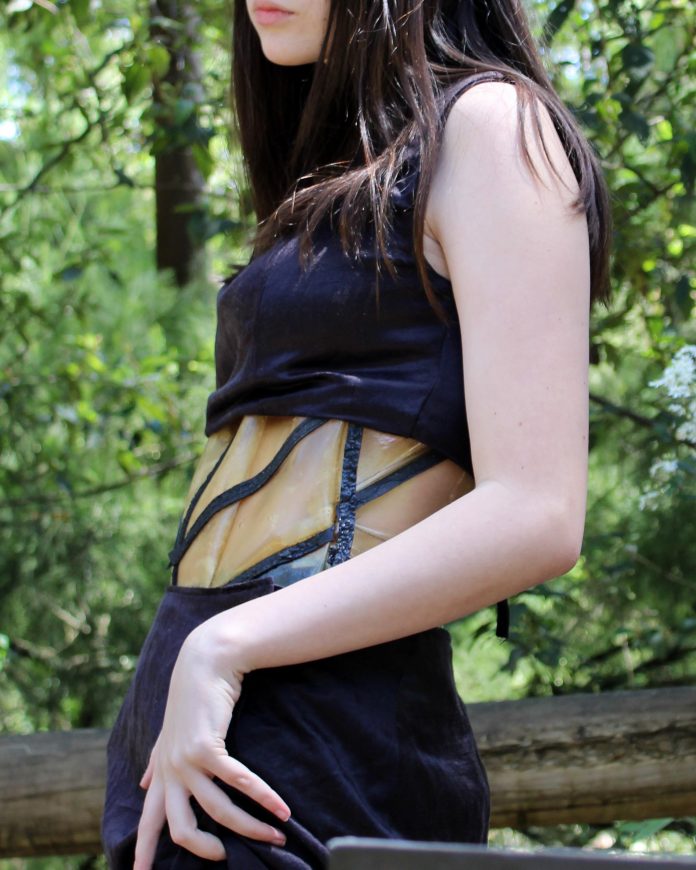 Alyssa Fritzlaff
MOE local Samantha Dargan will have her work displayed at this year's VCE Season of Excellence Top Designs exhibition.
Samantha graduated St Paul's Anglican Grammar School last year.
Her folio and production work, created for her Year 12 Product Design and Technology class, will be featured in this year's exhibition at Melbourne Museum.
Sustainability was at the heart of Samantha's designs. She crafted her clothing items out of bioplastics, which she manufactured herself.
Infused with seeds of local flora from the Baw Baw area, when her bioplastics reach their 'end of life' they decompose and contribute to the ecosystem by suppling native plants. Buttons on Samantha's designs where made out of local stones that were shaped and sewn on.
Samantha said she is conscious of the impacts of fast fashion said sustainability was always front of mind in her design process.
"I researched ways to make it more sustainable through biodegrading, and that's why can came up with the design I did," she said.
"Bioplastics are a sustainable alternative to normal plastics… I was able to fully curate the plastics from home.
"They're made from gelatine, water and glycerine
"I was able to make it in my kitchen and fully customise it to what I needed for the design. I had to do a couple of metres of plastic, so it probably took me a couple of months… because it takes about a month to fully dry out and cure properly."
Samantha selected the Product and Design Technology unit in her final year of schooling so that she could have a creative outlet and a class that wasn't so textbook orientated
When she found out she had been chosen for the Top Designs exhibition the day after her ATAR was released she was very happy.
"I was so excited – ecstatic – I was in the car with Mum… I was almost in tears and she was almost in tears," she said.
Samantha is currently studying Fashion Design at RMIT.
"I never really planned on it until last year, I think through the project I really fell in love with it and that's when I decided that that is what I want to do," she said.
"I think I'd like to have my own company and make my own clothes."
Samantha is passionate about solving problem with fast fashion, and told The Express that her future fashion endeavours will likely focus on being ethically and socially responsible.
"Fast fashion is just crazy with the turnaround and microtransactions," she explained.
"There's so much waste to only from consumers but also from companies just overproducing all of this clothing that just gets dumped in third world countries… and it's only going to get worse unless people make a difference."
Melbourne Museum's VCE Season of Excellence Top Designs exhibition will run from April 1 to July 10.
For more information visit museumsvictoria.com.au/melbournemuseum/whats-on/top-designs/