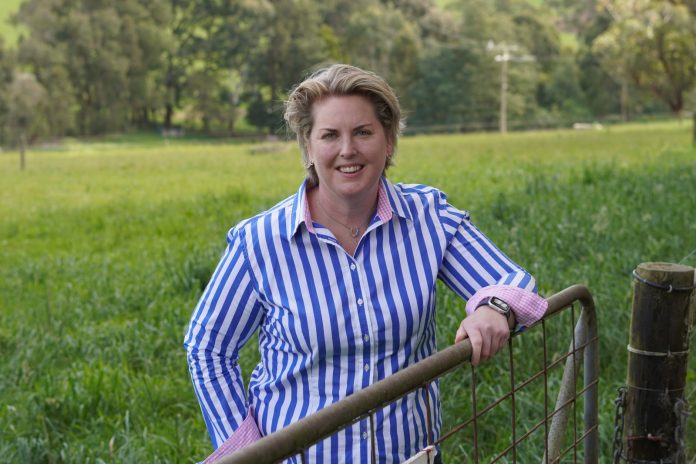 PHILIP HOPKINS
By PHILIP HOPKINS
MARY Aldred, the former chief executive of the Committee for Gippsland, has been resoundingly endorsed as the Liberal candidate for Monash at the next federal election, outpolling the current member Russell Broadbent.
Ms Aldred, 40, won a clear majority in the first round of voting to defeat Mr Broadbent,72, who has been the local member for the last 19 years, while also briefly serving in the 1990s.
Ms Aldred said after the vote on Sunday that it was a tremendous honour and privilege to have the great confidence invested in her by local party branches to represent the Liberal Party in Monash.
"I will work my hardest to make a compelling case as the Liberal candidate for Monash at the next election," she said.
"I also want to acknowledge Russell Broadbent and the tremendous contribution he has made to the Gippsland region over 25 years, and I pay my respects to his contribution to the Liberal Party over that time. It's a privilege to follow as the next Liberal candidate."
Ms Aldred said she had worked closely with the Liberal branches in Phillip Island, Leongatha, Warragul, the Latrobe Valley and Trafalgar.
"I'm deeply humbled by the great support I've had from those branches," she said.
Ms Aldred said as a candidate she would work very hard to make the case to local voters on many issues. These included the cost of living, the infrastructure base in Gippsland to handle new population, aged care and health and "make local families feel they are supported".
"In the last 20 years, I've been working with not-for-profit organisations, small businesses and healthcare organisations. I have an acute understanding of the issues and I'll be able to hit the ground running and focus on local issues and will continue to engage with all those local organisations being at farmers markets, speaking with local families in the electorate and seeing what most matters to them," she said.
As the daughter of a former federal Liberal MP, Ken Aldred, Ms Aldred said she had grown up with politics.
"I've always been interested in the communities. From a very young age, I've been involved in not-for-profit organisations. I have a real passion for small business," she said.
At last year's federal election, Mr Broadbent's margin was reduced to 2.9 per cent after preferences after a four per cent swing to Labor.
Mr Broadbent is expected to see out the rest of his term until the next federal election.
Ms Aldred, a passionate Gippslander, has worked in a number of leadership roles for local business and community organisations over the past 20 years.
Graduating with a Master of Business Administration from Federation University Australia in 2018, Ms Aldred has also completed a Bachelor of Arts (Honours), a Master of Agribusiness, and is a graduate of the Gippsland Community Leadership Program. She also completed an apprenticeship at McMillan Training (now Community College Gippsland).
Ms Aldred is most well known as the founding chief executive of the Committee for Gippsland (C4G), which represents more than 100 business and community organisations across Gippsland.
These range from Phillip Island Nature Park to Burra Foods and Saputo in South Gippsland, to the Latrobe Valley energy sector, Federation University and TAFE, through to manufacturing, health and small businesses in West Gippsland.
She has served in many local community and business roles, including the boards of Lifeline Gippsland, Wooryl Lodge in Leongatha, Gippsland Basketball League, Latrobe Regional Hospital, Federation University's industry advisory board, and is currently a director of Australian Sustainable Hardwoods in Heyfield.
Ms Aldred played a big role in securing state and federal funding for important projects in Gippsland, particularly through the Gippsland Freight Infrastructure Master Plan, which resulted in more than $150 million of identified projects achieve government funding.
Following her role at C4G, Ms Aldred was appointed chief executive of the Franchise Council of Australia, an organisation representing more than 500-member small businesses that are part of the $181 billion Australian franchising sector.
In her current role as head of government relations for Fujitsu, Ms Aldred has responsibility for working across the Asia Pacific region. Fujitsu undertakes specialised roles in defence and national security, which has provided her with a solid understanding of critical current issues for Australia in national security, defence and cyber security.
Mr Broadbent is one of the longest-serving current members of parliament, having served from 1990 to 1993, 1996 to 1998, and since 2004.
In February 2022, he made headlines after promoting Ivermectin in parliament as a treatment for COVID-19 , claiming that he and his wife had taken it after testing positive to the virus.
Mr Broadbent took a personal decision not to be vaccinated against COVID-19 with any of the available vaccines, and stated that he neither encouraged nor discouraged constituents to get vaccinated.
He was one of a handful of Australian MPs who refused to get the COVID-19 vaccination.
Mr Broadbent served on the former Pakenham Shire Council from 1981 to 1987, including as shire president from 1984 to 1985.
He also served as a commissioner of the Dandenong Valley Authority from 1984 to 1987 and as chairman of the Western Port Development Council from 1985 to 1990.
Mr Broadbent won the seat of McMillan in 1996 but was defeated by Labor's Christian Zahra in 1998.
Mr Broadbent contested McMillan again in 2004 after a redistribution erased the Labor majority and made it notionally Liberal.
He was re-elected on 24 November 2007, at the same time as the Coalition lost government and has held the seat ever since.
Broadbent served on a wide range of parliamentary committees, including as chair of the standing committees on privileges and members' interests (2013–2019) and treaties (2018–present), and of the select committee into intergenerational welfare dependence
(2018–2019).
In May 2017, Mr Broadbent resigned from the speaker's panel and his committee chairmanship to protest at the Turnbull government's inaction on aged care. He stated that ministers Greg Hunt and Ken Wyatt had misled him over the construction of a facility at Bunyip within his electorate.
Mr Broadbent was identified as a member of the Liberal Party's moderate (or "small-l liberal") wing.
During the Howard government, he came to national prominence in advocating better treatment of detainees. He supported not charging long-term detainees for their detention.
In December 2017, Mr Broadbent was one of only four members of the House of Representatives to vote against legalising same-sex marriage in Australia.
In January 2021 he stated that the Morrison government should support the Uluru Statement from the Heart and move towards constitutional recognition of Indigenous Australians.
In February 2023, Mr Broadbent and conservative Liberal powerbroker Karina Okotel wrote a book in support of constitutional recognition of Indigenous Australians. However, in September 2023, Broadbent 'backflipped' and announced that he would vote 'No' in the subsequently unsuccessful referendum.