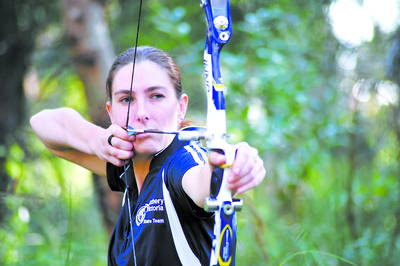 NOT many people could say their first overseas trip was taken to compete in a world championship event, but that is the situation Samantha Crawford is in.
Three years after taking up competitive archery, the Morwell archer has qualified for the 2012 World Field Archery Championships in Val D'Isere, France this August. "I was working towards (the world championships) but I didn't think it would happen so quickly," Crawford said.
She only began shooting five years ago to do "something for herself" after having children.
"I knew I wanted to (do something) so I spoke to mum and she said I'd enjoyed archery at school so I thought why not give that a try," she said.
After taking to the sport quickly, the 29-year old decided she wanted an extra challenge and moved to the barebow recurve category, where archers shoot unaided by sights or balancing systems.
At this year's national titles, Crawford "exceeded her own expectations" shooting a score of 267; 20 points above her personal best and seven points above the world championships qualifying score. "When I saw (my score) I did the hop, skip and a jump," she said.
"I couldn't believe it, I was shaking for a while after."
However, her place on the Australian team was only confirmed about a month ago, with two other women challenging for Crawford's spot.
Because of the magnitude of the event, the mother of three said she is looking to take the competition as it comes.
"I can't imagine how nervous I'll be competing at this level," she said.
"This time I'll just be looking to learn from the experience, meeting other archers and travelling and get used to it for next time."
Crawford said she practiced about two hours per week, but is looking to increase that leading up to August.
Crawford said another motivation for her to achieve at this level was to inspire her children.
"I want to show them that you can do these things and follow your dreams," she said.
Crawford is looking for sponsors to help cover the cost associated with competing in France.
To make a contribution, phone Peter Bennett on 0429 429 240.