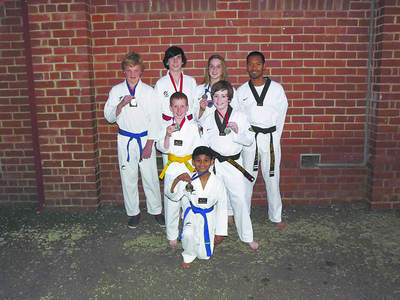 MOE's Meagan Faltum said she enjoyed the "contact" side of taekwando.
"I love the physical part, and the challenges of it," Megan said.
The 14-year old red belt recently won gold at the Victorian Taekwando championships, beating a probationary black belt in her final.
"I was really happy with how I went; I'm moving through the red belt pretty quickly," she said.
Meagan was not the only local youngster to perform strongly at the championships.
Five other students from Morwell's Braha Taekwando school took home medals, totalling three gold and three silver.
First time competitor Will Kennedy won gold, as did Kyle Shailen while Sam Hayden, Josh Bloomfield and Michael Boyles took home silver medals.
If Meagan, Will and Kyle win gold at the next two state-level competitions, they will qualify for the national titles later in the year.
"I've been to the nationals in the past and since I'd like to have my black belt by the end of the year, I'm really keen to qualify," Meagan said.
Braha head coach Adonis Mazzarella said he was "extremely happy" with how his students performed.
"They all did so well, they're always competitive at the state level and they deserve it, because they work so hard," Mazzarella said.
Mazzarella said all his students have the ability to qualify for the nationals and they were all working towards that goal.
"They train about five times per week, so with that level of dedication I have confidence in them," he said.
Mazzarella said taekwando was "very similar" to other martial arts, but had a greater focus on kicking than disciplines such as karate, where the upper body was more involved.
According to Meagan, taekwando has also taught her discipline, a sentiment that Mazzarella agreed with.
"There is certainly discipline involved, which is great because it can be transferred to other areas of your life," Mazzarella said.
The next state competition is on June 3 in Melbourne.