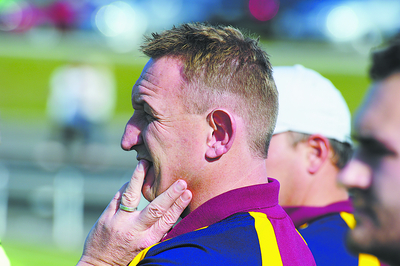 MOE senior coach Jason Macfarlane has faith in his side, after the Lions recorded their first win at the weekend in Gippsland League football.
Despite the scoreboard reflecting a slow start to the season, Macfarlane believed his team was on the right track.
"We've got a lot of young kids in our side; the average age is around 21," Macfarlane said.
"We've also got a few 16 and 18 year olds who are being blooded in senior footy, so we have to be patient."
According to Macfarlane, the side's worst performance was against Traralgon in round four but apart from that he believed the team "hadn't been playing too badly".
"We were competitive against Drouin, flogged by Sale who were simply a bigger, superior side, and finally got a win on the board last weekend so at this stage I'm not too worried," he said.
"We were pretty determined to get a win on the board last week against Morwell, being an arch rival and me being an ex-player and coach of Morwell," he said.
"We had a good mix of young kids and we've got some good leadership coming through in the younger, 23 or 24 year old guys too."
Macfarlane said Moe's "time to shine" will "be in around three or four years" when the side has developed.
Earlier this year, the Moe Football Netball Club participated in a strategic meeting with the Collingwood Football Club.
The meeting was intended to assist MFNC with a future plan in the areas of finance, membership and player development.
As a result, Macfarlane said the club had spent a lot of time this year "getting the thirds up and running".
"The meeting with Collingwood mainly focused on off-field issues, but one of the key things to come out of it was that we had to work on our players from the bottom up, so juniors all the way through to the senior side," he said.
"So that's where a lot of our energy has gone this year and hopefully we'll reap the rewards in years to come."
This year the club also lost a number of key players, but Macfarlane said they coped well with the change.
"It only impacted early on, but I don't think it affected us too much because we're using the opportunity to get the young guys in," he said.
This week Moe faces Maffra at Maffra.