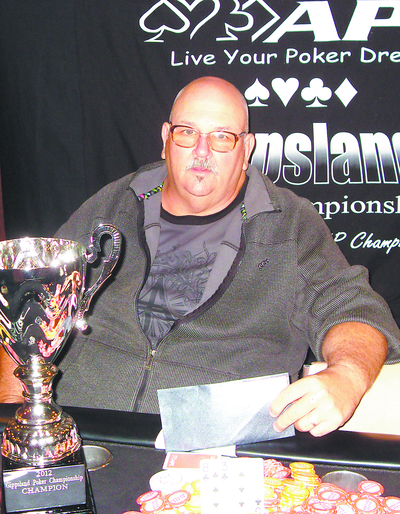 PAUL Balzomeris was recently crowned the inaugural Gippsland Poker Champion.
Just 18 months after taking up the game, Balzomeris first tried his luck at a Moe poker tournament.
By his own admission he hated the game first time around, but things have certainly changed since then.
"I had a crack and hated it the first time," he said.
"But some time went by, I played again and would you believe it, I won the whole thing.
"Once I knew what it felt like to win a tournament I was totally hooked."
Held at The Moe Hotel on Saturday 28 April the Gippsland Championships was the first tournament of its kind for the area and attracted about 100 players.
For Balzomeris, the appeal of poker is multi-faceted.
"I have met so many people and made heaps of mates through poker," he said.
"I love the mental challenge, trying to outwit your competitors, the thrill of winning, and the community it creates."
While he admitted luck played a role in his recent success, Balzomeris credited his win to patience.
"I learnt that from some of the older players I have met who have been playing for a life-time," he said.
"These older guys know what they're doing and it's great to chat to them at the tables.
"I used patience, didn't rush and knew when to make a move."
Now almost $3000 richer and with a championship title under his belt, Balzomeris has his sights set on Australia's biggest poker tournament, the Crown Aussie Millions.
"I want to earn my way there and win a seat," he said.
"Even if I didn't win it, just to be a part of something like that with all the international poker pros would be amazing."