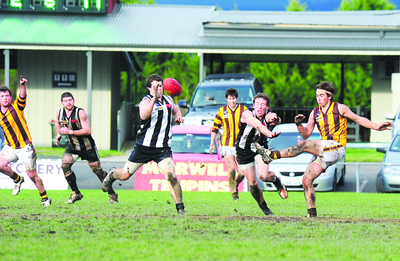 A TOUGH game is expected when Yinnar and Boolarra clash in Mid Gippsland football on Saturday.
Last time they met Yinnar won by five goals.
The Magpies have some great momentum going into this game, after having won the past five.
However, the Demons knocked off rivals Trafalgar last week and are aware they can be the premiership team they were last year.
Magpies coach Sam McCulloch said his side knows it can be defeated if it does not bring its A game on Saturday.
"It's a dangerous game, because Boolarra's obviously still a good team," McCulloch said.
"I think besides the Newborough game, they've been very competitive with everyone.".
Boolarra co-captain Simon Buglisi said he knew Yinnar was "up and about" this year and his side were preparing to go in hard.
"We'll have to be at our best again if we want to beat them," Buglisi said.
Thorpdale v Yallourn/Yallourn North
Thorpdale takes on Yallourn/Yallourn North, which is fresh from a much-needed win over Yarragon.
With the Blues putting in a better performance against Newborough than round one, supporters will be expecting the boys to do the same against YYN on Saturday.
Blues coach Brett Sherriff said he thinks his team played its worst game against the Bombers in round two when they went down by 170 points. He said the team has improved a lot since then and expects Thorpdale has "half a chance" of winning on Saturday.
"Hopefully we can do a lot better," Sherriff said.
"We improved again against Newborough so I think we can step it up again and see how we go."
Some of the Bombers' quality players including Barrie Burnett, Todd Dobson, Thomas Hutton and Tim Phillips, were hard to stop against Yarragon last week.
The Blues will need to ensure they are not allowed to control the game.
Morwell East v Mirboo North
Mirboo North travels to Morwell East this weekend on the back on a convincing win over Hill End last week.
Hawks coach Paul Henry was disappointed with his side's performance against Yinnar last Saturday, but said he has "full belief" in his boys to be back to playing their best against the Tigers.
"I'm looking forward to this one," Henry said.
"I've got no question these boys are going to bounce back and put on a good show against them."
Henry and Hawks captain Wes Amalos should be back this weekend to provide more on ground leadership and help in setting up zones, which should also lift the side.
Mirboo North, now a top two team, will be hard to beat, but this season has shown almost any side can beat any other.
Hill End v Newborough
Newborough had another great win against Thorpdale last week, but will have to be prepared for a Hill End side determined to claim its top five spot back.
Hill End has not played its best football lately, while Newborough has not skipped a beat since its round six loss to Mirboo North.
The last time Hill End played the Bulldogs they put up a good fight and kept in touch with Newborough.
The Dogs were able to kick away in the last quarter.
The Hillmen will not want a repeat this weekend and a consistent four quarter effort will be needed to knock off the top side.
Trafalgar v Yarragon
Trafalgar and Yarragon will play for the Waterloo Cup this Sunday at Trafalgar.
After a loss to Boolarra last week, which knocked them from second spot, the Bloods will be raring to go and keen to prove they can be the best
This could be a no-holding back Trafalgar side so the Panthers will have to be on the ball to ensure they do not concede a belting.
Panthers coach Shaun Kleeven said the club continues to have great numbers at training and remain positive.
He said he was looking forward to the match against Trafalgar.
"They're a really good running side," Kleeven said.
"They're really quick and I think at the moment the conditions don't really suit them.
"We'll just try to make it a contest and get in there and have a go and see what happens."