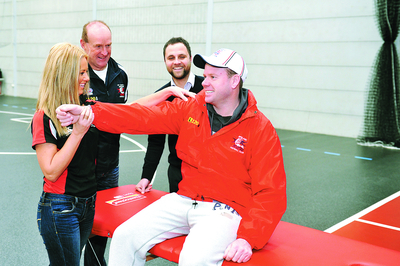 Students at GippsTAFE's massage course are getting out into the community to gain experience, much to the benefit of local sporting clubs.
As part of the diploma course, students are required to gain 50 hours of practical massage experience.
The course currently has strong links with the Gippsland Power, and organisers are looking to expand that to include the Gippsland Sports Academy as well as swimming clubs in Gippsland.
"This is the first season working with the Gippsland Power and the club is very supportive," Tegan Grant, a teacher in the course, said.
"Nick (Stevens) has the background of being an elite athlete, so he has the experience of having professionals like massage therapists around.
"Being exposed to a club like Gippsland Power, the remedial massage students are seeing different injuries and ways to prevent injuries too, so it's only going to help their futures in the industry."
Grant said other students were volunteering at local sporting clubs, and that athletes at any level have a lot to gain from massage.
"Athletes recover a lot quicker because massage helps flush out toxins and waste you build up during physical activity," she said.
"It also helps repair injuries because it increases blood flow and circulation."
Grant admitted that many community sporting organisations could not afford to employ professionals such as massage therapists, meaning volunteer work was the only avenue for most clubs.
Students in the certificate four course were offering massages to the public as part of the 'Wellness Clinic'.
"The idea is people take an hour out of their day to have a maintenance massage," she said.
"It's $10 for the massage, and all the money goes back into the department, whether it's buying T-shirts for the students or equipment."
Understandably the sessions are very popular, but only run periodically as the concept is new.
Diploma student Toni Marsh said she enjoyed massage because of how it made people feel.
"I like the end result; I like it when people get that good feeling and knowing you've given people that feeling," she said.
Marsh, who has always been interested in alternative therapies, said she has learned a lot from working with the Gippsland Power and recently volunteered her time with fellow students at Curves, in Moe.
"Working with Gippsland Power is great because it's such a professional organisation," she said.
"At Curves, we went in and did 20 minute massages to raise money for Motor Neuron Disease.
"It's great this year now we've learned the therapeutic side and how to fix problems."