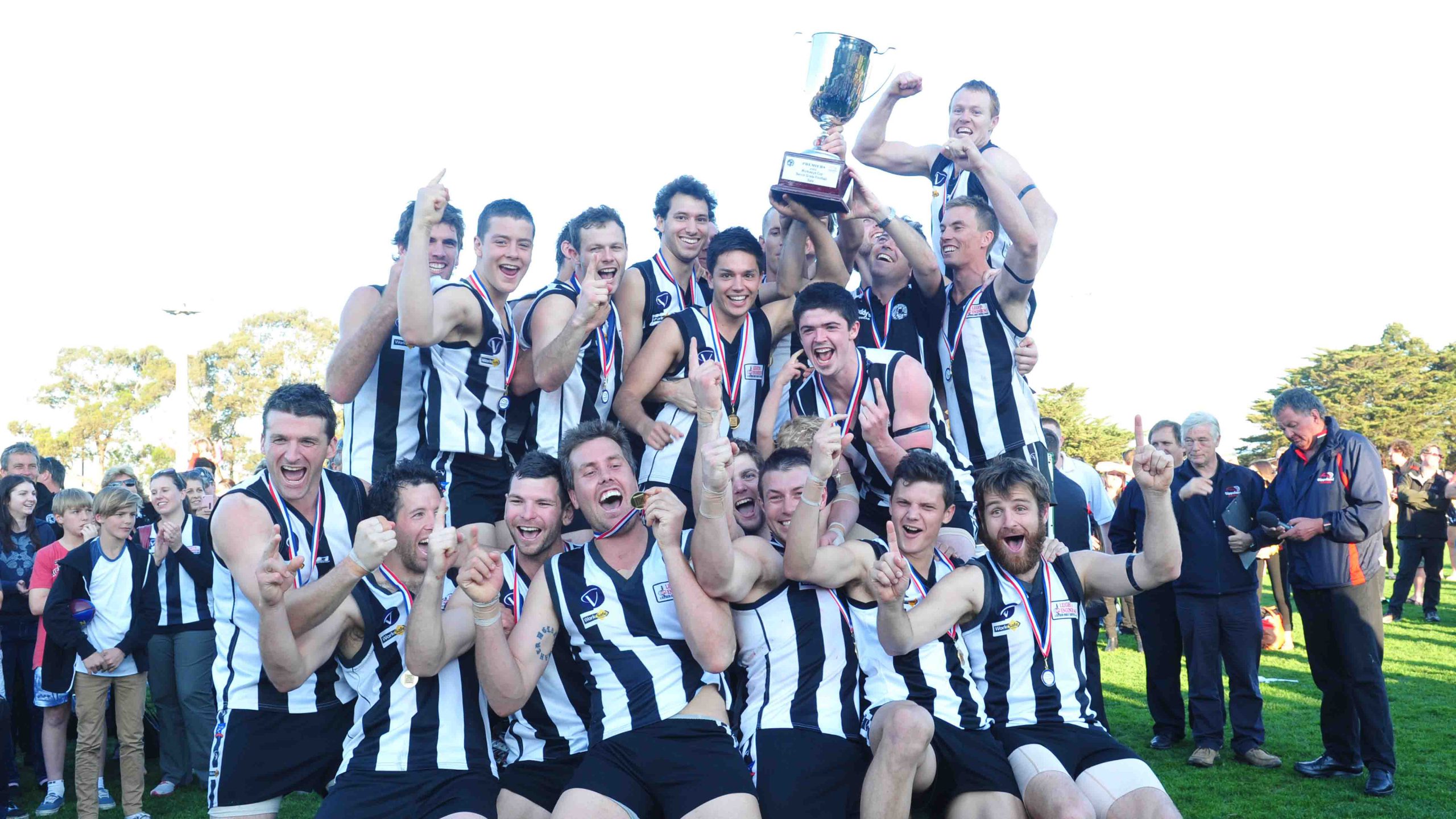 Sale sealed its domination of Gippsland League football this season by beating a gallant Maffra by 56 points in front of a record crowd of 4448 in the grand final on Saturday.
It was sweet revenge for the Magpies as the Eagles beat them to win the 2006 and 2007 flags before defeating Morwell to win it in 2008. Maffra then won the next two flags.
For Trood Award Rodda medallist, 31 year-old Luke Collins, it was a first taste of premiership success, as was the case for 15 year-old Josh Dunkley who will be heading north to play with the Sydney Swans in a few years' time, where his father Andrew played 203 games.
From the first bounce the Magpies controlled the match and had three goals from Matt Ferguson, Justin McLay and Kane Martin in the first eight minutes before the Eagles got on the scoreboard with a point.
Maffra started to match the Magpies but missing easy set shots did not help its cause with Jack Tatterson the main culprit.
After three goals in the first nine minutes of the second quarter it looked a matter of how far, but a goal to Brent Connelly and two to Daniel Bedggood had Maffra back in the game.
Sale steadied through Matt Ferguson (two goals), Justin Mitrevski and McLay to finish with a seven-goal quarter.
Maffra's 5.3 quarter was its best but after half-time it added 1.6 to Sale's 7.4 and was never a threat in the second half.
Midfielder Kane Fraser was dynamic for the Magpies in an effort that won him the Stan Aitken and Victorian Country Football League medal but was not considered good enough to rank among Sale's top six players.
Jordan Dessent, at centre half-back, had a great duel with Daniel Bedggood and kept him out of the game while Adrian Quirk had a tight rein on Adrian Burgiel. Shane Fyfe, Russell McAdam, Ryan Pendlebury and McLay were good for the Magpies and youngster Dunkley proved he was Australian Football League material.
Matt Ferguson was a great leader for the Magpies and finished the day with five goals and 95 for the season.
Hayden Burgiel was Maffra's driving force and each time he went to the bench his team lacked the necessary skills to match it with Sale.
Winston Gieschen and Gary Jones were great while Alex Carr, Dan O'Brien and Ben Coleman put in a strong showing.
Reserves
An undisciplined Sale handed Leongatha the reserve grade premiership on a plate after dishing up two costly free kicks.
The first was on the three-quarter-time siren and the second in the dying moments of the last term.
Sale had possession of the ball but the umpires reversed a free kick and allowed Jake Mackie's goal to cut Sale's lead going into the last quarter to 18 points.
Leading by three points with a minute to play, Sale gave away a free kick to Sam Marriott who snatched the lead for the Parrots.
Leongatha's Justin Pellicano was flattened after the kick and sealed the win with his fifth goal from point blank range with the siren sounding seconds later.
The VCFL medal was won by Leongatha's Paddy Kindellan.
Thirds
Bairnsdale won a thrilling under 18 flag against Warragul by six points in a game where the scores were close all day. Derek Hayes of Bairnsdale won the AFL medal.
Fourths
Traralgon won the under 16 flag against Sale by 15 points with Sale's Nash Holmes winning the AFL medal.
Netball
It was a great day for the Holmes family as his older sister was best on court in Sale's 44-27 netball win over Traralgon.
After leading by six points at quarter-time Sale managed three points in the next two quarters before kicking four goals in the last term.
Traralgon's best were Jordan Cunico, Ashley Di Ciero and Christian Buyk-Smith while Nash Holmes, Ben Dessent and Tom Jolly were Sale's best.