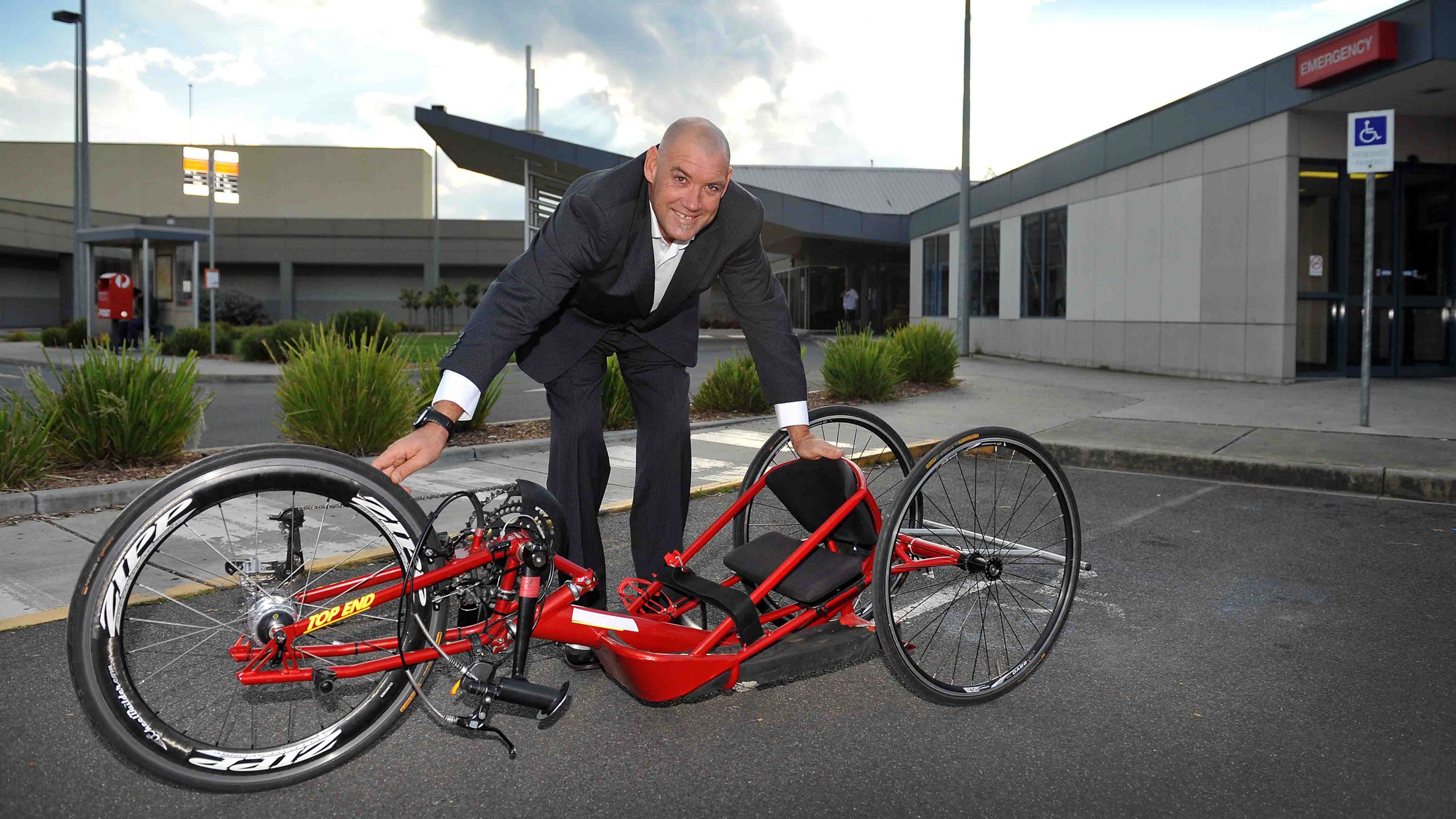 BORN and bred Traralgon man Stuart Tripp was back on home soil recently to speak at Latrobe Regional Hospital, fresh from his first London Paralympic games.
Tripp, who competed in the men's H4 hand-cycling road race and time trial at the London games, spoke to medical students and professionals last week to regale his remarkable journey to the top.
The 42 year-old lost his right leg in a car accident in 1994 and has since transformed a destructive lifestyle into an incredible story of athletic success through hand-cycling.
"I had a very unhealthy lifestyle; I was a smoker, I used to drink though not excessively, I was overweight and I just didn't look after my body well," Tripp said.
"It was probably the hardest thing I've ever done quitting smoking… having stopped those things (has changed my life)."
Tripp initially used hand-cycling as stress relief, but gradually became more engaged with the sport and rapidly rose to Paralympic level after committing seriously in 2010.
The Northcote resident finished eighth in the road race and ninth in the time trial at the games after being reclassified to the H4 knee-cycling bike from the residual class just 18 months ago at the World Championships.
Tripp's initial response to his result was discontent, but that quickly gave way to pride looking back on the event.
"It was interesting; to be honest when I finished my time trial I was pretty disappointed with where I placed given the amount of effort I put into it," he said.
"My maximum heart rate is 184, and I averaged 176 for the 28 minutes of the time trial (so) I couldn't have done any more effort-wise."
One of just two Australian hand-cyclists at the games, Tripp said the experience and excitement of the Paralympics was unlike anything he had encountered in his athletic career.
"You try to tell yourself it's just another race; regardless of whether it's the Paralympics or a club race you go through the same motions every time, and yet it's special," he said.
"It was special from the time we went to the United Kingdom to the rockstar treatment through the airport to the chauffer driven cars to the games village where you're there with the best athletes in the world.
"It's huge, it is the pinnacle of an athlete's career."
After a strong five-month preparation in Europe, where he clocked 5200 kilometres on the bike and climbed 52km in vertical metres, Tripp said it was testing to focus on the task at hand with the hype around proceedings.
"You try as much as you can to put all that to the side because you know that you're there to race," he said.
"I couldn't have done any better in the lead up, it's tough but it's what we do and I love riding my bike so it's not hard for me to do."
Tripp is already planning his training regime with Cycling Australia head coach Peter Day to have another crack in 2016.
With a full four years to prepare and hopes of a flatter circuit in Rio de Janeiro, Tripp was hopeful of going one step better as a 46 year-old and the desire is still burning.
"Overall it's been an awesome adventure and I'm looking forward to hopefully doing it all again," he said.
"It's been fantastic I've just had so many people come up and tell me 'well done'; it's been overwhelmingly positive (since I got back)."
The jack of all trades is a qualified plumber, published author, holds two degrees, is now a Paralympian but will hold an even more prestigious title in February: father.
"That will change things as well," he said with a smile.