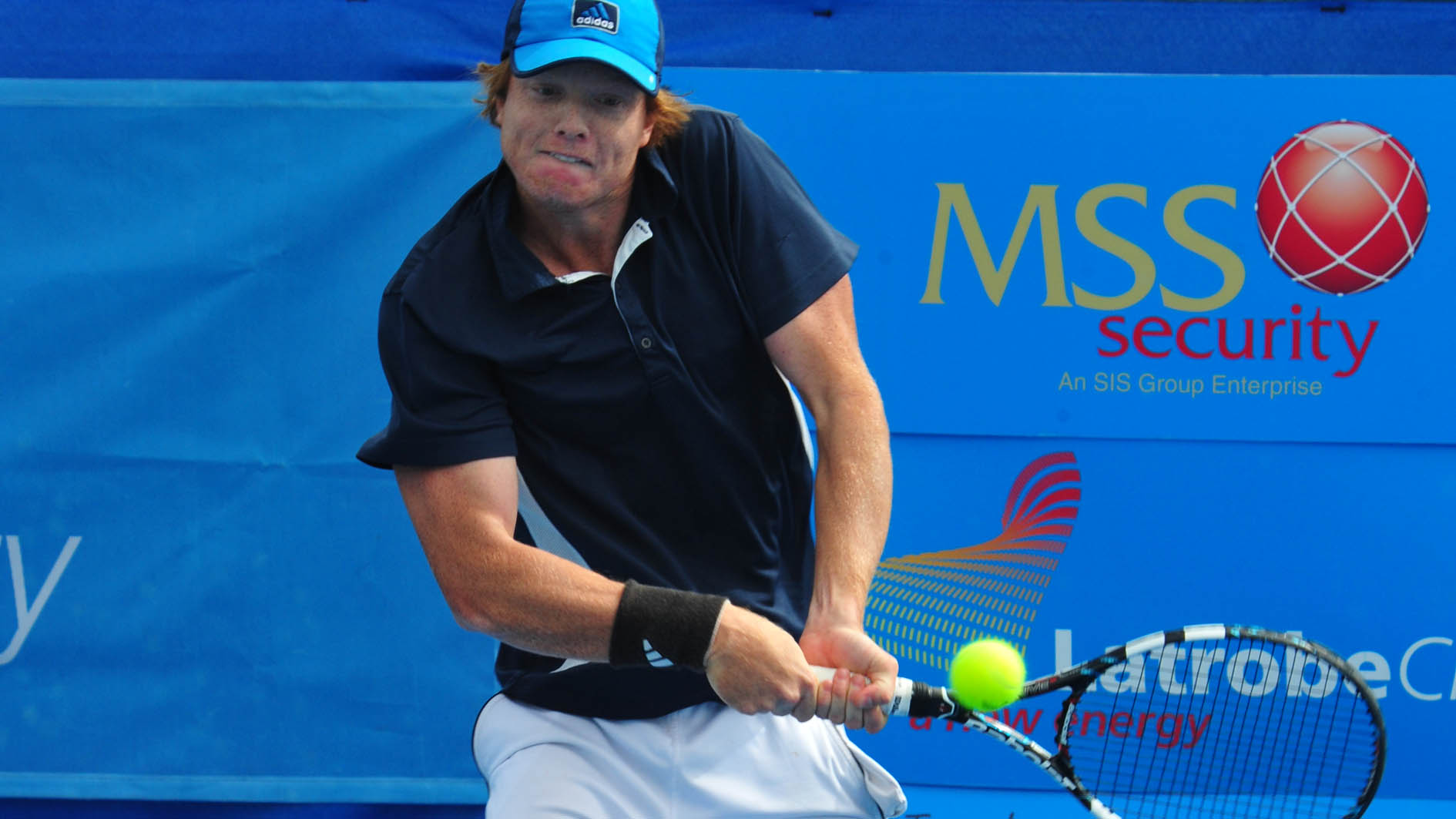 A MAROON whitewash headlined the final day of play at the Latrobe City MSS Security Tennis International in Traralgon on Sunday, with Queenslanders Ben Mitchell and Ashleigh Barty emerging victorious in their respective singles draws.
Defending champion Mitchell won a seesaw battle with South Australian Luke Saville in the men's final, 6-3 2-6 6-1, while 16 year-old Ashleigh crushed a disgruntled Arina Rodionova, 6-2 6-3, on the women's side.
World number 340 Mitchell secured his fifth career win and back-to-back Traralgon titles with an emphatic third set performance, which he said stemmed from an attacking mindset.
"It's always good to come back and defend the title," Mitchell said.
"I really made a conscious effort to come out and start the third set quite aggressively, especially on my returns and serve.
"It paid off, I got to a 4-1 double break lead and that's where I won the match."
Former Wimbledon junior champion Ashleigh started the tournament ranked 217 in the world, but is expected to make a significant jump following her success in this event.
The Queenslander avenged her doubles loss to Rodionova and Cara Black with a resounding win in the singles draw in the best conditions of the week.
Seventh seed Rodionova's frustrations boiled over in the second set with Ashleigh cruising to victory at 4-0, but the Melbournian battled back with a break of serve to reach 2-5.
Ashleigh came back from 15-40 on serve at 5-3 to win a belated duece game and claim the title in her second appearance in Traralgon and first in the tournament's main draw.
"When the day is like this you can trust your shots and really go for it so I just wanted to play my game and be aggressive; I got out to a lead in both sets so I was just happy to finish it off," she said
"I didn't actually play any bad tennis; I felt my forehands and backhands were hitting the top of the tape and if they go the other way it's a 6-1 or 6-2 set so I'm happy with the win."
The talented teenager was impressed with the Traralgon facility's makeover since her last appearance in the event.
"I've had a great week here… these courts are great, when I was here 18 months ago the courts were different, it wasn't plexicushion, but the courts here are holding up really well," she said.
"It's really pleasurable playing on these courts and they suit my game well."
Traralgon Tennis Association president Neville Pattle said the sixth edition of the tournament had been a huge success from the club's standpoint.
"To have this standard of tennis here in the community is just a real treat for the Gippsland region," he said.
"The guys from Tennis Australia have been here many times before, it's a well oiled machine and it has run very smoothly."
The club will now turn its attention to its 20th hosting of the International Tennis Federation junior tournament, which will begin in 75 days time.
For more information and full results visit
www.tennis.com.au