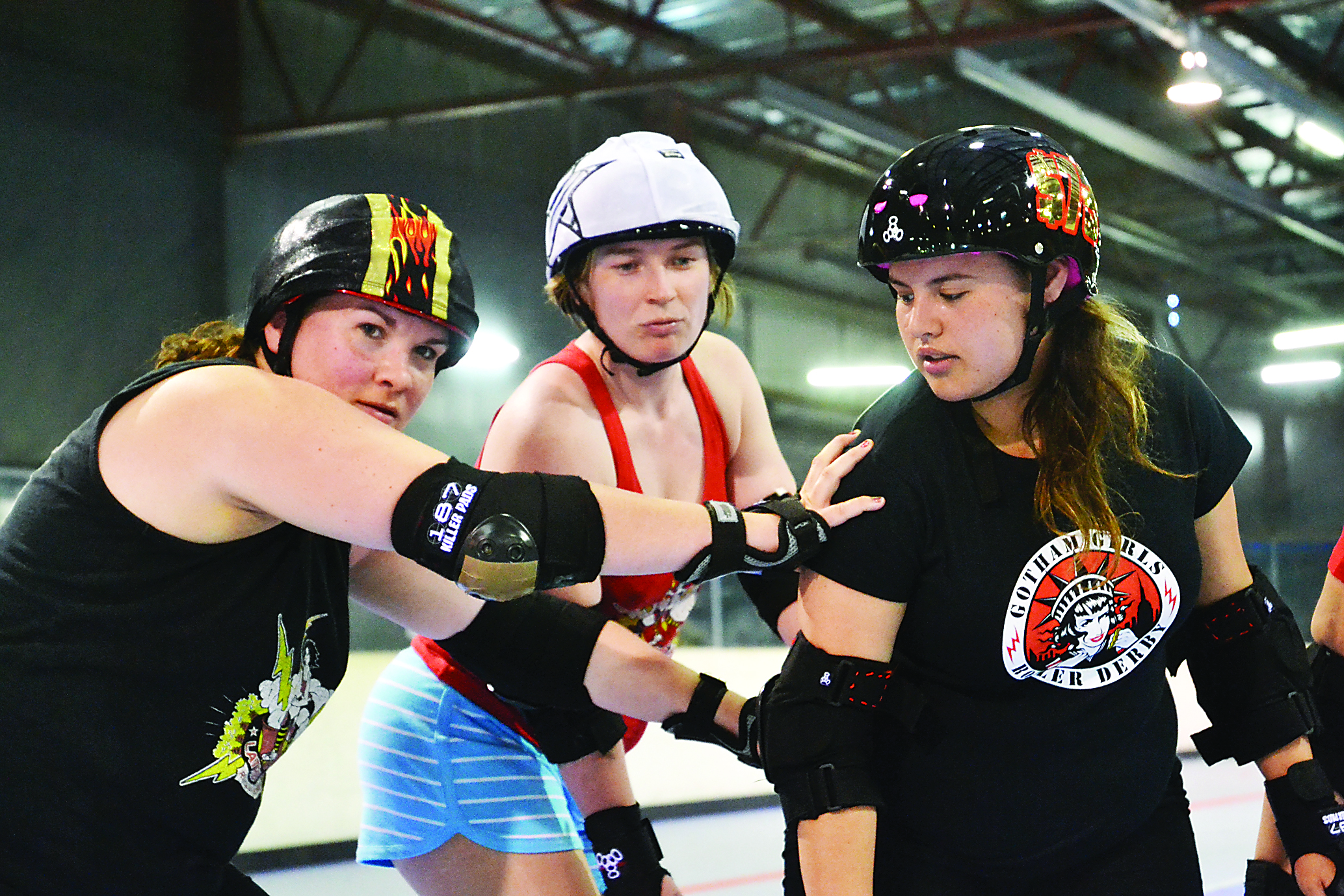 FISHNETS and big hits will rollick into Moe on Saturday when Latrobe City Mega Hertz tangle with Geelong's Virgin Marys in a rambunctious roller derby showdown.
Mega Hertz will return to Stadium 34 on a roll after a victorious bout in Tasmania last month, and the likes of Hot Lips Rangahan, Petie Gonzalez and K-Boom will unleash their alter egos on their more experienced opposition.
"They were a hard hitting team which was a bit of a shock at first, but I think our knowledge of strategy just came together," injured Latrobe City jammer T.N.Teegs, also known as Tegan Douglas, said of the Tassie tussle.
With 27 members on the books, Latrobe City Roller Derby has come a long way since its Facebook origin more than two years ago and continues to grow.
Douglas said the full-contact female sport was a forum for players to bring out another side of their persona.
"Because of the nature of the sport having the (playing) names lets you be somebody else on the track," Douglas said.
"It gives you a bit of a different mindset; it's almost like your superhero name.
"T.N.Teegs does stuff that I don't do in my normal life."
Roller derby is a strategic battle on wheels between teams of five on a circular track.
Blockers, pivots and jammers skate a lap without scoring, then all hell breaks loose as jammers attempt to weave through the pack to earn points while the opposition endeavours to heavy handedly block their progress.
"I've seen someone get hit and spun around facing the other direction when they landed; that's part of the fun," Douglas said.
"You're playing offence and defence at the same time which I think is the funnest part of it, it changes in a second."
While it may sound like pandemonium, roller derby is actually controlled chaos.
A strict training and accreditation system means it can take players up to a year before they are match ready, and the process includes a written rules test.
"Because it is full contact and it's on wheels you need to prove that you're safe and you're not going to kick and trip people over," Douglas said.
Mega Hertz is predominantly made up of Traralgon and Moe players, many of who have never played a team sport, according to Douglas.
The side has a 3-1 win/loss record to date, but will face a stern challenge from the established Geelong club's B team.
Doors to Stadium 34, Moe open at 6pm for a 7pm start on Saturday night; tickets for adults are $10 and children under 16 get in free.
The club is currently holding 'fresh meat' classes for new players to come and try the sport on Sundays from 4pm.