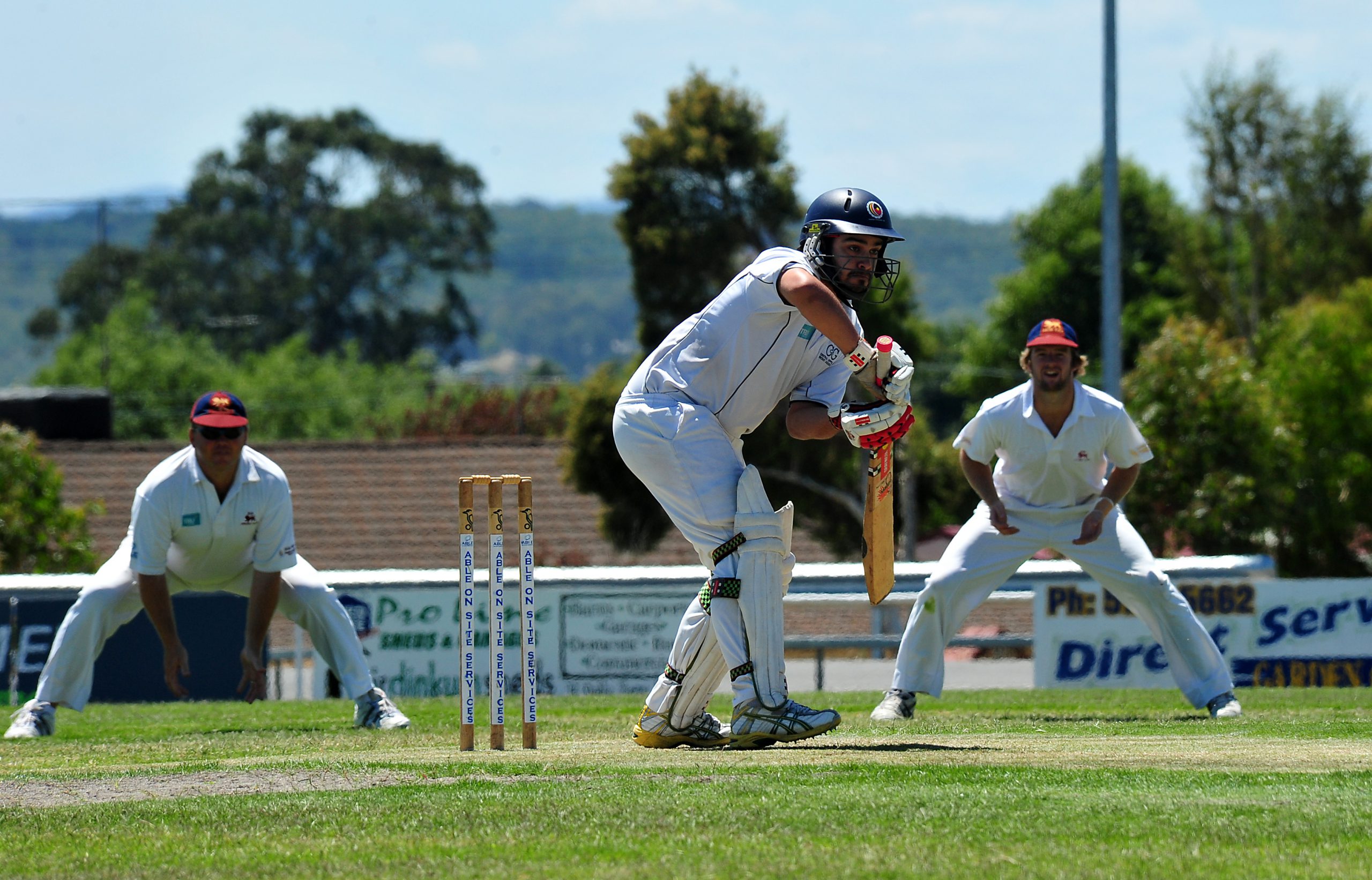 BOWLERS were on top on the first day of EnergyAustralia Yallourn Cup round 12 matches at the weekend as Moe and Morwell raced to first innings points.
Moe's Chris Johnson was brilliant in routing Newborough Bulldogs with excellent figures of 6/6 off 14.3 lethal overs, including 10 maidens.
Johnson's demolition had the Bulldogs all out for a paltry 42.
Lachlan Hardy was the only Bulldog to reach double figures with 11, with sundries next top score with eight.
The Bulldogs won the toss and batted but their 42 runs took 46.3 overs to make.
Chasing a low score, the Lions lost Dale Walshe (17) and Paul Cake (7) early, but Andrew Philip steadied things with a half century and was out just before stumps for a well compiled 56.
Brandon McDonald and Brendan Brincat bundled Yallourn North out for 101 in 39.5 overs.
The Tigers gained first innings points and have five wickets in hand.
McDonald took 5/40 from 11.3 while Brincat took 4/11 from 10 overs.
The Bombers struck back to claim the wickets of Rob Semmler and Shaun Cooper when the score was 27, but Jesse Giardina (23) and Blake Mills (37*) steadied the innings to take the score to 70. When Morwell was within one run of first innings points, Jeremy Butler struck twice to get rid of Mark Cukier (20) and last week's century maker Craig Giddens for a duck.
Giddens had a let off first ball when dropped by Evan Sheekey, but two balls later Sheekey whipped off the bails and stumped the Morwell skipper.
Trafalgar took 73.5 overs to reach 123 in its match against Latrobe and the Sharks were 2/31 in reply off 15 overs.
John Asmussen was Trafalgar's top bat with a patient 36 and Jackson Noonan made 27.
Rhys Holdsworth could be considered a shade unlucky when Daniel Siddle caught the ball legitimately in his arm pit to remove him. Latrobe's wickets were shared around with Brendan Evans, Pat Farrant, Rob McKinley and Kaushik Aphale sharing the spoils.
Cohan Lee took two wickets from his four overs to give the Ships a chance to rein in their modest score.
Daniel Siddle batted well to be 21* but the Sharks still have all their big guns to come in this week.
Second Grade
Veteran Thorpdale legend Harvey Poole notched up another century in his long career, scoring 107 against Willow Grove as his side moved into the top six. The Blues made 220 with Trent Gibson (43) and Harley O'Connell (38) solid, while Luke Brains took 3/26 for Willow Grove. In reply Willow Grove was all out in 18.4 overs for 28 with Boyd Bailey taking 4/14 and Jason Richardson 3/6 from six.
Rawson and Jeeralang Boolarra scored 653 between them in a run fest with centuries to Wayne Fleming (106) and Panthers' Craig Blackberry (138).
The Kookaburras ended up with the points with other notable performances from Alex Sword (83 and 4/50), Paul George (72) and Panthers' Stan Urbanic Junior (86) and Peter Gilpin (50).
Mirboo North chased down Morwell's competitive score of 159 to win by three runs. The Mirboo North Tigers were in deep trouble at 8/88 until Dillon Leys rescued the side with 54. Brandon McKean (22*) and Brandon Bradshaw (11) got them over the line with two overs to spare. Marty Giddens top scored for Morwell with 40 and Glen Bone (23), Steve Bilic (27) and Alex Henderson (29) all got good starts. Andrew Yarnton was Mirboo North's best bowler taking 4/24 from eight.
Hayden Brown with 52* was instrumental in Yallourn North chasing down Hazelwood North's competitive total of 186. Brendan Mason was in form for the Razorbacks with 50 and 3/42 from eight.
St Vincents consolidated its place in the four with a 134 run win over Trafalgar. Dwayne Oldham (59), Mal Gifford (40), Justin Hecker (39) and Shine Sharmughan (34) shared in the 273 run total. Batting first Trafalgar was all out for 137 with Brendan Dawson making 59.
Latrobe won its battle against arch rival Moe with an 18 run win. Ian Kennedy (57), Matt Brewer (20) and Aaron Farley (34) gave the Sharks a great start.