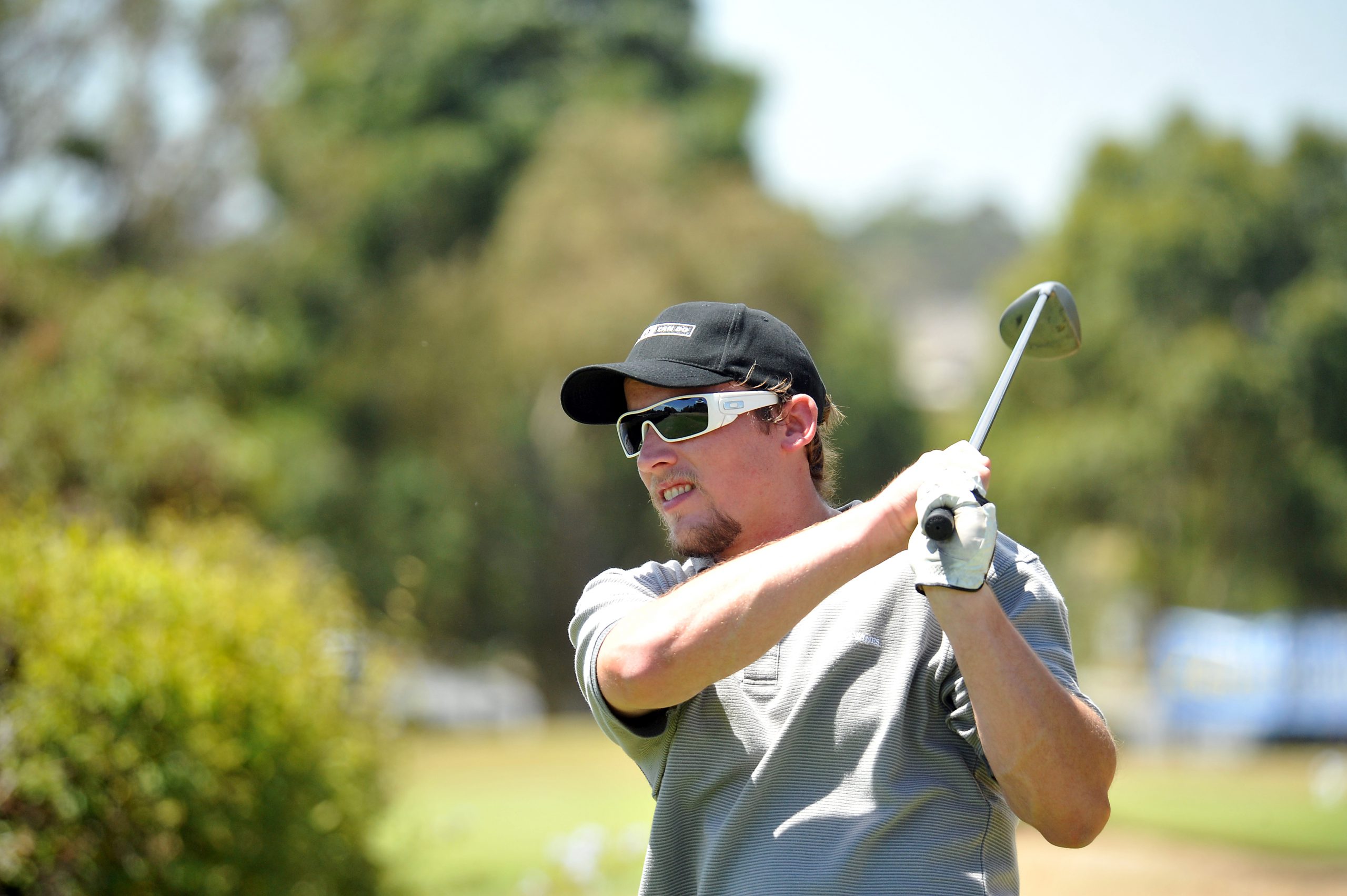 VICTORIAN Scott Laycock knew he needed to shoot low to win his third Traralgon Pro Am last Friday, and a second round 64 was just the ticket.
Laycock was only a shot off the pace after a first round 67 on Thursday, but there were a dozen professionals within four shots of first round leader Brad Lamb.
Possessing one of the tour's most controlled games, Laycock took advantage of hot, fast conditions with accurate tee shots and low laser like approaches to avoid the scrubby lies awaiting inaccurate players.
Starting from the 10th hole, Laycock reeled off four straight birdies on one of the course's most challenging stretches.
Eventual runner up Peter Wilson (68, 65) was also on a birdie blitz; a birdie at one, followed by an eagle at two was backed up by birdies at five and six.
The relatively benign eighth hole proved a stumbling block for the rampaging Wilson, as his charge faltered with a bogey.
First round leader Brad Lamb (66, 67) produced five birdies on the first nine, but was only able to keep with the card on the back nine.
Another danger to Laycock was ex-PGA player, David McKenzie, who had won the previous day with a 63 at the Trafalgar Pro Am.
McKenzie (67, 67) was well in the hunt but bogeys at four and 10 were enough to see him finish three shots shy of a winning score.
Young Korean professional Jin Jeong (69, 66) also scored five birdies on the front nine, but spoilt his day with double bogey at the short par four 13th.
Of those on the leader board, Laycock alone did not a score a second round bogey.
A three putt par at six steeled him for a final push.
The now three-time champion hit a long drive at the 532 metre seventh hole, followed by an intelligent lay-up and an accurate pitch from a downhill lie to set up a tricky three metre putt for birdie.
A wait on the eighth tee did not affect Laycock's concentration as he sunk another three metre down-hill birdie putt.
Par at the last hole saw him finish at eight under for the round with a two stroke winning score of 67, 64 (131).
Receiving his trophy in the clubhouse, the winner was generous with his comments about the event backing up wins in 2010 and 2011.
"I've have had a lot of success here at Traralgon and I'm always happy to come back here; I wish I could take the course home with me" Laycock said.
On the local front there were exceptional amateur efforts from Rick Alexander and Tom Couling with scores of 63 and 67 respectively.
Pro Am chairperson Barry Switzer was delighted with the tournament and encouraged the professionals to return next year and attempt to wrest the trophy from the event's only triple-crown winner.