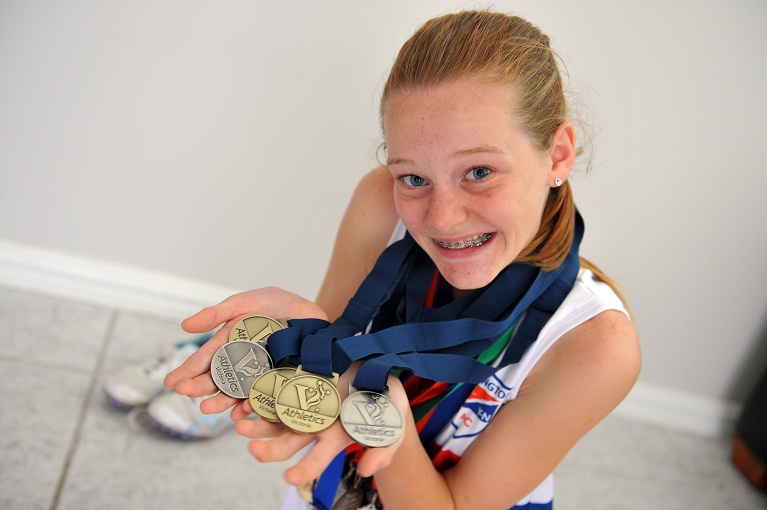 MORWELL athlete Grace Walker's name is a misnomer.
The Moe Little Athletics club star does everything full steam ahead, and with great success.
Five medals at the Victorian Country Athletics Championships held in Geelong last month are proof of her enormous talent, and the 13 year-old looks certain to add to her already impressive trophy cabinet in the future.
The versatile athlete claimed gold in the long jump (4.58 metres), 80m hurdles (15.15 seconds) and 4x100m relay at the championships for Wellington Shire, along with silver in the 100m sprint (13.87 seconds) and triple jump (9.87m), recording personal bests across the board.
The Denis Huffer-trained teenage talent has also recorded three state top eight finishes in recent times, including the Little Athletics State Multi Championships (Pentathlon), in December, the all schools state triple jump, and little athletics state triple jump.
Having competed at state level for the past four years, Grace said her best result to date was mainly due to hard work with Huffer over the past year.
"I've been training a lot with my coach Denis Huffer and it's just gone smoothly and worked out really well," she said.
"(We've worked on) jumping technique and sprinting technique and building up my power. I felt really good in myself (at the championships) and I was glad that I got heaps of PBs (personal bests) at the weekend."
With an immediate goal to break the 10m barrier in the triple jump, Grace hopes to launch herself to a national qualifying result in one of her favoured events: the long jump, triple jump or 100m.
"People say that I've got a natural talent in that sort of area and I just love it," she said.
With the little athletics regional championships just around the corner, scheduled for 24 to 26 February, Grace is keen to continue her red hot form into another state titles.
As a jumps specialist, it's no surprise Grace is also a whiz on the basketball court, and helped Latrobe City Energy under 14 girls to a division one tournament victory in Wodonga recently.