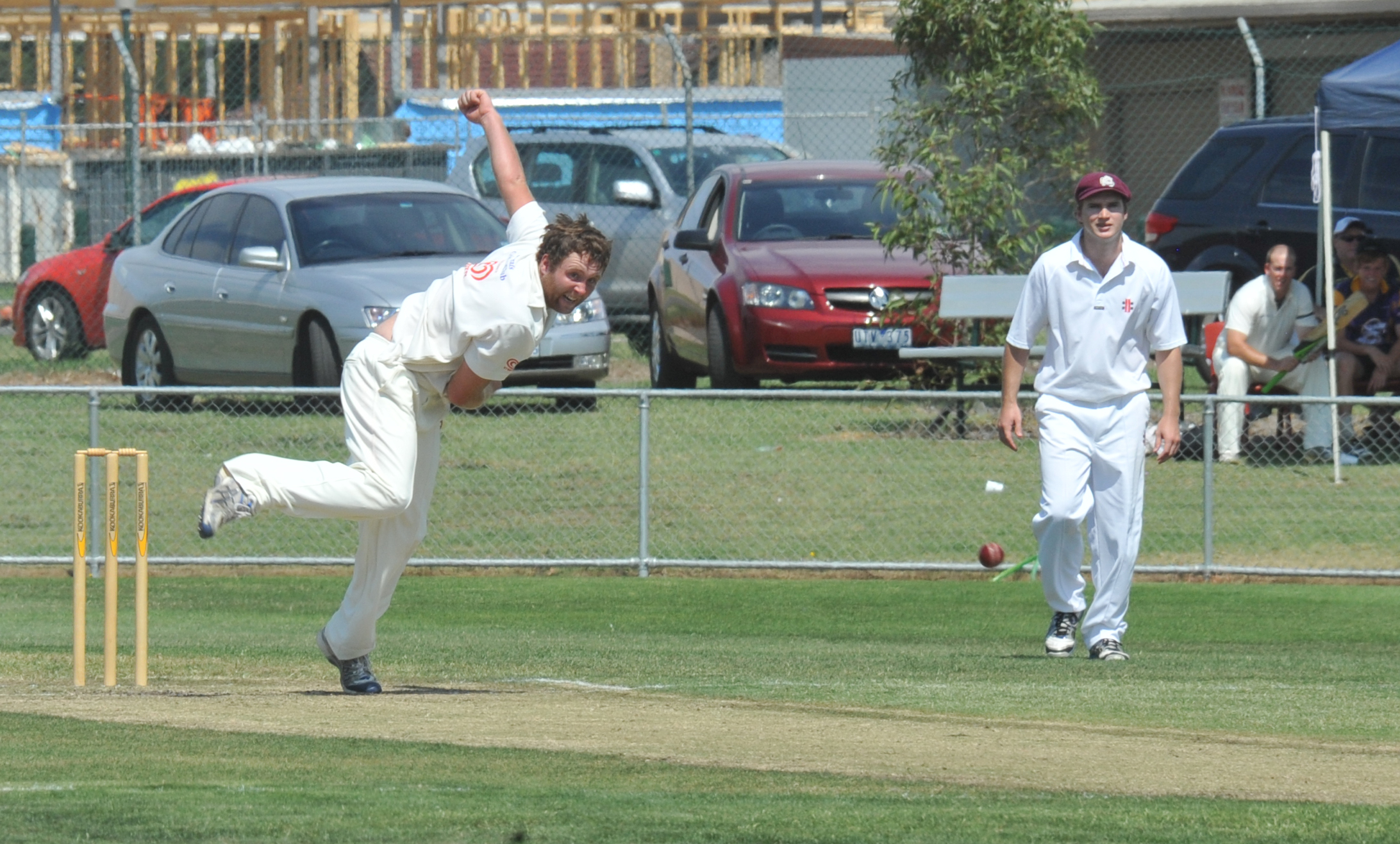 EX STUDENTS will meet Gormandale in the 2013 Neilsons Builders Cup grand final after the two competition-form teams won their semi-final fixtures.
Ex Students v Centrals
EX STUDENTS were relieved when Centrals captain Dean Rode called the toss incorrectly and Lee Stockdale had no hesitation in batting.
The game started at a frenetic pace when Barney Webber went into twenty20 mode taking 10 off the first over.
Webber looked to be in good touch before a miscued drive was caught at mid off and he went for 16. Not long after Jimmy Pryde was out for six, and when skipper Lee Stockdale was caught for 10 the Sharks were 3/50.
A terrible mix up saw Rory Hare run out for 25 to leave the Sharks floundering at 4/93. Jordy Gilmour and Rick Battista turned on a brilliant rescue mission to take the game away from a tiring Centrals side.
Gilmour marked his return to the side with a majestic 63.
Battista was superb, punishing the short ball to top score with 82.
Rob Voss has enjoyed a great year with the bat and chipped in with a hard hitting 40.
After 80 overs Ex Students emerged from the rubble with 274.
Marc Fenech took 3/60, while Mark Rawson and Corey Pollard both took two wickets. Centrals started the chase cautiously on Sunday and runs were hard to come by with Webber and Voss bowling tight. Jamie Hall was first to go at 13 and when Nick Stevens departed for nine the score was 18. Disaster struck at 20 when skipper Rode was out LBW for five.
Steve Hazelman made 27, Jarrod Allan top scored with 37 and Sam Gray made 22 as Centrals fell for 136, 138 runs shy of the target. Webber (2/3), Michael Warne (4/56 off 28), and Stockdale (3/41 off 23) were best for the Sharks.
Gormandale v Glengarry
GORMANDALE was giddy after winning the toss and batted first.
Grantley Switzer (30) and Kade Joske (31) put on a steady 63 run opening stand before both were dislodged.
Glen players were elated when the prize wicket of Adrian Burgiel was taken for 19 as the Tigers fell to 3/82.
There was more trouble for the Tigers when Travis Switzer fell one run later, leaving the defending premier reeling at 4/83.
Kent Hammond (16) and Rob Darby (15) steadied things but after their dismissals, and the wicket of Danny Smith, the Tigers were in strife at 7/116.
Glengarry had the upper hand and was closing in at 9/143 as the Tigers faced the prospect of a sub-150 score.
Enter Will Cheatley and Adam Brady, who, in one of the best last wicket partnerships in TDCA history, put on a game saving 85 run stand to take the Tigers to 228 all out.
Cheatley top scored with 60 and Brady contributed a brilliant 44 not out.
Steve Wright bowled well to take 3/45 from 21 overs, while Cameron Graham (2/36), Ben Julin (2/64) and Mitchell Sharp (2/33) shared the other wickets.
Glengarry's run chase started poorly on Sunday when Frank Marks went for three.
The game changed as Sam Marks and Hayden Ross-Schultz set the foundation for a Glengarry win with a 102 run partnership.
Ross-Shultz fell for 41 when the score was 108. Paul Henry came and went for one and when Sam Marks was out for 68 the game was at even keel, 4/139.
Ben Marks, batting at six, and Lachlan Little put on 22 runs before Marks went for 13. Little battled hard but fell for 19 with 39 runs left to win. The tail tried hard but couldn't withstand the finals pressure as Glengarry was bowled out for 202.
A fast and ferocious spell of bowling from Burgiel spanning 22 consecutive overs saw him claim 6/32, while Shaun Barbour's 16 overs yielded 4/50.