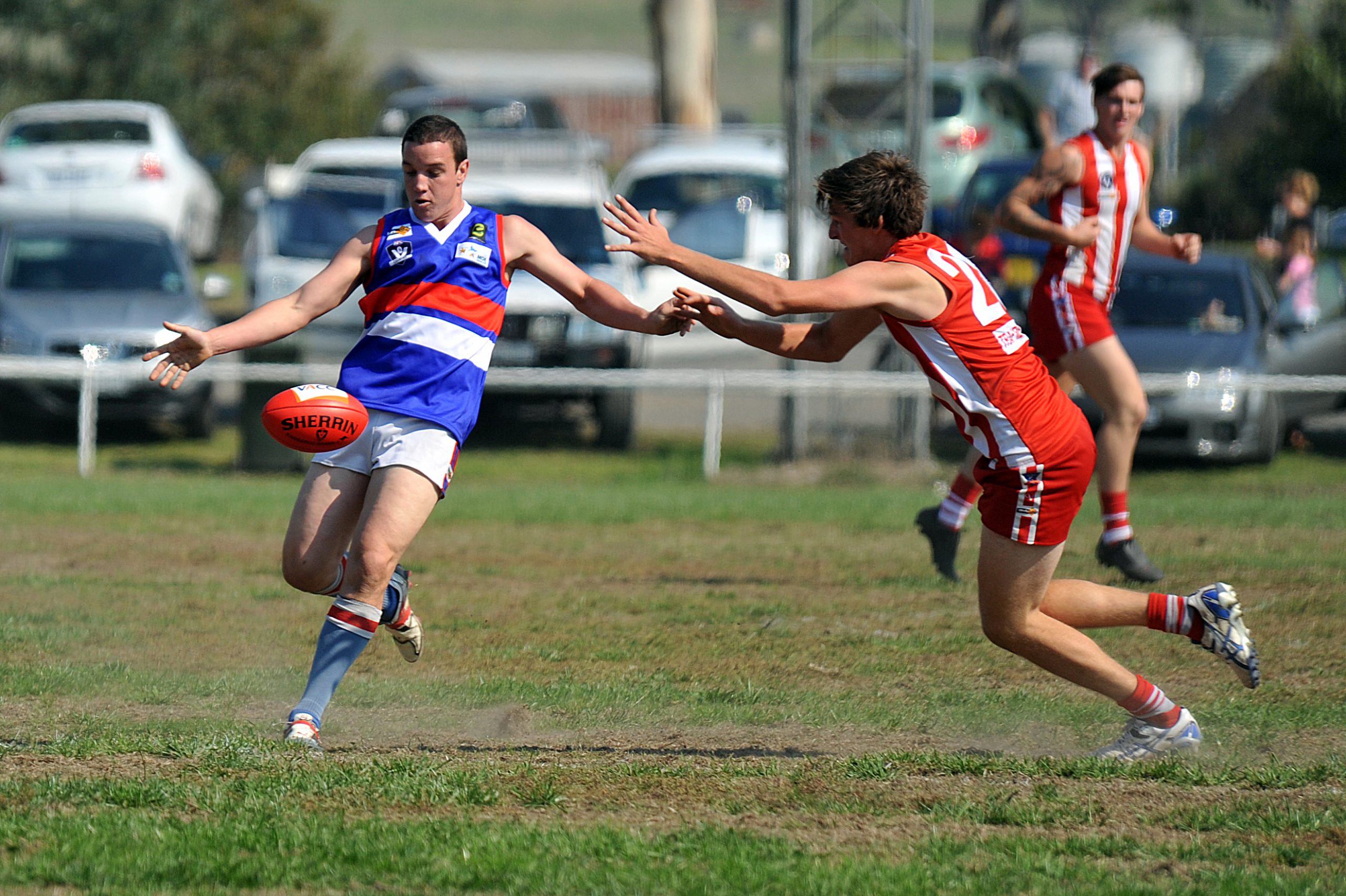 Football – MID GIPPSLAND
IT was a thrilling match at Trafalgar as Mid Gippsland football's two best teams from last year clashed in a grand final replay, which the Bloods took out, 14.7 (91) over Newborough 13.5 (83).
The Bulldogs got out to a good start but the Bloods came back to lead by two goals at quarter time.
Newborough continued to grind away and managed to keep its deficit to 16 points at half time.
The Bulldogs worked themselves back into the game in the third term, only allowing Trafalgar to post points one minute before three quarter time, and levelled scores at 11.4 (70).
Trafalgar came out strong in the last quarter and while the Bulldogs held tough, the Bloods took home the four points.
In a bitter twist for Newborough, Trafalgar recruit and ex-Bulldog Michael Gelagotis played an important role in the Bloods' win, booting six goals.
Trafalgar coach Chris Kyriacou said he and his side were happy to get the four points, but not with their uneven four quarter performance.
Kyriacou said while there was "a bit to work on" he was not going to dwell on the negatives.
"It was a really good hit out. I'm just glad that our guys showed character and dug their heels in when they had to," Kyriacou said.
Newborough coach Allan Chandler said while disappointed to lose, he was happy with his side's performance and in particular the younger, less experienced players at senior level.
"(Trafalgar) are a cracking side and they've picked up players when they needed to," Chandler said.
"They are a much stronger outfit than they were last year and for us to run them so close, with the side that we had today, it's a very good sign."
Thorpdale v Yarragon
THORPDALE had the Panthers on the back foot early and continued to stretch its lead across the four quarters to finish a convincing winner 22.14 (146) to 13.8 (86).
Thorpdale's new recruits were instrumental in the win, with Andrew Slevison kicking 11 of its 22 goals while Harley Foat and Ben Carboni emerged as "handy" forward half targets.
Slevison's 11 equals the best by a Thorpdale player in the opening round of a season, joining the legendary Ian Jennings who achieved the same feat in 1976 against Hill End on his way to a home and away total of 136 goals.
The tally is also a Thorpdale club record in matches against Yarragon; Gary Jansen's nine goals for the Blues against Yarragon in 1988 was the previous best. Blues coach Brett Sherriff said although the side's ball use, accuracy in hitting targets and ability to link up was better than last year, there was still plenty to improve on.
"We dropped off a little bit at times and went back into old habits and just turned it over a little bit, but I think we can get better," Sherriff said.
Yarragon coach Anthony Pavey said the match was an "eye opener" for his side which was playing together for the first time.
"There was probably five blokes out there for Yarragon that hadn't met other blokes in the side. We may have played four practice games, but not everyone had crossed paths," Pavey said.
He said the side was a little bit run over at the start, but when they "knuckled down" and stopped "spectating" they played much better.
Mirboo North v Morwell East
A TWO-goal half time deficit turned into a 40-point full time margin as Mirboo North pulled away to defeat Morwell East, 16.8 (104) to 10.4 (64).
Morwell East coach Paul Henry said his side gave the Tigers a good run for the first half and last quarter, only losing in a "disappointing" third quarter, in which the Tigers stretched their lead by 22 points.
He said apart from the third quarter he was happy with his side's performance, who "tried their guts out".
He said Mirboo North's class players stood up, which the Hawks couldn't match.
Tiger coach Troy Hamilton said his side used the ball a bit better in the second half and were able to use their turn overs better.
YYN v Boolarra
A STRONG all round performance by Boolarra held Yallourn Yallourn North to just 4.4 (28), as the Demons amassed 13.12 (90) in an easy win.
YYN had scored just one goal and three behinds at three quarter time, but the Bombers kicked three in the final term as the Demons tired. Boolarra coach Tony Giardina said his side was going to improve further as the team stabilised and got used to playing with one another.
"Everyone started to gel a bit more (but) it's going to take a few weeks with all the new boys in the team. You could see that we are going to improve, but it's just going to take a bit of time," he said.
Yinnar v Hill End
YINNAR ran all over Hill End, thrashing it by 102 points.
Gun recruit Josh Swift, who kicked five goals, put in an impressive showing and formed a power duo with Thys Stanistreet, who notched up six. With good contributions across the park the Magpies were able to cover the Hillmen from all sides.
Conversely, Hill End's loss of several strong players in the offseason showed on the ground, and the side was on the receiving end of the type of walloping they had dished out to Yarragon and Thorpdale last year.
Held to just one point at quarter time, the Hillmen fought back in the second quarter to ensure the lead only blew out to 51 at half time. However the Magpies were able to reapply the pressure in the second half, allowing the Hillmen no majors in the third quarter and no score in the last to end on 4.8 (32) to the Magpies' 20.14 (134).