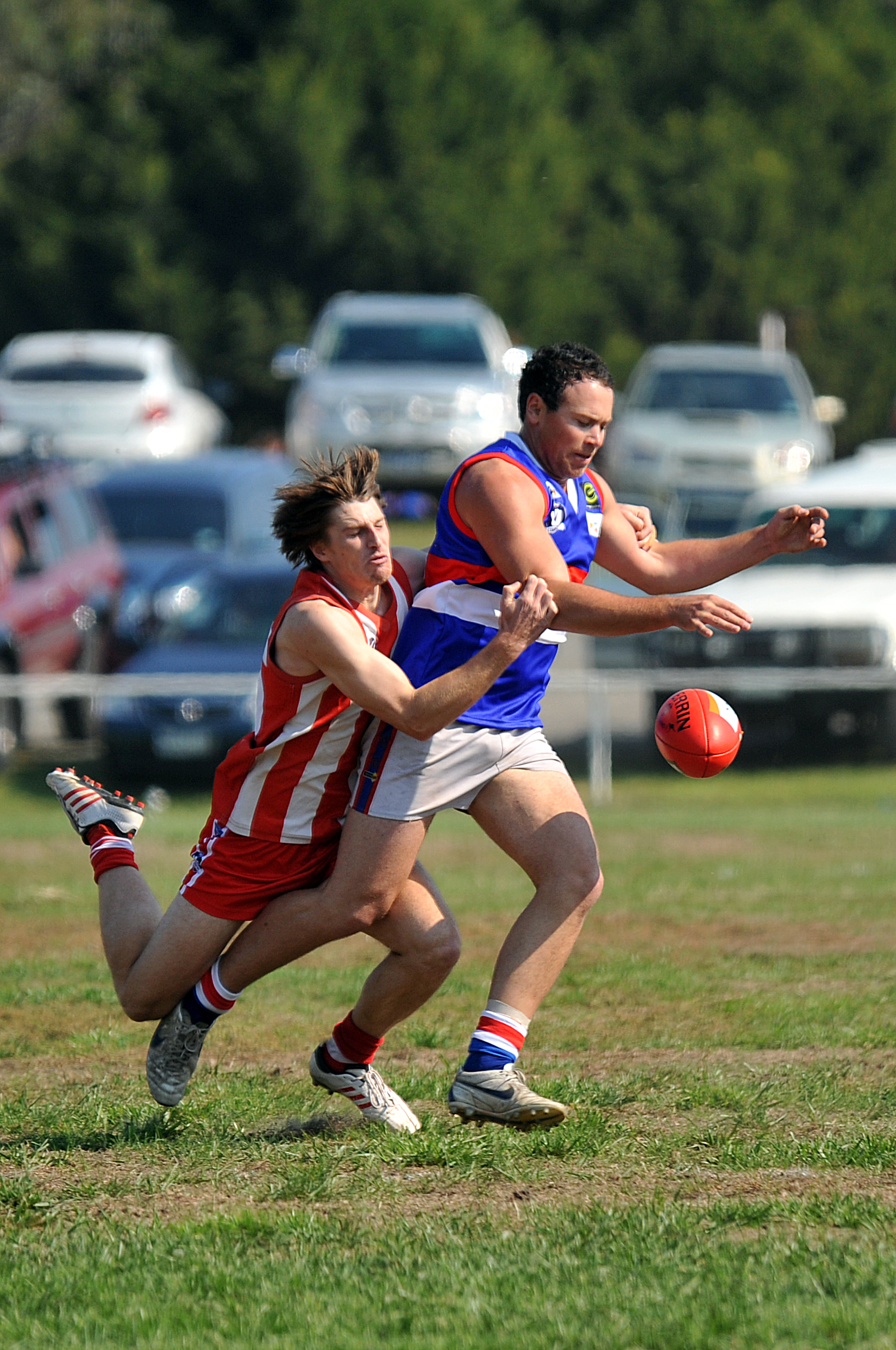 Mirboo North, along with Boolarra, is undefeated after three rounds and with this momentum the Tigers will be hard to stop this weekend when they meet Trafalgar, in Mid Gippsland football.
Tiger coach Troy Hamilton said it would be interesting to see how his side fares against Trafalgar, a side with pace much like his own.
Trafalgar coach Chris Kyriacou said with six seniors players available for inclusion into a side that triumphed last weekend, selection would be a "headache", but a welcome one.
Kyriacou said he looked forward to returning to his home ground, and the challenging draw facing his team.
"It'll be a good test, really good to see how we are," he said.
"If we can only drop one game in the first four or five games I'd be pretty happy so hopefully we can continue.
"We've had two away games so it'll be nice to get back to our ground.
"Hopefully we can keep winning at home; we don't want to drop a game at home this year."
Hill End v Yallourn Yallourn North
Hill End has finally tasted victory while Yallourn Yallourn North remains winless, putting pressure on the Bombers to perform this weekend.
The Hillmen will be out to claim back-to-back wins after their upset win over Thorpdale.
"Just take the confidence from this week and go into next week and try and get that win again and hopefully we'll be right; we'll be back on track again," Hill End coach Phil Town said.
A depleted Hill End side faced Thorpdale last week, but some of those missing players are due back this week.
Meanwhile, Yallourn Yallourn North have been struck by injury early in the season, with key players Barrie Burnett and Todd Dobson out for several weeks.
"It's just one of those things when you don't have the depth the injuries tend to hit you harder," Yallourn Yallourn North coach Rick Hearn said.
Hearn said being zero and three was not a good feeling, but was hopeful the Bombers' season could turn around.
"If you don't win the early games it's very hard to catch up later on in the year," Hearn said.
"If we don't get a win in the next couple of weeks I think finals would really be out of the question, unless we have a storming run home.
"The young fellas are getting some games into them and their getting better. We just have to keep working hard and doing the right things and hope everything comes along."
Newborough v Thorpdale
Thorpdale has a tough run ahead beginning with Newborough this weekend.
Blues coach Brett Sherriff said after his side's frustrating showing in their 82-point defeat at the hands of Hill End they had a lot to work on.
He said the next few weeks would be an opportunity to show how much the Blues had improved.
"The five sides we're playing in the next five weeks are probably the top five sides really and if we want to be there we're going to have to see where we are and settle in and be competitive – not just go through the motions as we have done for the last few years," Sherriff said.
"Might test their character to see where they are, what they're doing and hopefully put it back on them – to do the work."
Newborough also suffered a large loss last round, to the Tigers, and will be ready to bite back on Saturday.
Boolarra v Yinnar
LEAGuE leaders Boolarra has had a different start to the season than 2012 and will look to continue its winning ways against Yinnar this weekend.
Boolarra coach Tony Giardina described this match as a "big one" and was hopeful key players Daniel Metcalfe, Daniel Wilson and recruit Rory Jennings would return to the side.
"Hopefully we get a few more boys back, field close to our best side and we'll be right," Giardina said.
The Magpies' has not had the greatest start to the season and will be desperate for a win this weekend to get their season back on track.
Morwell East v Yarragon
With one win each for the season Morwell East and Yarragon will hope to add another notch to their belt this weekend.
Yarragon coach Anthony Pavey said his side would go in to the match feeling "positive" and would try to attack the game.
After the Panthers failed to post a decent score in their loss to Boolarra last Saturday, Pavey said he had to ensure his players did not "panic" and kick straight down the middle.
"Our kicking straight down the line – we've just got to get the boys out of the habit," Pavey said.
"It just allows the better sides like the Boolarras and Trafs and to get their midfielders to move back."
A disciplined Morwell East outfit has proved a loss in players is not enough to keep it down and with the confidence of a win and eyes firmly on finals football Yarragon should be in for a tough game.