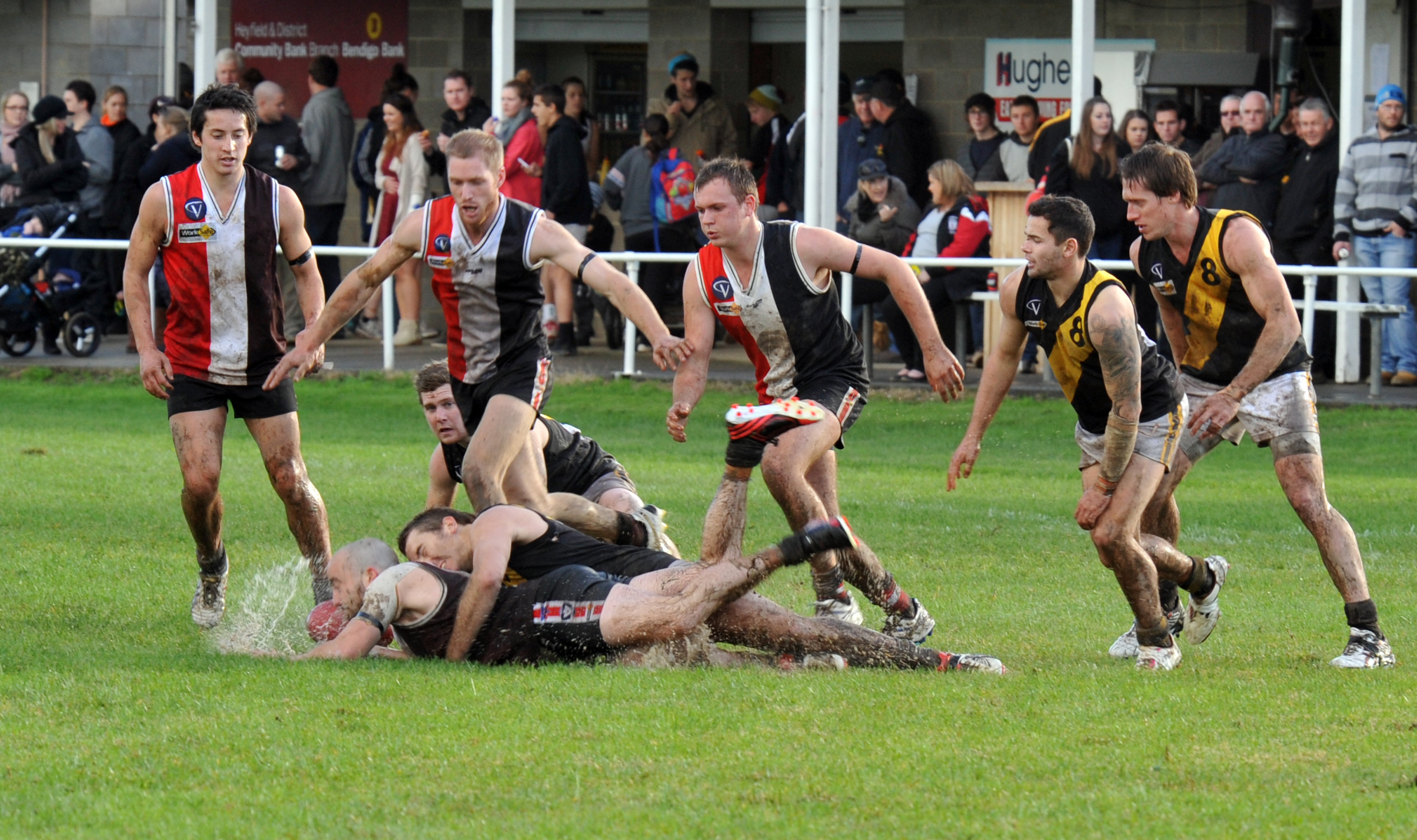 Rosedale and Heyfield will headline North Gippsland football's match of the round with the Blues the only side to-date to claim the scalp of the reigning premier.
Heyfield was outplayed from the opening bounce in their round one encounter, but Blues coach Nick Leechino was aware of the threat the Roos posed.
"Heyfield have found their straps since we last met them in round one and I would be confident in saying that it will be a different side that we come up against on Saturday," Leechino said.
The second-placed Blues boast a win loss ledger that many opposition coaches would be happy to take, however Leechino said he was searching for more improvement.
"There were a few games that we should have won; I was hoping that we would finish the first half of the season at seven and two," he said.
"We have been making a regular three to four changes each week, how that affects the side is a bit hit and miss.
"With a new side coming together you expect that it would take five to six rounds to gel together, however it has taken us a bit longer due to not having the same side each week.
"The pressure is on to keep winning, the next month is going to be tough, each game we drop the tougher it will be to get to finals if the sides below us keep winning."
Cowwarr v Churchill
COWWARR found the going tough in its draw against a competitive Gormandale outfit on Saturday.
The task will not get any easier for the Saints this Saturday when they meet Churchill. The Cougars, who sit side-by-side with Cowwarr, find themselves in a similar position to last season and would remember the pain of missing out on a finals berth.
With nine rounds remaining Churchill must make a solid move on the competition front runners and can ill afford to slip up this week against the Saints.
Sale City v Glengarry
SALE City claimed the honours in its round one clash against Glengarry and will take plenty of confidence into Saturday's clash against the Magpies.
The Magpies have had a successful month with three consecutive victories and will be out to avenge their earlier loss to the Dogs when they travel to Stephenson Park.
Glengarry coach Ryan Potter said he expected continued improvement from his players and knows the side's return to the winner's list will continue to boost their confidence.
"We spoke ahead of the week off about trying to break into the top five and obviously Saturday's game against Boisdale was important in us achieving that," Potter said.
"We have started to click as a side, sticking to our structures and continuing to manage the injuries we have had."
Potter said a win against one of last year's finalists could act as a barometer for his side's run towards finals.
TTU v Gormandale
It has been a month to forget for Traralgon Tyers United coach Matt Stolarczyk and his team who have felt a mix of emotions after what had been a solid start to the season.
The Bombers promised plenty after winning their opening six matches before dropping away.
Since then it has been lean pickings for TTU which has failed to sing the club song and has suffered convincing losses to the league's front runners.
TTU has dropped to fourth and must refocus for its clash against Gormandale. Tigers coach Luke Henderson said he was confident his side could mix it with the Bombers.
"We don't fear them on the return visit. In round one it was a close game all day with us going down by five goals," Henderson said.
"Defensively, we have been a really good side this year, we have placed a lot of effort on our defensive pressure and if we are able to do that against TTU, particularly in the midfield, then we should be able to win."
Woodside v Boisdale-Briagolong
On Sunday Woodside will be out to tame Boisdale-Briagolong who will go into the match on the back of a solid performance.
The Wildcats took all before them in a comprehensive victory against TTU and will lead from the front as one of the competition's in-form sides.
It will be a daunting task for the baby Bombers who in past seasons have battled out a number of classic contests against the Wildcats, but this time they will need to be at their best to counteract the home side that has dropped only two matches on their home turf this season.