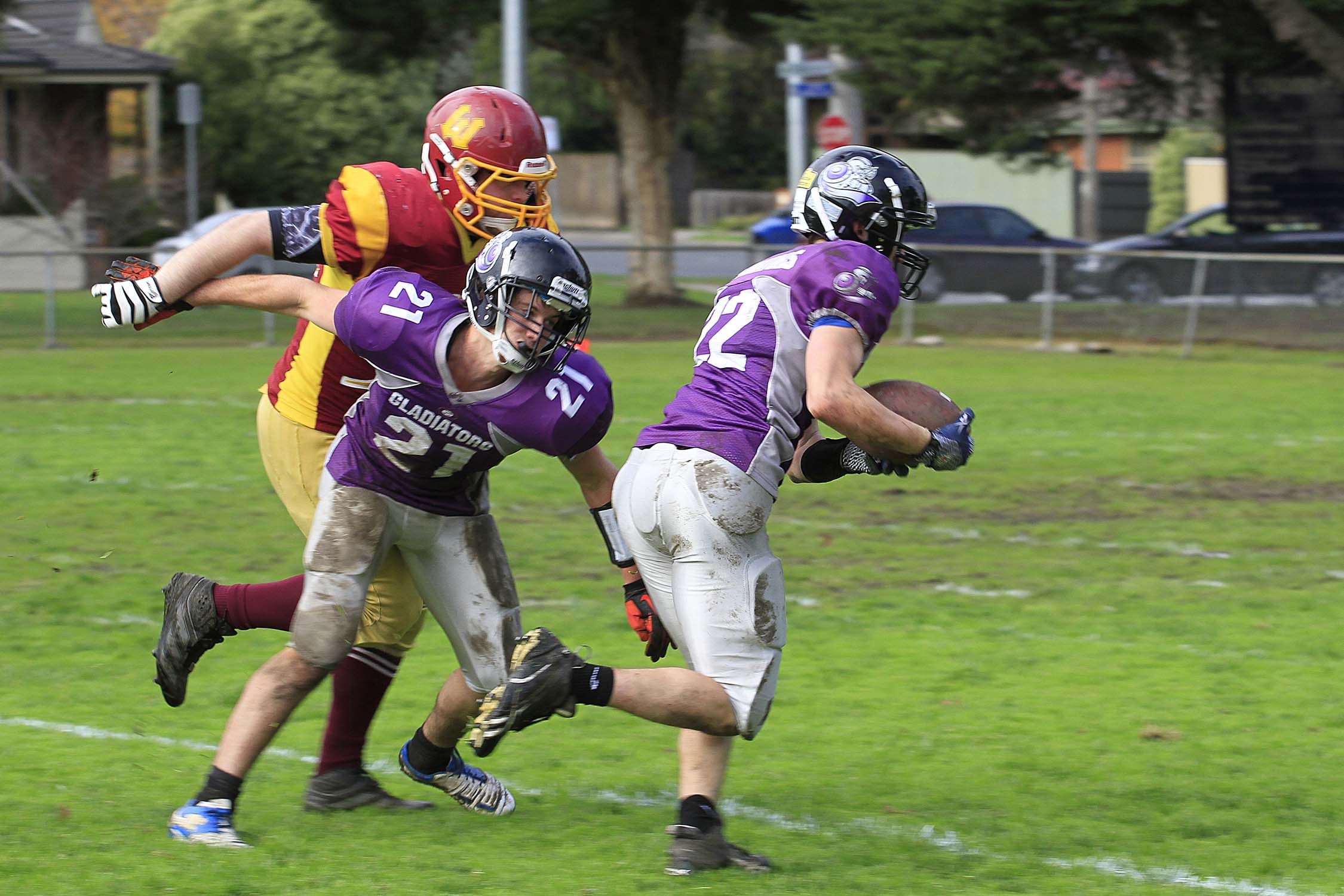 THE Gippsland Gladiators faced the formidable Monash Warriors in the second of its cross divisional games on Saturday.
The Warriors had only lost one game in division one this season and had beaten rival second division team the Northern Raiders 90-0 the previous week.
The task of overcoming the Warriors was always going to be a tough task for the undermanned Gladiators, who entered the game with 17 fit players, plus three players on loan from the Western Crusaders.
The Gladiators' defence was missing key players Chane Davidson, Jesse Peters, Xavier Cartwright and Richard Kors and were set a huge task of stopping the Warriors' offence, which had proved they could post big scores on the board.
Scott Stuckey led by example picking up three interceptions and making many tackles.
Ben Lay also showed great promise picking up an interception playing at corner while Matt Wells propped up the defensive line making some huge tackles.
The Gladiators' offence, although unable to put any scores on the board on the day, proved it could move the ball against a quality defence.
Led by quarter back AJ Hector, the offence managed to move the chains on several occasions through both passing and running games.
Once again rookie tight end Clark Morris led the receivers in pass completions, while running back Chris Atwater made lots of tough yards in the running game.
The Warriors, who had expected to score more than 100 points and walk all over the Gladiators, were forced to reassess the true grit and determination of the Gippslanders who continued to cause problems all day.
Although the Warriors walked away with a 68-0 victory, the scoreline did not reflect the gutsy performance of the Gippsland Gladiators.
The Gladiators travel to Bendigo on Saturday to take on the Barbarians at 4pm.
For more information visit www.gippslandgladiators.com.au or www.facebook.com/GippslandGladiators