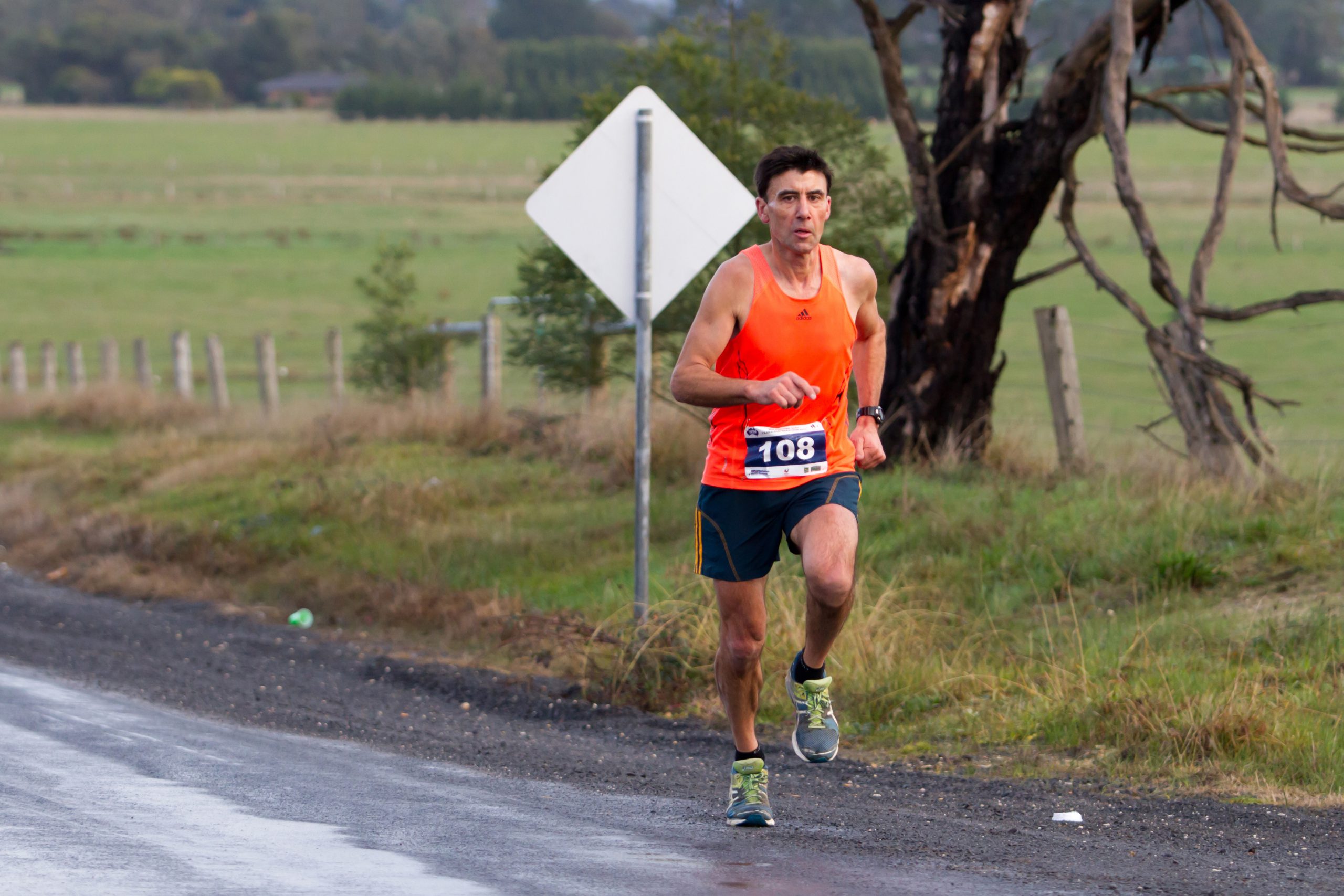 ARGUABLY the most inspiring performance from Sunday's Traralgon Marathon events was the return to marathon racing of former stalwart Morgan Tucker, and the force behind his welcome comeback.
The fit 52 year-old, known for his humility, still holds claim to the second fastest time ever on the marathon course, posting a two hour, 23 minute victory in 1992 during the second of his four consecutive wins in that period, but this week's effort was a different sort of triumph.
When Tucker crossed the line in 2.53 on Sunday – taking out third place overall and an easy age group win – the end of his 19-year hiatus from marathon racing was in honour of his close friend and former running partner Duncan Orr.
Before Orr died tragically in a road accident in February he had recruited the support of his faster mate to help him break his own marathon personal best this year.
It was a favour Tucker had been happy to return given the former champion racer largely credited Orr with bringing him back to running.
Though his running career was kickstarted at Little Aths and Tucker was marathoning by the age of 25, after cementing himself as an unbeatable force on the local marathon scene – much of it under the guidance of former coach Laurie Edmonstone – by the age of 33 the quiet Traralgon South resident decided he had had enough, and retired.
He had recorded successive marathon times that look as dangerous on paper today as they did in the 1990s – aside from his personal best there were Traralgon Marathon winning times of 2.30, 2.31 and 2.32.
"But I decided I wanted to try other things," he said of his decision to step away from the sport he had dominated.
About five years ago, Tucker dipped his toes back into running and his return was embraced by Orr, a proactive Traralgon Harriers clubman.
"I put a big part of getting me back into it, and getting me right, down to Duncan… he and (fellow masters competitor) Steve Quirk helped with advice on correcting my form and getting me running upright.
"Duncan got me over to the track and (with a small group of fellow Harriers) out doing training runs on trails," Tucker said.
He believes the trail runs, some in the Tarra-Bulga region where it is hoped a run can be staged in Orr's memory in the future, built the strength he required to master another marathon.
Tucker also took out the Harrier's King of the Mountain run to the top of Mt Tassie last December.
While his increasing strength was obvious to observers, Tucker's own modesty meant he was tentative about his potential on Sunday.
"It has been so long that I didn't know how I would go… but I did know I wanted to break three hours," he said.
Before the race he visited Orr's grave, placed flowers and took a quiet moment.
Then he went out and proved to a supportive local crowd that 19 years may have passed but he was still a formidable racer.
Long-time Traralgon Harrier Ian Twite recalls Emondstone praising Tucker's capacity to execute the perfect race plan, resisting temptation to deviate from the agreed pace, and Sunday was no different.
Though he initially stayed with the much younger eventual winner, Cameron Hall, Tucker let him pull away at the 15 kilometre mark and, with a control that was ultimately rewarded, focused on his own race.
His placing and age group win excited younger and older Harriers alike.
Those, like Twite, who were around to enjoy some of Tucker's epic battles with nemesis Ian Cornthwaite in the 1990s (a fellow 50-plus runner still in top form) were pleased to see him back – and a younger crew of runners were given a lesson in tenacity.
Orr's wife, Anna, an ultra-marathoner who has benefited from the support of Tucker during one of her most arduous ultra events and looks forward to running the Gold Coast marathon with him in July, was particularly proud.
She knows all too well the loss that "modest, quiet achieving" Tucker experienced with the passing of Orr – and commended his efforts on Sunday.
Tucker said Orr was foremost on his mind during the marathon.
"He was such a big part of getting me to that position," he said.
"He gave me back the enthusiasm I had lost".