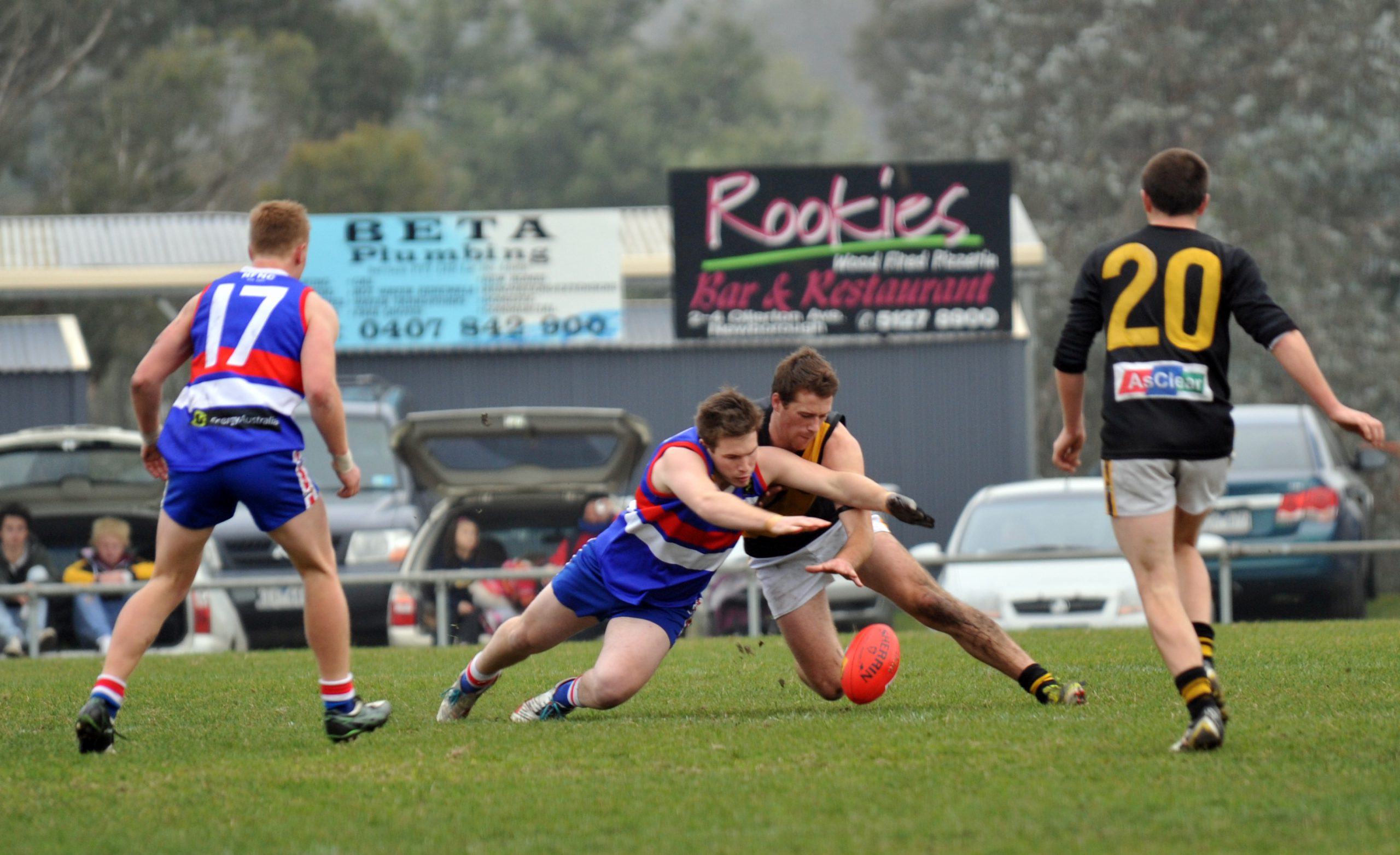 Yinnar recovered from a goalless first half to upstage last year's Mid Gippsland football premiers Trafalgar by 22 points.
The Magpies failed to capitalise on its superior forward efforts in the first quarter to finish with just two behinds, and two goals behind Trafalgar.
Trafalgar did not make the most of its own opportunities in the second quarter and converted only four goals from 10 attempts, but still held Yinnar goalless to lead by 27 points at the main break.
The Magpies returned from the break to kicks seven goals to two and take a two-point lead into the last change.
"We persisted and then it turned about for us in the third quarter and we finally got our game up and running," Yinnar coach Sam McCulloch said.
McCulloch said his team's ability to win the ball from the middle and keep it in their forward half helped keep the Demons scoreless in the last quarter.
"It was a really good win; it was good to finally knock off a team above us," he said.
"We had the belief that we could do it, to finally do it was a boost to the confidence of the group."
Trafalgar coach Chris Kyriacou put the disappointing loss down to a lack of "hunger and spirit" from his players.
Kyriacou said having four injuries, which led to no bench, was "no excuse" and from the position they were in they should have been able to win.
"We were about 30 points up and just went out there in the second half and just thought it was all over," he said.
"I think a lot of these guys have had it too easy for too long, so we got found out again and lost to a team that was hungrier than us and more determined and in the end were the rightful winners."
Newborough v Mirboo North
Mirboo North's league leading credentials remain untarnished after snatching a 10-point victory against second-placed Newborough.
The margin never went beyond three goals and was a daily arm wrestle.
In the first quarter Newborough could have been more efficient with the ball, but led by eight points at the first break.
The match continued goal-for-goal with Mirboo North ahead 27 to 26 at half-time, only for the Dogs to snatch back a nine-point lead at three-quarter-time.
In the final term shootout, the Tigers hit the front following three consecutive goals and held onto it until the final siren.
Mirboo North coach Troy Hamilton said he did not think his side played well.
"We hung around, our pressure was good, we just kept coming and kept trying… we took some chances and it turned our way," Hamilton said.
Newborough coach Allan Chandler said his side was not "hard enough and tough enough for long enough".
"I think the level of the game rose and we made a few errors that we shouldn't have made, but I think that comes with the pressure," Chandler said.
"Especially with the younger guys in the team, we've got to deal with that kind of pressure.
"I think we've got the side there to get close, but we've got to improve so we can get over the line near the end of the year when the game really gets tough."
Yarragon v Boolarra
Boolarra etched out a comfortable 131-point victory over Yarragon.
Boolarra blew Yarragon out of the water from the opening bounce to keep the Panthers goalless and take a seven-goal lead at quarter-time.
Yarragon fought back in the second quarter and outscored the Demons six goals to five, but still trailed by 41 points.
The Panthers could not maintain its resurgence and Boolarra booted another 12 goals, almost doubling its own score in one quarter to lead by more than 100 points. The Demons kept their foot down for the last quarter and sailed home, 31.13 (199) to 10.8 (68).
This win has boosted the Demons' percentage to overtake Yinnar and claim fourth position.
Thorpdale v Hill End
Thorpdale was no match for Hill End as the Hillmen recorded a comprehensive, 20.18 (138) to 6.8 (44) victory.
Despite its proximity on the ladder, Hill End took early control of the game.
Hill End applied the pressure on Thorpdale from the first quarter and fired off an easy five-goal lead at quarter-time.
From there the Hillmen stretched their lead in the remaining three quarters and, helped by Matthew Moseley's eight goals, the side kicked away to a 94-point win.
Blues coach Brett Sherriff said his side put in a disappointing effort and did not work hard enough as a team.
Morwell East v YYN
Morwell East got out to a great start against Yallourn-Yallourn North and had it on the back foot early to win, 17.7 (109) to 8.9 (57).
The Hawks held the Bombers scoreless in the first quarter and booted seven goals.
The Bombers were inconsistent; hitting back in the second quarter, but unable to maintain it in the third and then doubling their own score in the last.
"It was a great start, we played some excellent footy; we played a good three quarters," Morwell East coach Paul Henry said.
"We fell away a bit in the end, but I think we were all just (exhausted)."
Henry said last year's match against YYN, when the Hawks had a good start and then conceded the points, was in his mind and he "didn't want that to happen again".