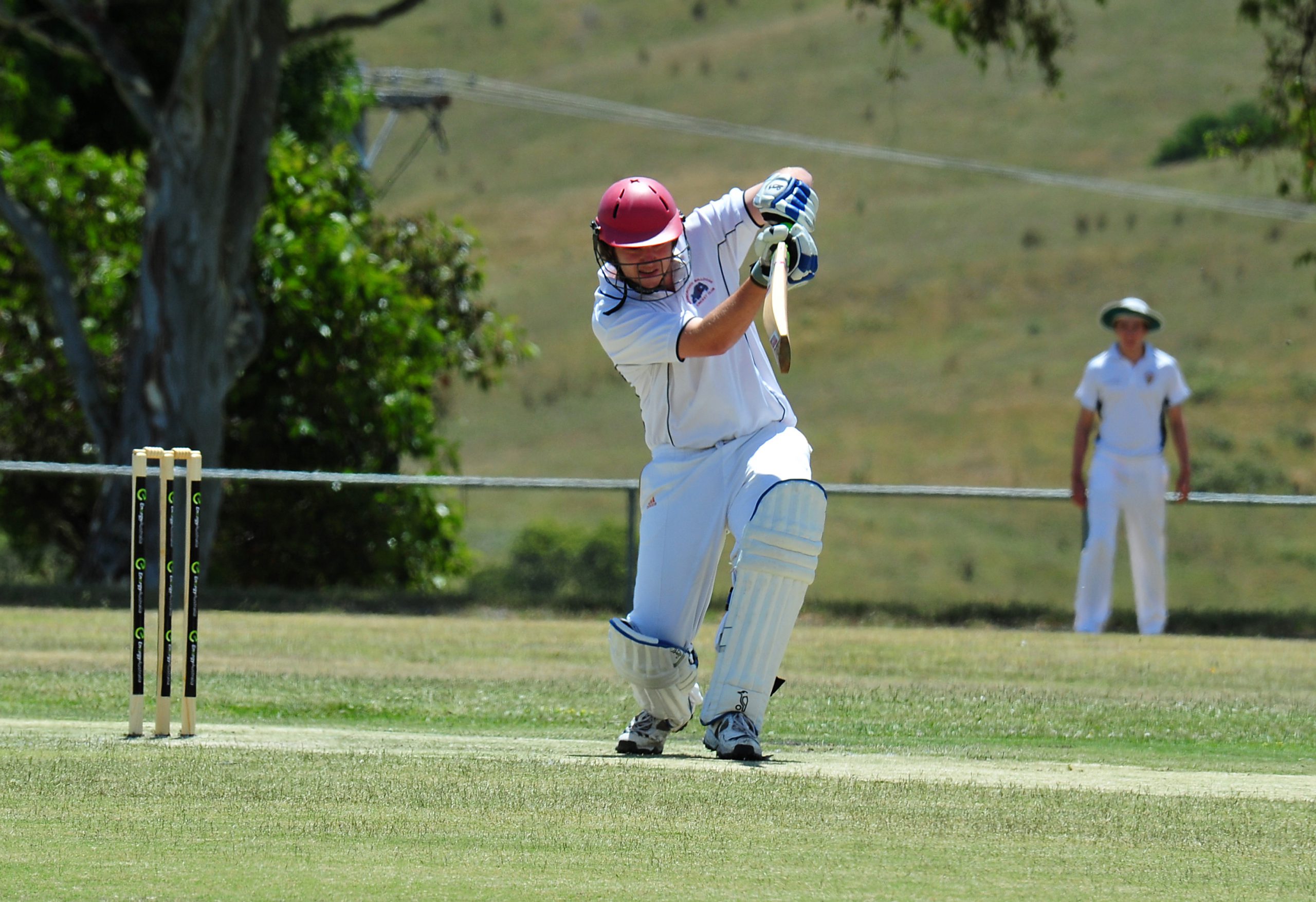 CRICKET
CGCA
By JOSH HANRAHAN* and SAM DARROCH
THORPDALE has entered the A grade fray for the 2013/14 Central Gippsland Cricket Association season in place of a crippled Newborough Bulldogs.
An effort to expand to an eight-team competition fell flat when the Bulldogs were forced to withdraw from the top grade at the 11th hour due to a lack of numbers.
CGCA president John White said Thorpdale's inclusion brought an injection of youth to the competition.
"They've got some good young players so it gives them an opportunity," White said.
"They stepped up… and they wanted to try and give their young blokes a bit of a chance (at this level)."
Despite the loss of Newborough, White said there was plenty of excitement about this year's competition with a spate of international recruits taking part.
Thorpdale has attained South African twins Henk and Schalk Conradie, Canadian national team fringe player Riyaz Pathan is headed to Morwell and Englishman Richard Ford will line up for Mirboo North.
Yallourn North and Trafalgar added significantly to their stocks over the break and will be out to ascend from their lowly 2012/13 ladder positions.
The youth theme will be enhanced by the addition of Traralgon and District Cricket Association side Toongabbie in the colts competition.
The CGCA will host two Melbourne Premier Cricket Twenty20 games at Moe and Morwell this season in another coup for the league.
Saturday marks the season start and some surprising results may be in store.
MOE
Last season: 1st
Ins: None
Outs: Rob Phoenix (Mirboo North)
Captain: Andrew Philip
The reigning premier will be out to do it all again in the 2013/14 season, with only one major change to last season's list.
Eight-time premiership player Rob Phoenix has flown the coop to join Mirboo North in a big loss for the club, however a confident Moe captain-coach Andrew Philip said the depth of the team's youth would hold them in good stead.
"We've got a lot of enthusiastic juniors around that 17 to 18 age who are ready to step up and fill that role," he said.
Nick Clarke (foot) and Sam Price (shoulder) are likely to miss some matches through injury.
LATROBE
Last season: 2nd
Ins: Michael Duncan (Out of retirement)
Outs: Rob McKinley (Ireland)
Captain: Anthony Bloomfield
After losing the grand final to Moe last year the Sharks will be out for blood in season 2013/14.
League leading run scorer and Victorian Country Cricket League team of the year member Kaushik Aphale is set to lead the batting stocks which will be bolstered by the return of Michael 'Funky' Duncan after several years in the wilderness.
Captain Anthony Bloomfield said the club was eager to test some of its young talent in A grade.
"We had four kids play in the second grade last year so the objective of the season is obviously to make finals, but in the process to be in a position to blood those kids into the firsts," he said.
Irish national team hopeful Rob McKinley, who elected to focus on studies this year rather than return to Australia, will be missed in his all-round capacity.
Brendan Evans and Daniel Siddle will fill dual vice captaincy roles.
TRAFALGAR
Last season: 6th
Ins: Aiden George (Camberwell), Hugh Cheatley, Lucas Kilday, Craig Arnell, Darren Wilkie
Outs: None
Captain: Rhys Holdsworth
Trafalgar has recruited well in the off-season and the troops keep coming; the club is currently sweating on a Sri-Lankan international signing to go with a spate of new arrivals across the grades.
The new look new-ball partnership of Craig Arnell and Hugh Cheatley will be fearsome, while youngster Lucas Kilday has promise with the willow.
Victorian Premier Cricket wicket keeper batsman Aiden George offers quality on and off the field, having taken on assistant coaching duties and the vice captaincy to support skipper Rhys Holdsworth.
"We've got a pretty strong bowling attack but it's been good to pick up a few batsmen," Holdsworth said.
"We've gone for a bit of youth… we've got a goal to make the finals this year… and win every one day game."
THORPDALE
Last season: n/a (7th – 2nd grade)
Ins: Henk Conradie (South Africa) Schalk Conradie (South Africa)
Outs: None
Captain: Boyd Bailey
A promising crop of young home grown talent has seen Thorpdale step up to the A grade competition for season 2013/14.
Fielding a team comprised of mostly under 23 players, club secretary Harvey Poole said it was time to test their mettle at the top level.
"I'm a great believer in challenging the young guys so I think it's going to work in their favour… I think they'll be up to the task," he said.
"We've got a lot of quality young cricketers so they'll get a good opportunity to do well. Our bowling is quite strong.
"We want to make the step up before they disappear to other clubs."
South African twin brothers Henk and Schalk Conradie, who have both played under 19 first class cricket for Eastern Province, have signed on for the season.
Thorpdale is also pursuing a number of Indian recruits.
YALLOURN NORTH
Last season: 5th
Ins: Pat Spiteri (UK), Aiden Vesty (Newborough), Rowan Kelly (Newborough)
Outs: Brandon Bailey (Shoulder injury, half season)
Captain: Glenn Sheekey
Yallourn North's previously shallow batting line-up has been strengthened by Pat Spiteri and Aiden Vesty.
Club captain Glenn Sheekey said extra runs on the board would compliment youth and athleticism in the field.
"We aim to be pretty fit so we want to be fit and outdo the other teams in our fielding," he said.
"We concentrate on getting run outs when they come up and really concentrate on bowling tight lines and keeping the runs down."
Recruit Rowan Kelly is tipped to open the bowling and fill a role in the lower batting order.
Sheekey said the club was looking for a breakout season from youngster Josh Keyhoe with the bat.
In another boost, the club recently completed upgrades to its clubrooms and change rooms.
MIRBOO NORTH
Last season: 4th
Ins: Rob Phoenix, Pete Grima, Clinton Wise, Arin Degennaro, Richard Ford (England)
Outs: Jimmy Watson (England)
Captains: Brett Pedlow and Richard Ford
After a fourth place finish last season, a host of new names has Mirboo North primed for improvement in the 2013/14 season.
Club president Ang Cannizzo said the club was excited about players who had spent their junior years at the club returning to take part in the senior side.
"We're looking forward to the season starting, it's great to see that juniors are returning to their club and we're excited about our new recruits," he said.
Englishman Richard Ford comes into the side and will co-captain alongside Brett Pedlow.
Moe Lions stalwart and premiership player Rob Phoenix will become a Tiger in the club's other big coup, and will face off against his former teammates in round one.
The club's B grade team, which lost the grand final last year, will also be hoping to make amends in the upcoming season.
MORWELL
Last season: 3rd
Ins: Wayne Flemming (Rawson) and Riyaz Pathan (Canada)
Outs: Nil
Captain: Craig Giddens
A semi-final loss was not the finish to the 2012/13 season Morwell had hoped for.
A new season has brought with it the recruitment of Wayne Flemming and Riyaz Pathan, who competed with Canada at the 2010 under 19 World Cup.
Captain Craig Giddens said he hoped an influx of youth into the senior ranks would help take his team to the next level in the upcoming season.
"We weren't far away last year and we've probably got the best kids in the league, so there's a lot of upside to our juniors," Giddens said.
* Josh Hanrahan is a Monash University journalism student