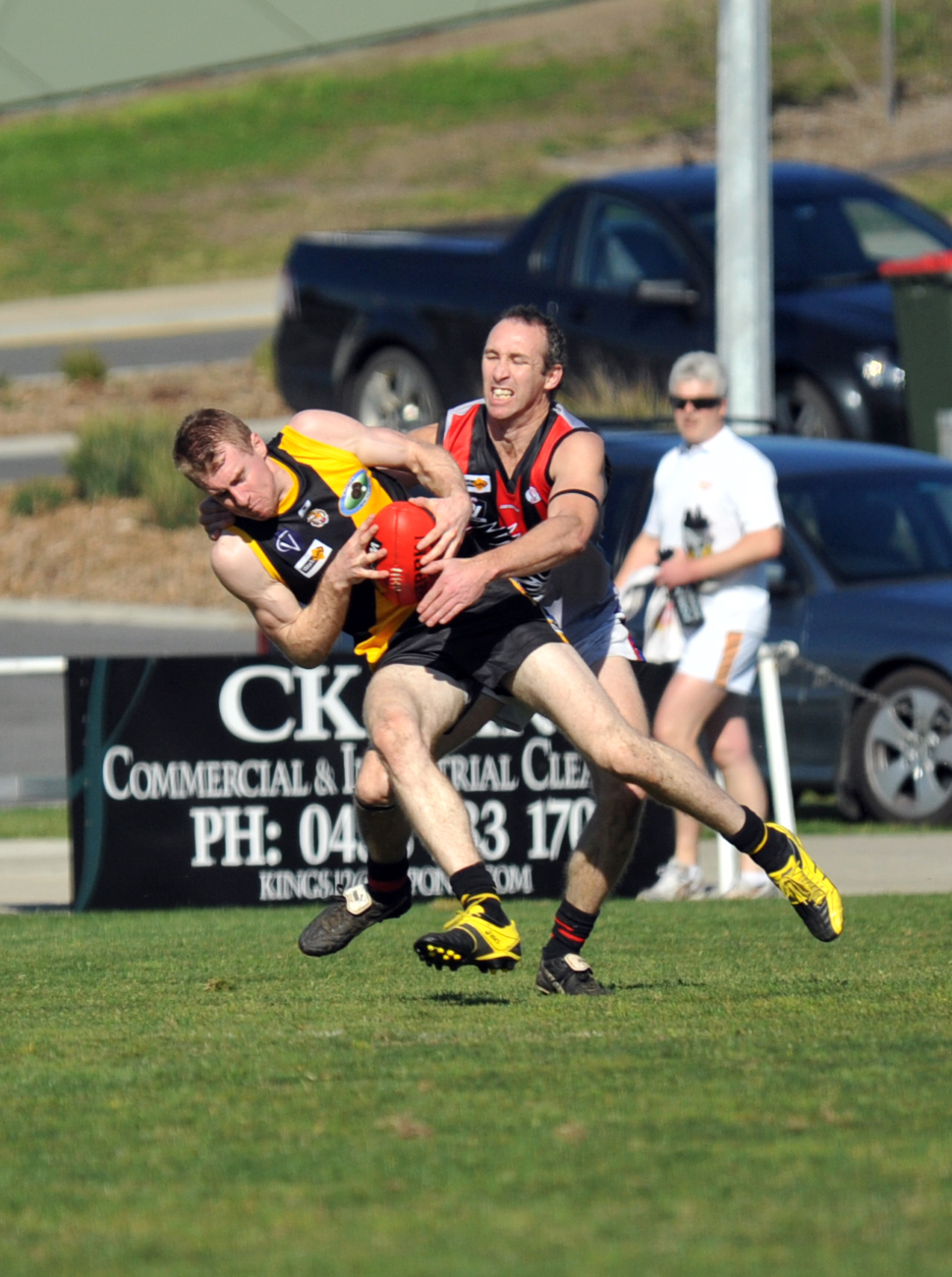 FOOTBALL
GIPPSLAND LEAGUE
By Samuel Darroch
MAFFRA Eagles premiership forward Adrian Burgiel will take over as playing coach at Moe for the 2014 Gippsland League football season.
The 33 year-old will replace Jason MacFarlane, who has signed with Trafalgar, and brings a wealth of experience to the besieged Lions.
Burgiel is a five-time premiership winner with Maffra, spent two years on Richmond's rookie list, played with the Perth Demons in the Western Australian Football League and has represented Victoria Country, Western Australia and Gippsland Latrobe.
The move will see Burgiel depart a club with seven premierships in 11 years to join the back-to-back wooden spooner.
"Moe has obviously been down the last three or four years and I thought it was a bit of a challenge to take them on and try to get them back up to finals and get back to being competitive I guess," Burgiel said.
"I don't know what I'm in for with the change of club; I've been at Maffra all my life I guess so going to a new club is going to open up the eyes, learn some new stuff and meet some new people.
"I've just done it in cricket, I moved to Gormandale a couple of seasons ago, and that's one of the best things I've done for my cricket, I thought I'd do it with footy as well and see how it goes."
The key forward said he would target finals footy in 2014, and wanted to add his weight to a club-wide push to engage the community and entice past players back to the Lions.
"I'm really looking forward to seeing if we can do something with the club, get it back on track and get the community involved… and get the town cracking with the footy club," Burgiel said.
"My definite aim is to get in finals and just get that winning culture back at Moe that they haven't had the last three or four years, get some confidence in the boys and you never know what can happen.
"I'm just bringing some things that I think, some leadership and that sort of stuff, change things that I think can work and things I've learnt over the journey playing on an AFL list, in the WAFL and VFL."
Burgiel's move sets the stage for an epic round one encounter next season, with Moe to face Maffra in the Eagles' first game under lights.
"It's probably not great timing but it's got to come along during the season sometime so round one get it over and done with," Burgiel said.
Moe Football Club president Ian Needham said Burgiel had been on the club's radar for several seasons in its search to appoint an on-field leader.
"We've been keeping an eye on him to see when he might feel the time was right for him to coach and we were very keen to give him that opportunity," Needham said.
"We were keen to try and attract a playing coach; that's important because we do have a young group and while we've got some really good senior experienced players we felt the on-field leadership was important to help that younger group of players coming through."
Needham hopes Burgiel's presence will act as a catalyst to attract players from the surrounding area and other leagues.
"It's a great opportunity for guys who play in Mid Gippsland and maybe North Gippsland to play under a really experienced and quality person and player," Needham said.
"We're hoping that may attract some guys to come and have a really good crack at playing in what is the highest standard of football available in Gippsland at the moment."