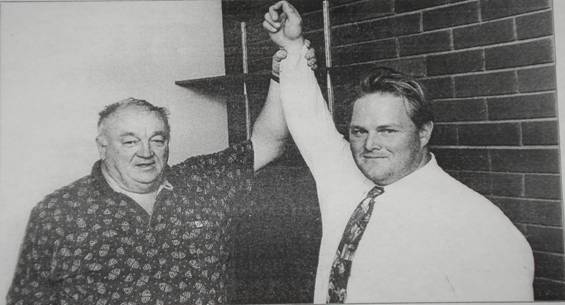 Obituary
By John White
CGCA president
GIPPSLAND sporting identity John Hehir died on Monday, leaving behind an incredible legacy on and off the pitch.
Hehir's contribution to cricket and sport in general was enormous; he served the community as a sports journalist covering football and cricket for many years and was Central Gippsland Cricket Association's publicity officer, among many other roles, for more than two decades.
Hehir started his cricket career as a batsman in South Australia, before coming to Central Gippsland in the 1960s.
He also played in the Benalla Cricket Association for a further two years with Swanpool, where he was selected to represent that association at Country Week before returning to Morwell.
As a CGCA player Hehir scored 18 club centuries, including two double centuries and four scores of greater than 150, with a highest score of 210 for Morwell Tigers versus Moe in 1988-89.
Hehir was always a prolific run scorer, compiling 1027 runs in season 1971-72, and 873 runs in 1967-68 and won the CGCA third grade batting average in seasons 1965-66 and 66-67.
Hehir was no slouch with the ball either, securing several five wicket hauls with his "donkey drops".
When he retired from cricket as a player he turned his attention to umpiring.
Hehir spent time with a range of clubs including Australian Postal Institute Cricket Club Morwell, Morwell Cricket Club, Morwell Tigers, Morwell East Cricket Club, Latrobe Cricket Club and St Vincents Cricket Club.
He was a foundation member of Latrobe and St Vincents cricket clubs where he was awarded life membership.
Hehir's non-playing contribution to the CGCA was firstly as junior Country Week coach and manager.
In later years he served as secretary, vice president, director of umpiring, and this season was assistant secretary.
He was awarded life membership for CGCA in 2009-10.
In the same year he was recognised by Cricket Victoria with a 50-year service award.
He also was Region Seven's umpire secretary for many years and was on the board of the region.
As a footballer Hehir played with Hazelwood in the Mid Gippsland League throughout the late 1960s as a rugged half-back flanker.
A private service will be held today.