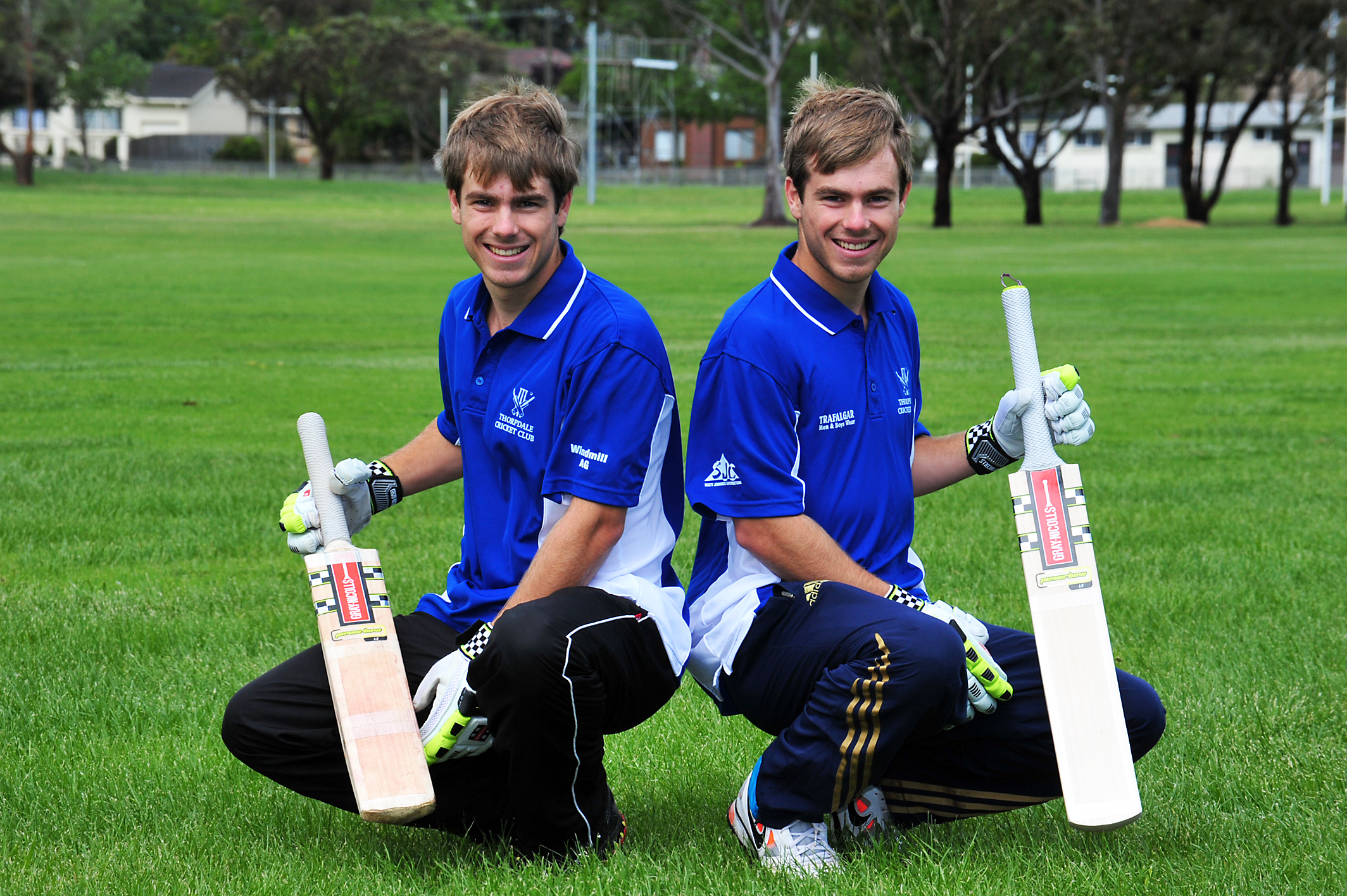 CRICKET
CGCA
A WET start to the cricket season has not worried twin brothers and Thorpdale recruits Henk and Schalke Conradie.
In fact, it has made them feel right at home, their adopted European home, that is.
Competition is fierce for national representation in their native South Africa, where the quota system – a relic of the country's apartheid era designed to increase diversity in the national team – has seen many players leave the African nation and qualify for other countries.
The most famous example is star England batsman Kevin Pietersen, who is due to tour Australia this summer for the Ashes.
Following his lead, the exceptionally talented 19 year-old brothers have just completed the first of a four year contract at a Scotland club in their quest to qualify for the British nation by 2016.
"Most of the young white guys leave (South Africa), because of the politics," wicketkeeper batsman Schalke said.
"When I was under 17s, in the Provincial week I finished third on the list of runscorers and yet I got no offers from any team."
Off spinner and top order batsman Henk said the issues are not restricted to cricket.
"With the rugby as well, most of the young guys leave," Henk said.
Now key members of the Thorpdale first grade team, Schalke said the brothers elected to spend a summer in Australia to improve their game in foreign conditions, with the goal of one day playing international cricket.
"(Coming to Australia) was mostly to get experience around the world… It's hard to get into Australia, so when you get the chance, you have to take it," Schalke said.
Thorpdale had a first grade bye the week the boys arrived, but they slotted straight into second grade and both hit rapid half-centuries against a luckless Latrobe.
First impressions of Australian conditions left Henk surprised at the ground size, which was "bigger than we're used to in South Africa", while Schalke felt "it was a good experience, a good start for the season".
"That was our first hit for two or three weeks, since we left South Africa," he said.
Accustomed to slow wickets in Scotland, both struggled with the bounce and carry of the synthetic pitch at Thorpdale Recreation Reserve, particularly since neither has played a match on a synthetic surface since they were 13.
The Conradies both have lofty personal goals this season to improve their game, with Schalke aiming for "at least one hundred, and five or six fifties… at an average of 40 or better," while Henk is aiming for twin centuries and 30 to 50 wickets.
The forward-thinking twins already have a plan for life off the pitch, with both holding Cricket South Africa level one coaching accreditation and experience teaching juniors in Scotland.
They plan to apply their coaching skills with the Blues this season, which promises to be a great experience for the club's under 16s.
A three-month Visa means they will be flying home for Christmas, and miss out on seeing the world renowned Boxing Day Test match first hand.
However, the twins are keen to do some sightseeing in Melbourne, and included the Melbourne Cricket Ground in their itinerary.
Schalke is tipping Australia to win the Ashes series, as Shane Watson is his favourite player, while Henk favours England, 3-0.