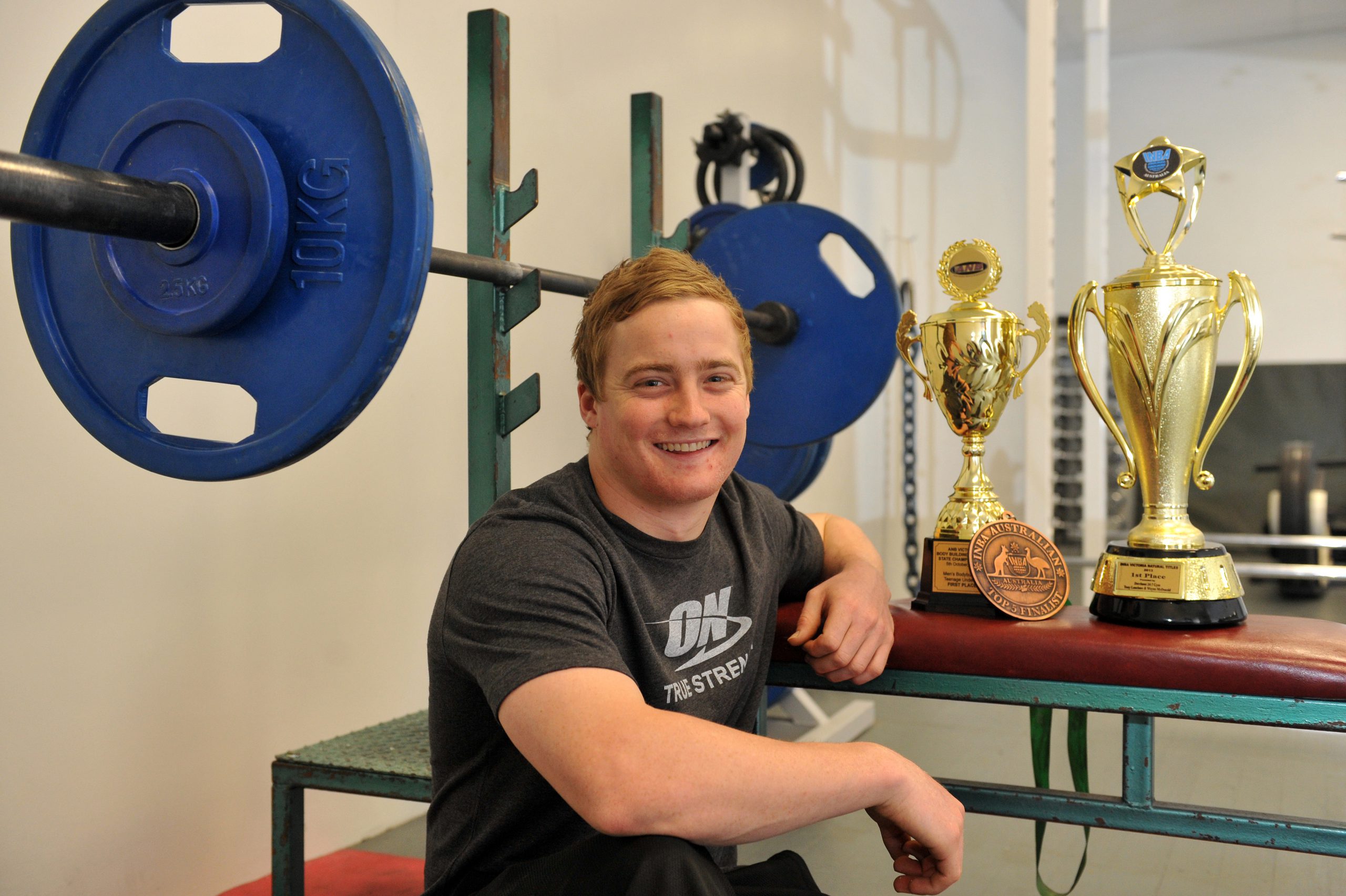 BODYBUILDING
By joshua hanrahan*
IN a year punctuated by drug scandals in sport, a positive beacon has emerged from the most unlikely arena.
Bodybuilding has endured a tarnished reputation over drug use for decades, however, an honest group of athletes are out to repair their sport's image.
Churchill's Alex Tatterson is one of them.
Born the youngest of three children, Tatterson stood out from a young age as a talented sportsman, stemming from the influence of his elder siblings.
"As a youngster with an older brother, who was always on my back and dragging me out into the yard playing with some kind of ball, he was a massive influence on me," Tatterson said.
Beginning with basketball and soccer, Tatterson tried his hand at tennis before committing to cricket throughout the summer months.
Eventually, he convinced his parents to let him add football to the agenda.
At 16 he won the Mid Gippsland Football League best and fairest award.
Two years on and the accolades kept flowing.
In one season he bagged the North Gippsland Football Netball League's thirds best and fairest, and captained the league team of the year as well as Churchill's premiership side.
However, upon reaching senior football Tatterson's passion for sport turned in a different direction.
"I first got into the gym through football; I was going pretty well with my footy and just wanted to get a bit stronger to become a better player," Tatterson said.
"I was always interested in lifting weights and was idolising the big players on television.
"It started off as just a bit of innocent fun, just trying to get a bit stronger and that and I guess from there it was just a snow ball effect."
After a year of combining bodybuilding and football seriously, the latter gave way in order for Tatterson to forge onward with a new adventure.
"Once you see that first lot of results, it just gives you all the motivation in the world to keep coming back for more. You're hooked," he said.
Tatterson's promising results in the gym were no fluke.
Each week was planned meticulously with time dedicated to nutrition, supplements – all legal he stresses – sleeping and training, in addition to working full time as an apprentice builder before a new career path crystallised.
"I was spending a lot of time in the gym by this stage and starting to get some really good results… I just started helping a few mates out who were asking a few questions about how I was managing to change my body and get the way I was," Tatterson said.
"Helping others achieve their goals in the gym and transform their bodies gave me a lot of satisfaction and I found it very rewarding.
"I decided I could try to make a career path out of it, so that's when I decided to jump on the net and tried to find a personal training course."
An instrumental influence in Tatterson's formative bodybuilding, and personal training, career was Lynne Eastlake, owner of the gym Tatterson works out at gym.
Eastlake said her understudy displayed seldom seen desire and commitment to training.
"What he's doing is 100 percent natural which is a big ask," she said.
"Unfortunately, because it's such a hard thing to do, there's a lot of people who do cop out from time to time and take illegal supplements."
Throughout his apprenticeship Tatterson's dedication to training and lifestyle rarely wavered.
Meals were cooked in bulk on Sunday nights and taken to work throughout the week.
Early mornings and late nights in the gym became a regularity.
Weekend trips to meet with bodybuilding experts in Melbourne were consistent and a source of encouragement to set a goal to one day compete on stage, which he finally achieved at the Victorian leg of the International Natural Bodybuilding Association competition.
Tatterson won his maiden event, qualifying for the Australian championships.
In the interim was the Australasian Natural Bodybuilding State titles, where again he was victorious.
Next came the Australian INBA competition where the budding bodybuilder finished fourth to cap off an incredible first season of competition. Having eagerly followed her prot g 's success, Eastlake said the sky was the limit.
"He's really turned around the gym in a short period of time, Alex is that one in a million who's got the guts and determination to do it on his own. I can't speak highly enough of him."
*Joshua Hanrahan is a Monash University journalism student