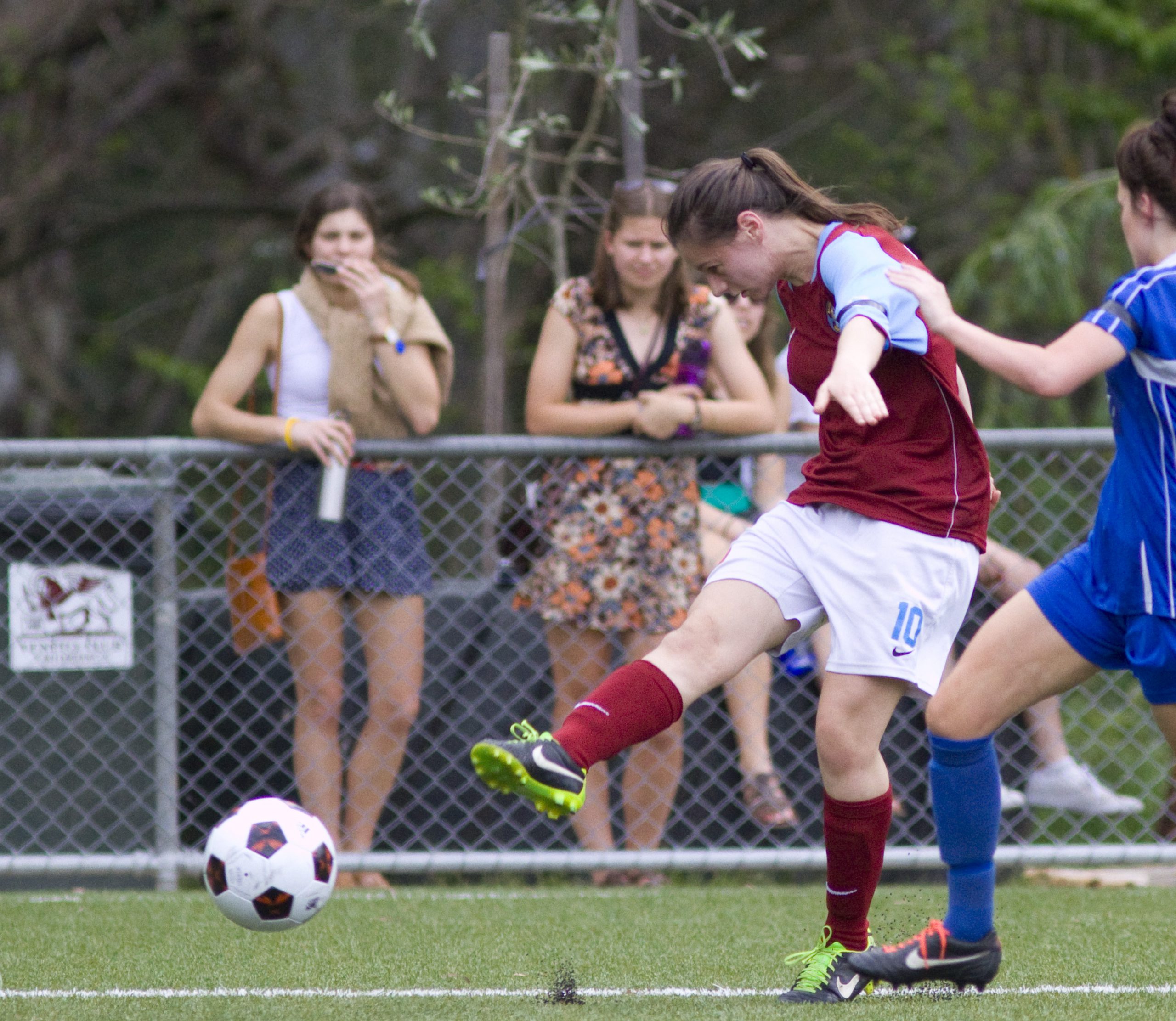 SOCCER
By SAMUEL DARROCH
LATROBE Valley native and former Churchill Ram Steph Tanti is showing the way for Gippsland girls in soccer circles, with another outstanding season in the Victorian Women's Premier League.
At 21 years of age the midfield magician boasts an impressive resume, including several years on the Melbourne Victory W-League roster, and put the WPL title on the bulging list of accomplishments this season.
Tanti's Sandringham side scored in the fourth minute of injury time in the WPL grand final against South Melbourne, adding the premiership trophy to the State Knockout Cup they won against the same opposition earlier this year.
"I think we definitely deserved to win it this season and it was just a dream season really," Tanti said.
"You can't really describe the feeling; we were just so happy.
"I think winning in the way we did was a fantastic experience and one that I've never had quite before, so it was unbelievable."
Flanked by fellow Gippslanders Emma Gunn and Kirstie Shearing at Sandringham, Tanti said the WPL was the path to the top for any serious female players in the Latrobe Valley.
Tanti's soccer journey began at Churchill, where she played in an all women's team prior to the establishment of an all women's competition. Having grown up with two brothers, Tanti relished the technical and physical challenge of playing with the men.
"Playing against the boys, especially when the boys are younger and haven't hit their growth spurts yet, it's a bit more competitive," Tanti said.
"Playing against girls is great as long as you've got the right level of competition.
"At that stage when we played in Gippsland, we just didn't so playing against the boys was a good thing for me and my development."
The creative playmaker was head-hunted for state duties while playing for Gippsland, and soon became a member of the National Training Centre squad, which also played against up-and-coming male youth teams.
Seeking female competition, Tanti joined Ashburn for six months before finding a home in Sandringham, where she remains today.
At 16, she joined the Melbourne Victory for the inaugural W-League season.
"It's an experience like no other, you get very close to a bunch of the girls and you do a lot of things together," she said.
"You play at the best standard available in Australia, which is a pretty rare opportunity.
"I was 16 and playing against some of the best players Australia has produced.
"It was a great experience and I think it helped me mature a lot as a person."
After a few seasons at the elite level, work priorities saw Tanti step back from the national circuit.
Her influence at WPL level, however, has never wavered and she remains one of the competition's premier players, culminating in her selection for the WPL All Stars in 2013. Now gravitating toward the technically demanding domain of Futsal, Tanti said soccer played a new role in her life today.
"For me it's more a way to relax and kind of chill-out after work now," she said.
"This season I probably had the most fun playing soccer that I have in a while… with all the girls at Sandy we have a great time together off the park and I think that reflected in our performances throughout the year, we just gelled so well."
Now in the middle of the off-season, Tanti encouraged Gippsland girls to follow her lead at the next level.
"The next thing I'd like to see from Gippsland is some of the players doing what I did and moving into a WPL side and then from there hopefully going on to play for Victory," she said.
"That's the way to go forward, get your foot in the door with a WPL club."