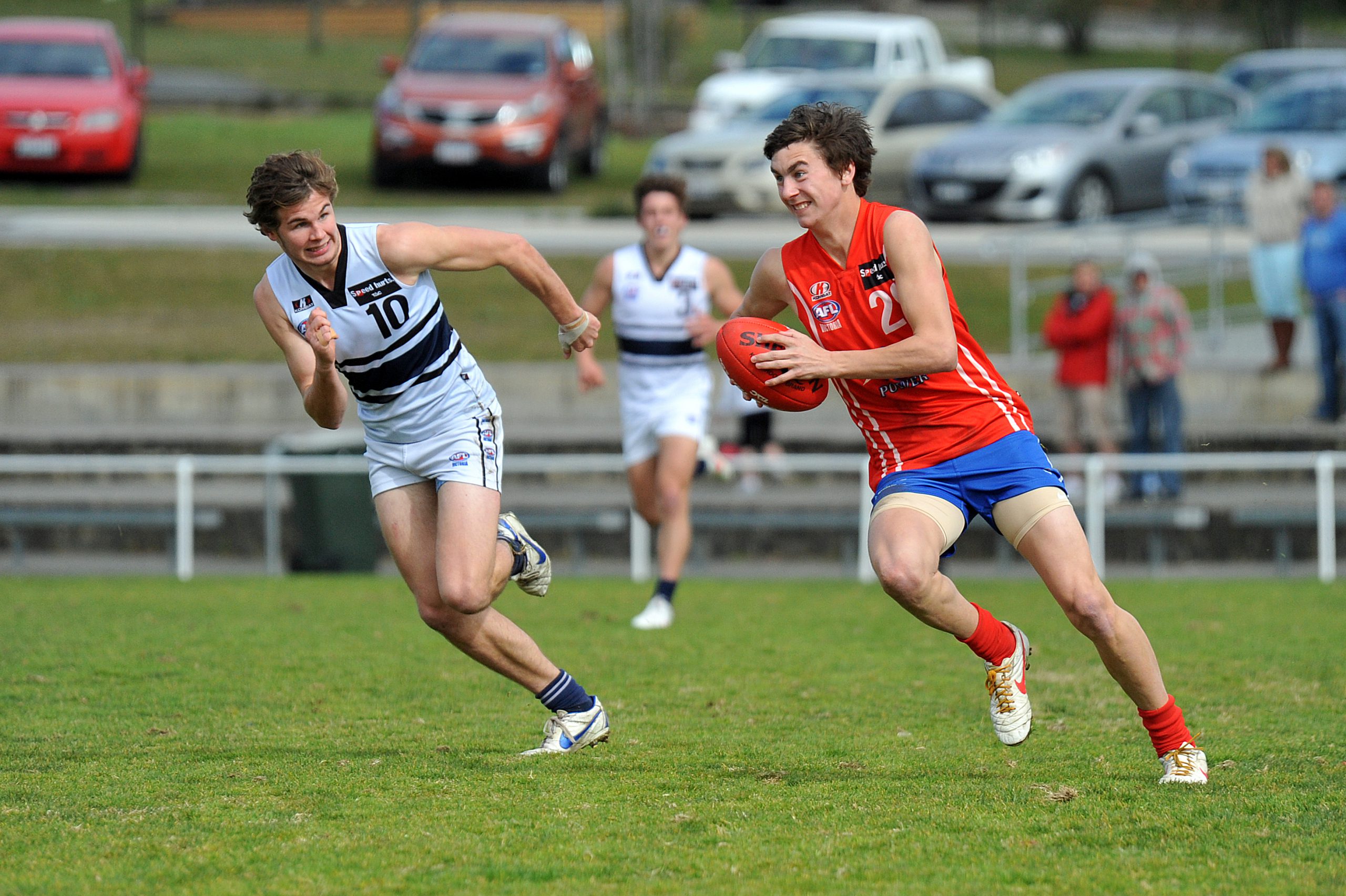 FOOTBALL
GIPPSLAND LEAGUE
By samuel darroch
MISSING out in the AFL draft has done nothing to deter Churchill's Ben Kearns from chasing his football dream.
The departing Gippsland Power forward was head-hunted by Morwell coach and Collingwood community engagement officer Harmit Singh, who recently recruited the 19 year-old to both the Gippsland League 2013 premier and the Magpies' VFL side, and will look to raise his AFL stock at both clubs next season.
Kearns' determination to reach the top is unwavering; even in the wake of AFL rookie draft disappointment he tweeted "I will get to where I want to get. Don't care how long it takes me. #believe".
Retained as an overage player at Gippsland Power for the 2013 season, Kearns had a promising start to the year, which included a bag of five goals for Casey Scorpions in a VFL appearance.
Despite performing well at state screening for the second consecutive season, Kearns' expectations at this year's draft were conservative after spending 12 weeks of the TAC Cup season sidelined with a severe hand injury.
"I was a bit more disappointed last year but after this year when I got injured… I wasn't sort of expecting anything, it just sort of burns and I'm keen to work harder," he said.
"I didn't think it was going to happen after I missed the country championships."
Now working and playing at Collingwood, Kearns relocated to Northcote and began Magpies' pre-season training last fortnight under development coaches Anthony Rocca, Tarkyn Lockyer and Dale Tapping.
"It's pretty full on, seeing what they've got up here at Collingwood, just watching the boys walk around and that sort of stuff they've got it good so it gives you a bit more determination and inspiration," he said.
On the Gippsland League and VFL fronts, Kearns is keen to hone his all round game by adding defensive quality to his attacking nous.
"It's not just going out and having 30 touches and kicking five goals, I'm down here to improve my game in the defensive side; I'd be more rapt with 10 tackles than 10 goals," he said.
Also a handy cricketer, Kearns has racked up more than 400 runs for Churchill in Traralgon and District Cricket this season, including two centuries.
The versatile athlete said the summer sport was his preference growing up before logic dictated a switch of focus to football.
"I guess when you look at it there's 11 spots for Australia (in cricket) and there's 18 clubs with 45 on their list (in the AFL), there's a bit more opportunity," he said.
Kearns will play for Morwell whenever VFL commitments allow, and has been on coach Singh's radar throughout the year.
"Obviously he is really talented… I knew he had a lot of potential; on ability alone he's probably talented enough to be on an AFL list but there's some things that he needs to work on and he understands that," Singh said.
The premiership coach wants his new acquisition to play similar roles at both clubs to enhance his market pull.
"His work rate is pretty good, he's got great goal sense… he can do some things that not many players can do (and) he's a really good mark for his size," Singh said.
"We just want to work on him, working hard defensively, once he gets that two way running and just the pressure he puts on he'll be a very good player for us."
Kearns will be joined at Morwell this season by new recruits Thys Stanistreet from Yinnar and Glengarry premiership midfielder Lachlan Little.
Dean MacDonald has also returned to pre-season training in a big boost to the club's 2014 aspirations, and Lockyer is also set to play again.
"I think the boys are stoked they won the premiership but they understand there's an opportunity to maybe do something that hasn't been done at Morwell for a very long time – back-to-back is what's driving everyone," Singh said.
Singh will also coach the Gippsland League interleague side next season when its plays off against Bendigo for seventh on the country rankings in May.