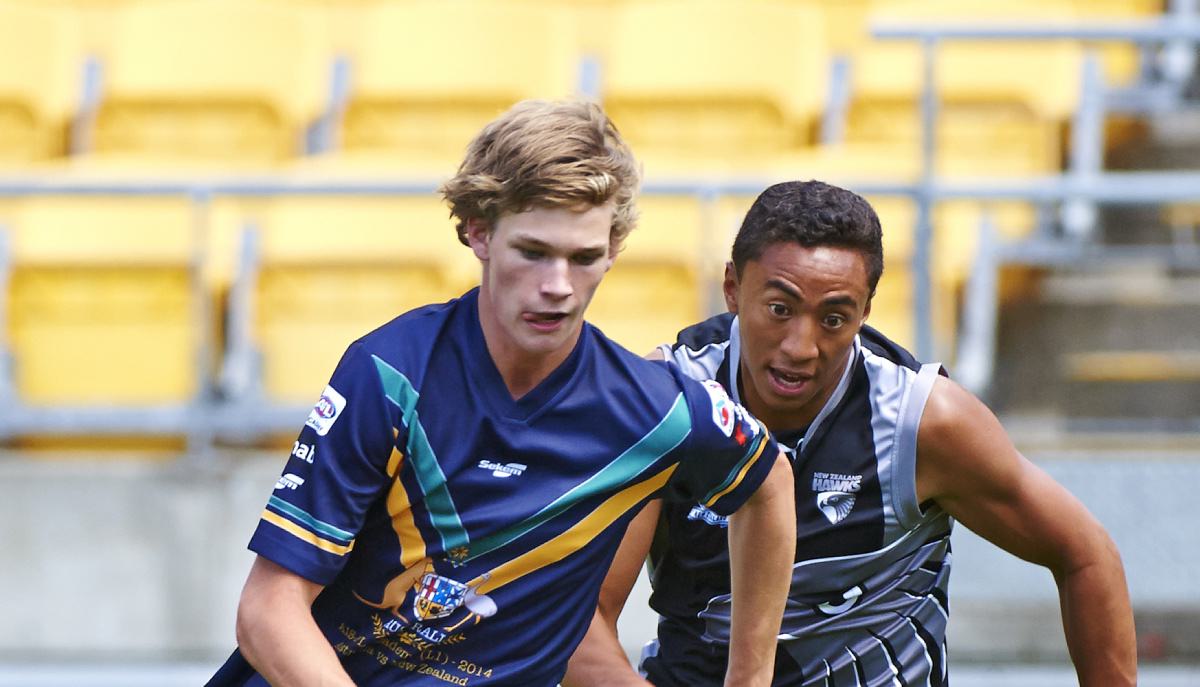 FOOTBALL
By SAMUEL DARROCH
A NINE-day tour of New Zealand with the Australian Institute of Sport AFL Academy has done Newborough's Sam Skinner no harm in his quest for a Gippsland Power senior berth this season.
The 16 year-old was selected for the squad by virtue of his efforts with Victoria Country last year, and attended camps in Melbourne and the Gold Coast prior to the trip across the ditch last month.
The tour included walking the Tongiraro Crossing at Turangi, visiting Rotorua and a match against the New Zealand Hawks at Westpac Stadium in Wellington.
Australia managed a four-point win in a physical encounter over older and bigger Kiwi bodies, which Sam said was a valuable experience against a different brand of football.
"The competition was really good, it was very hard and competitive… credit to all the New Zealand boys they were pretty tough," he said.
"A lot of them were older… so it was more physical, they were bigger in the arms, harder to tackle and quicker so it was good competition to play against."
Coached by three-time Brisbane Lions premiership player Chris Johnson, with influence from AFL legends Matthew Lloyd and Brad Johnson, Sam said the AIS program had done wonders for his game, and life.
"It's helped me a lot actually. It's helped me with my school being more organised, it's helped me with my footy and it's helped with my confidence levels," he said.
"The things you can learn from those sort of players, you take so much out of them; the more you can pick out of them the more it helps you with your game, it's amazing the amount they help you.
"They're also willing to help… outside of footy, they're happy if we give them a call and ask them about what's going on in life."
The long-limbed defender played under 16s with Power last season and trained with the senior squad toward the end of the campaign.
Along with AIS team mate Josh Dunkley, Sam aims to break into the top side this year and push his name forward in the state system with Victoria Country.
"The first step is Gippsland Power, the fitness so far and pre-season so far has been great, the team is looking pretty good; if we can make it into that it would be great," he said.
"You can't really say whether you're going to make it or not, (but) I'm feeling more confident than previous years."
Sam has also begun training with the Moe senior squad, a club his father Craig is heavily entrenched in.
Between football, school and the AIS, the Lowanna College Newborough year 11 student has a full plate in 2014, but said he can't wait for the challenge.
* The AIS-AFL Academy is part of a commitment made by the AFL and the Australian Sports Commission, through the Australian Institute of Sport, to support Australian Football's best young players with their football and education development.
It is an element of the NAB AFL Rising Stars Program, which supports grassroots players and football communities and helps young Australians fulfil their dream of playing in the AFL.