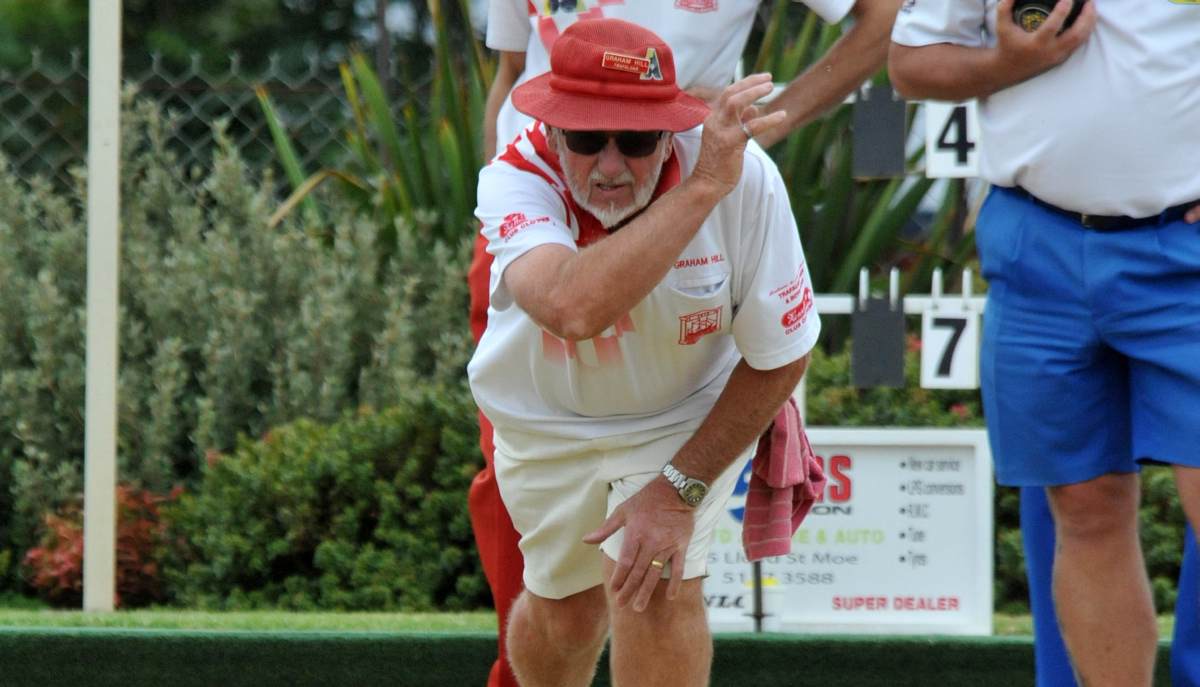 LAWN BOWLS
WEST GIPPSLAND
OVERCAST weather greeted Trafalgar and Morwell Club in the battle for a division one grand final berth at Yallourn on Saturday.
Morwell Club went in as favourite, but cooler weather and slower greens due to rain gave Trafalgar hope of an upset.
The green quickened as the day progressed, but Trafalgar was in form from the outset as Smokey Dawson's Trafalgar team gained an early five shot advantage over Morwell Club's Ian Kirkup
However after 20 ends it was Morwell Club with its nose in front by six shots, before Trafalgar's Terry Comber came to the party.
Comber got on a roll to win six consecutive ends against Michael Yacoub, and Dawson followed suit with five straight ends to help Trafalgar capture a seven shot lead at the 40 end mark.
At afternoon tea the game was in the balance as Trafalgar held a slender two shot lead, which was extended to six after 60 ends.
Bruce Marino and Wayne Lynch were dead even after 72 ends, as were Darren Kane and Ian Hilsley, but Dawson continued to tear away from Kirkup's quartet with a nine shot lead.
Yacoub recovered with ends of four and five shots to reduce the margin to two against Comber, but at the 80 end mark Dawson continued to prove the difference.
As if inspired, Marino's men went on to win four of the last five ends to take a five shot victory, and Kane claimed seven straight ends after tea to defeat Hilsley by three.
Yacoub rallied to win Morwell Club's only rink for the day by five, but Dawson's 14 shot triumph over Kirkup proved too great to recuperate.
Trafalgar's 92-74 victory means it will face Traralgon in the division one final, where a new name will be etched on the shield for the first time in eight years following an era of Yallourn and Morwell Club dominance.
It was a bad day all round for Morwell Club as it was well beaten in division four, also by Trafalgar, and in the division six east grand final by Yinnar.
RESULTS
West Gippsland Bowls Division
Midweek Pennant 18 February
Division one
Drouin 76 Traralgon RSL 62
Traralgon 89 Yallourn 60
Preliminary Final Traralgon RSL v Traralgon at Yallourn
Division two
Yinnar 77 Yallourn (2) 60
Moe 89 Drouin 55
Preliminary Final Yallourn (2) v Moe at Trafalgar
Division three
Traralgon RSL (2) 73 Garfield 65
Traralgon (3) 82 Yarragon 66
Preliminary Final Garfield v Traralgon (3) at Yallourn
Division four west
Trafalgar (2) 50 Drouin (4) 34
Grand Final Longwarry v Trafalgar (2) at Yallourn
Division four east
Yinnar (2) 49 Yallourn (3) 46
Grand Final Traralgon RSL (3) v Yinnar (2) at Yallourn
West Gippsland Bowls Division Saturday 22 February
Division one
Trafalgar 92 Morwell Club 74
Grand Final Traralgon v Trafalgar at Yallourn
Division two
Warragul 90 Traralgon (2) 88
Grand Final Neerim District v Warragul at Drouin
Division three
Traralgon (4) 115 Warragul (2) 77
Grand Final Traralgon RSL (2) v Traralgon (4) at Trafalgar
Division four
Trafalgar (2) 102 Morwell Club (2) 72
Grand Final Morwell (2) v Trafalgar (2) at Yallourn
Division five
Garfield (2) 73 v Moe (3) 65
Grand Final Drouin (3) v Garfield (2) at Trafalgar
Division six west grand final
Warragul (5) 46 Warragul (4) 38
Division six east grand final
Yinnar (2) 45 Morwell Club (3) 34
Division 6 Final Warragul (5) v Yinnar (2) at Drouin