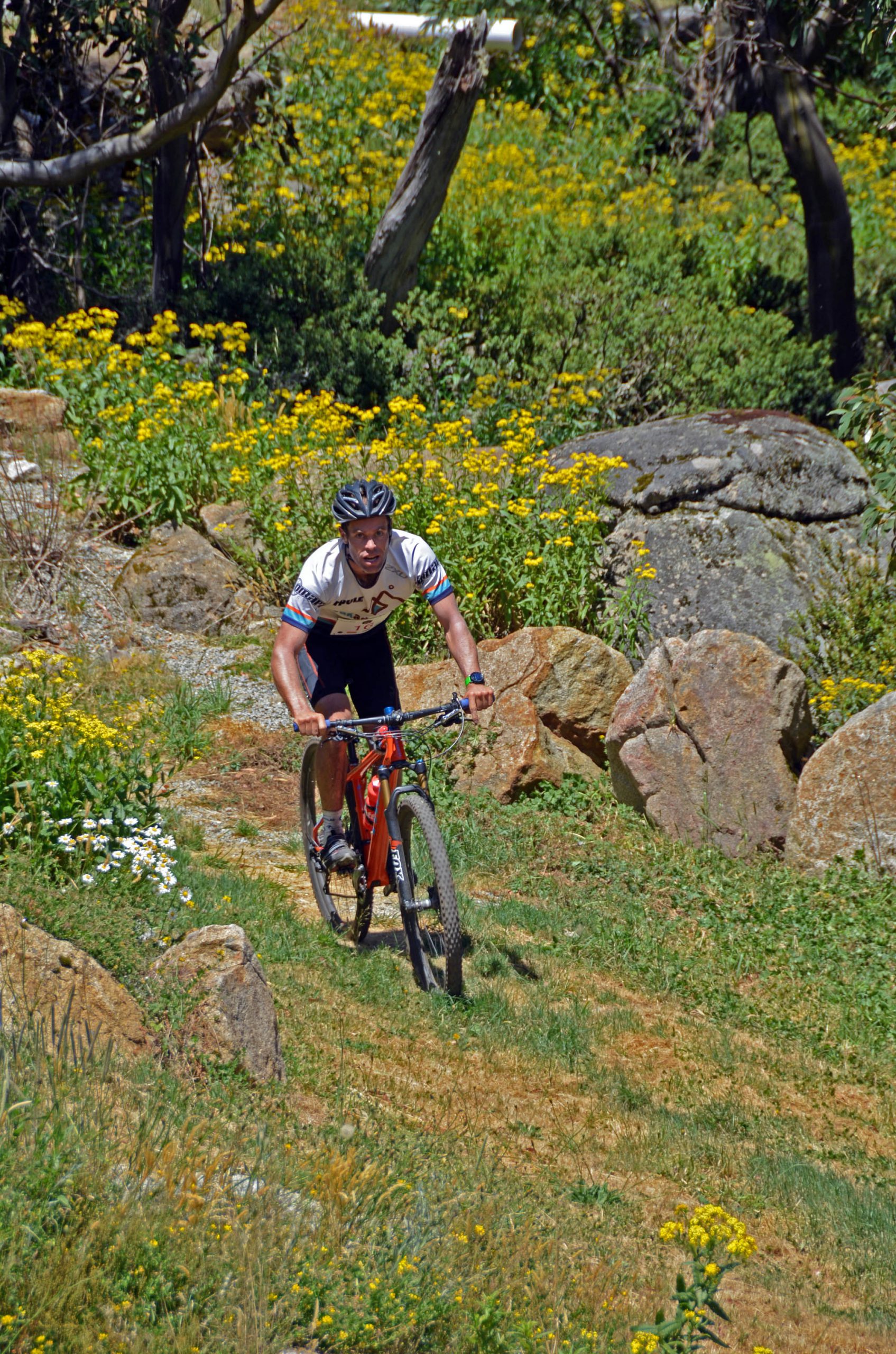 MULTISPORT
THE first edition of this year's Seasons of Pain series at Mount Baw Baw this month was blistering in more ways than one, as temperatures nudged the 37-degree Celsius mark, adding extra sting to the offroad duathlon challenge.
As Melbournites sweltered in an even hotter 45-degree concrete jungle, adventure athletes tackled the 32 kilometre course amid a snowgum jungle, with the slight cooling benefit of a 1500 metre altitude and shade from alpine bushland.
With the lure of a pool sitting at the finish line atop the infamous 'sting' – a 300-metre vertical ascent – solo and team competitors headed out for two trail run laps including an out-and-back to Mt St Gwinear, and two mountain bike loops on freshly groomed singletrack.
Leading the pack was last seasons' summer edition winner, Jarad Kohlar, who belted out fast with spring winner Brodie Gardner hot on his heels.
It was still either racer's title at the end of the first trail run as only seconds separated the two into the bike transition.
However, Kohlar's expertise on the tight technical singletrack gave him a four-minute head start as he came off the first ride.
The difference between the two athletes was negligible on the second run as both recorded 29-minute legs before Kohlar again put another three minutes on Gardner through the final mountain bike loop.
Kohlar needed every second of the lead as Gardner fought hard up the killer 1.4km sting climb, snatching back four minutes.
It was not enough to extinguish Kohlar's advantage, however, as the esteemed adventure racer's mountain bike legs and an overall time of two hours and 41 minutes proved enough to secure the win; Gardner collapsed into the finish line pool three minutes in arrears.
In third place was Ben Pattie, a further three minutes behind in 2.47.
"I didn't know what to expect coming back, but I'd heard about Brodie's win in the last edition and I knew Ben was in the field, so I knew it wasn't going to be an easy day to stay out in front," Kohlar said.
"The heat was a game changer, and I tried to find the balance between pushing too hard and hitting a heat wall and maintaining enough pace to stay in the lead.
"The ating still got me though – I felt lightheaded trying to get up it, so I was happy to come away with the win and even happier to see that pool at the finish line."
In the women's category, all early bets were on Jade Forsyth, a racer with a mountain biking background and a previous win at Seasons of Pain in 2013.
Claim on the first female title for 2014 was, however, made on the first run leg by Britta Weller, who edged out in front and stayed there all afternoon.
Her splits across all course legs were never threatened, despite notable runner and second place-getter, Ashley Lofton, putting in some smashing run times.
Weller recorded a clear winning time of three hours and 31 minutes, but the split between second and third was closer, with Nicola Smithers punching up the sting six minutes faster than second-place Lofton, though it was not enough to rise above third place.
Men
1. Jarad Kohlar 02.41.16
2. Brodie Gardner 02.44.19
3. Ben Pattie 02.47.56
Women
1. Britta Weller 03.31.37
2. Ashley Lofton 04.03.04
3. Nicola Smithers 04.07.38
Team (2)
1. Flockhart/Ord 02.56.24
2. Cummings/Bowden 03.22.19
3. Crunden/Ormsby 03.26.23