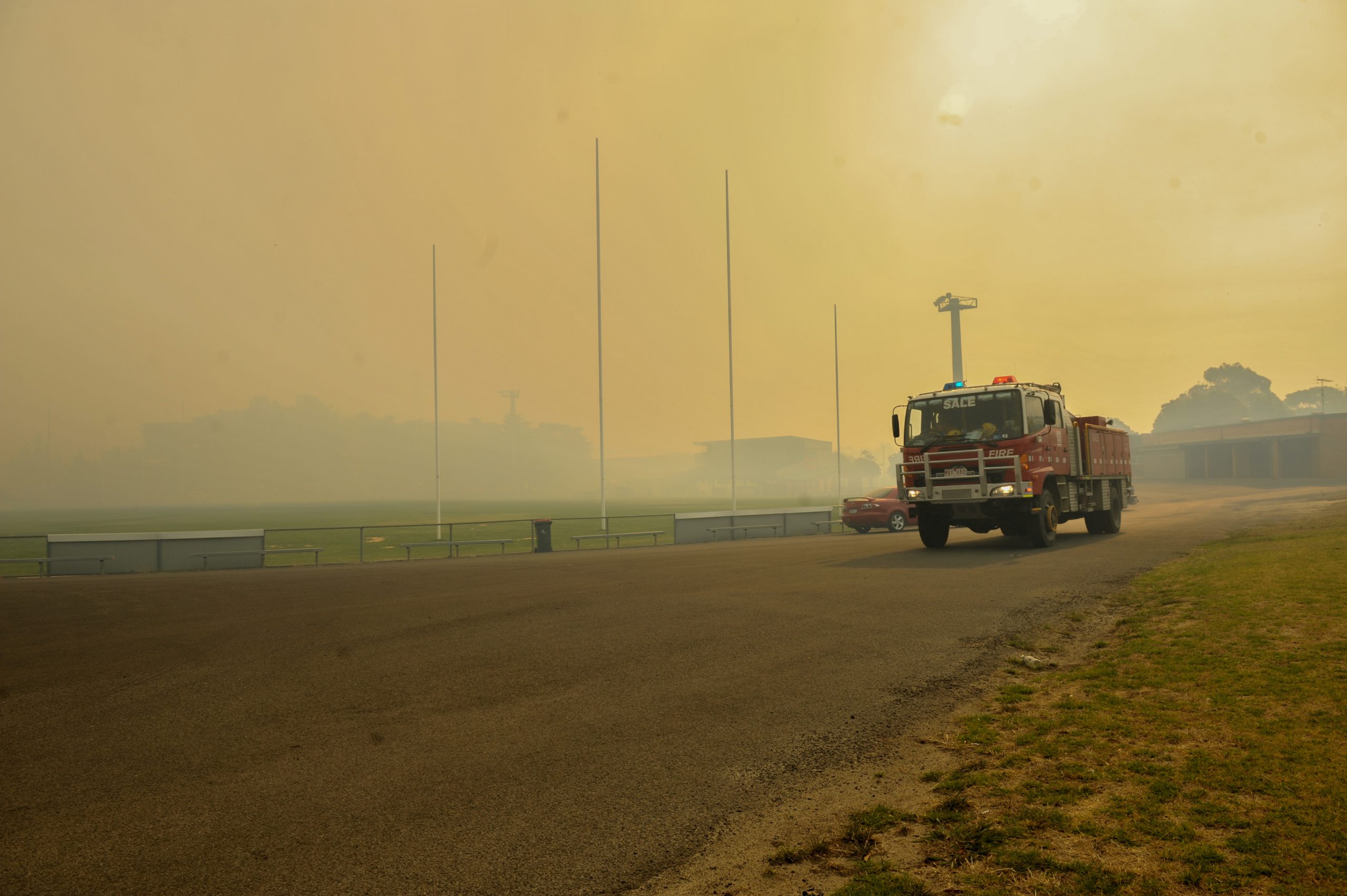 CONCERNS among Morwell sporting clubs about lingering smoke in the township have come to a head, after dizzy spells and dry retching forced the abandonment of a Central Gippsland cricket fixture over the weekend.
The second day of the Latrobe versus Trafalgar match at the Peter Siddle Oval in Morwell was cancelled midway through Sunday afternoon when several players were overwhelmed by smoke inhalation, with headaches, dizziness, severe coughing and dry retching observed.
Latrobe president Anthony Bloomfield said anxiety over player welfare forced their hand, with some suffering ill effects within the first two overs of play.
"It was pretty bad… on Sunday there was no wind at all so it was just very thick smoke and we decided to call the game," he said.
Armed only with vague advice from health authorities to avoid prolonged or rigorous physical activity, clubs and administrators have been playing the situation by ear.
Cricket fixtures at Morwell Recreation Reserve, Keegan Street Reserve and Peter Siddle Oval have been moved to other venues for the remainder of the season, or until the smoke clears, in a move CGCA president John White labelled "proactive".
"On Saturday the smoke was making it uncomfortable for the players and the players were ill, so seeing as the fires aren't going to be extinguished for two weeks we thought it's better not to play in the Morwell area," he said.
"Health is most important, when they're doing physical exercise that's when it's worse."
White said he contacted the Environment Protection Authority to assess air quality in Morwell prior to play on Saturday and was advised atmospheric conditions were "very good", so matches went ahead.
However, players reported ill effects and difficulty breathing throughout play on Saturday as well.
"Obviously during the day conditions deteriorated," he said.
White said he had advised all CGCA clubs and players to get tested at the free pop-up health centre in Morwell if they had any worries or lingering symptoms.
Other users of Morwell Recreation Reserve, Morwell Football Netball Club and Gippsland Power, have both been forced to seek alternative venues for pre-season training and practice matches due to hazy conditions at the ground, which sits in close proximity to the ongoing open cut mine fire.
MFNC president Wade Presley said training numbers had suffered due to the smoke and constant scramble to secure substitute grounds in the interim, with the team travelling to Yinnar and Morwell East last week.
"The last two weeks have been all over the place," he said.
"We've got guys turning up all over the place and last week attendance was average just because of the smoke etcetera.
"It's not ideal, we're only a couple of weeks away from our first practice game; we'd like to have a bit of certainty as to where we are but there's not much that can be done."
The club is hopeful conditions will improve before its round one home match against Wonthaggi on 5 April, where it is set to unfurl its premiership flag.
TAC Cup side Gippsland Power hosted its first practice match across town at Churchill on Sunday, where it has been training in conjunction with a temporary base at Morwell East.
Fires came within metres of the club's Centre of Excellence on 9 February, and construction on extensions to the centre have slowed drastically due to smoke concentration in the area.
Power regional manager Peter Francis said there was "no way we can train here" at present.
Club staff continue to operate out of their base at the ground, but are staying indoors and monitoring the situation closely.
Soccer clubs Fortuna, Falcons 2000 and Morwell Pegasus have trained largely unaffected.
Fortuna has stopped asthmatics from training, while Falcons and Pegasus have opted for one off beach sessions and indoor basketball respectively to avoid the smoke.
While soccer and football seasons are not due to start until March and April, alternative venues are being considered as contingencies.
CGCA fixture changes
First Grade Round 14
(1 and 8 March)
Morwell v Yallourn North to
Yallourn North Turf
Second Grade Round 19
(1 March)
Yallourn North v Trafalgar to
George Bates Reserve
Morwell v Thorpdale to
Thorpdale
Second Grade Round 20
(8 March)
Latrobe v Mirboo North to
Mirboo North Turf
St Vincents v Thorpdale to
Thorpdale
Yallourn North v Panthers to
George Bates Reserve
Third Grade round 17
(1 March)
Morwell v St Vincents White to Newborough Football Ground
St Vincents Green v Moe to
Moe Racecourse no. 2
Third Grade round 18
(8 March)
Latrobe v Willowgrove to
Willow Grove
St Vincents White v St Vincents
Green to
Newborough Football Ground
Hazelwood North v Mirboo North to Mirboo North no. 1